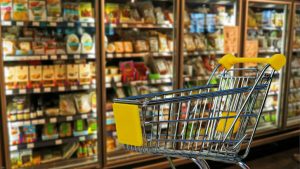 Bud Financial, the AI-powered data intelligence platform for financial services, has unveiled a new solution, Drive. Drive leverages generative AI to provide customers with opportunities for cross-selling and upselling. As well as support from providing customer service excellence. Volt, the global real-time payments platform, has appointed Matt Henderson as a Special Advisor.
Below, I have featured some other news from last week, including stories from Adobe, commercetools, Kibo, Shopify, Vertex and What3Words.
Adobe
Adobe published a forecast of how it expects the UK holiday season to pan out.
It made four predictions:
Black Friday is expected to drive a record £1.05 billion in online spending. With total sales over the Cyber Weekend reaching £3.8 billion
Discounts are expected to hit record highs. Peaking on Black Friday with cut-price deals saving consumers 22% on computers and 20% on TVs compared to pre-holiday prices
Buy Now, Pay Later 'debt spending' is set to reach a record £17.2 billion in 2023 as consumers look for flexible ways to manage budgets
UK Consumers are set to spend over £14 billion using mobile devices over the holidays – more than 59% of total spending
Using data it has gathered since 2019, it expects UK customers to spend £24.1 billion online this holiday season (1st November to 31st December), a 2.7% increase. This is against previous surveys that have indicated spending will fall.
Vivek Pandya, Lead Analyst at Adobe Digital Insights, commented, "After a tough 2023 for the sector, retailers can feel optimistic about this year's golden quarter with e-commerce expected to grow by 2.7 per cent compared with last year. This year's growth will be fuelled by the increasing use of flexible payment methods like Buy-Now-Pay-Later and strong spending over Black Friday and Cyber Monday, so it's essential that retailers gear up for this year's milestone shopping days."
Other insights include:
TikTok traffic to UK sites is expected to surge this holiday season
Mobile shopping continues to outperform desktop. With 2023 set to be the biggest year for eCommerce spend on mobile devices
Adobe also revealed which products it believed would be best sellers during the spending season.
commercetools
commercetools announced a collaboration with PayPal. To offer a wider range of payment options for customers via the payment platform PayPal Braintree. The new integration allows commercetools' customers to seamlessly work with multiple payment providers, acquirers, and banks to optimize their customers' experiences.
Blaine Trainor, Vice President of Global Partnerships, commercetools, said, "To provide our global customers with a solution that enhances their payment options, we wanted to implement a fintech solution for cross-border transactions to hundreds of global markets. PayPal's association with MACH technology, cemented by their recent distinction as the MACH Alliance's first supporting member, makes them the ideal partner for this transformative endeavor."
The integration will deliver expanded payment options, including debit and credit cards, digital wallets, PayPal Later and local payment methods to 200+ markets in 135 currencies. It also includes integrated and customizable fraud tools. Including risk services like Fraud Protection on eligible transactions and Dispute Automation.
David Bruce, Vice President and Global Head of Channel Partnerships at PayPal said, "The PayPal Channel Partner team strongly advocates for composable commerce and is dedicated to the MACH approach. With this being said, we are delighted to be working with commercetools to expand customer payment solutions and continue supporting MACH principals."
Kibo
Kibo held its 2023 Partner Summit and Partner Advisory Board. Revealing the expansion of its partnership ecosystem over the last year. Kibo has added partnerships with Builder.io, Spreedly, EasyPost and Alloy Automation. It expanded the partnership with LogicBroker to open a new window enabling brands to optimize their omnichannel commerce strategies.
Kibo has also announced acceptance into the AWS ISV Accelerate ProgramOpens. This is a new window, and Google Cloud Partner Advantage ProgramOpens. A new window, along with the providers' AWS and GCP marketplaces, respectively.
Ram Venkataraman, CEO of Kibo Commerce, said, "We are committed to investing in the growth of our partner strategy and relationships and have already launched new enablement resources in our Partner Portal, product training in our Kibo Academy, and free trial program," said "We're excited about all of the traction we've built with our partner community and look forward to joint success with our partners."
Shopify
Shopify published findings from a survey that looked at why US shoppers will take advantage of the Black Friday-Cyber Monday (BFCM) weekend deals. 64% of people we surveyed said they are at least likely to buy something that they won't give as a gift. Whilst 13% said their BFCM purchases won't include any gifts at all!
Harley Finkelstein, Shopify President, noted, "Over the years, we've watched BFCM transform from a niche weekend for deal-hunters into a full-blown global event. This is the most lucrative time of the year for many businesses, and it doesn't matter if customers are shopping for gifts or for themselves — this shopping season is our merchants' time to shine. The more reasons to shop, the merrier."
There is good news for small businesses, with 36% of holiday shoppers saying they plan to buy from a small business on Small Business Saturday (Nov. 25). Another 44% said they plan to shop at a small business on some other day during the holiday season.
What is notable is that shoppers are making seasonal purchases before Halloween. With several categories trending up before the spooky event.
Christmas tree skirts +311%
Holiday stockings +165%
Cookie cutters +152%
Toy train and train sets +99%
Wreaths and garlands +83%
Holiday ornaments +66%
Seasonal village sets +47%
Also, and aligning with the Asana TikTok finding, 48% of 18-29-year-olds said they'd buy at least some gifts through social media. However, the physical shopping experience is still important for all generations.
Vertex
Vertex has partnered with Shopify to enable enterprise merchants using the Shopify Tax Platform for business-to-business (B2B) and business-to-consumer (B2C) sales to automate tax calculation and compliance on a global scale. The SaaS-based solution removes barriers to commerce growth. It accelerates the transaction process by eliminating the need to manually update complex rates and rules for over 195 countries. Including seller's use tax, goods and services tax and value-added tax.
Chris Jones, Vertex Chief Commercial Officer, said, "Our goal is to help organizations transform their business operations to deliver a unified commerce experience. With the integration of Vertex solutions, enterprise retailers using Shopify can help ensure that tax is applied accurately and consistently regardless of how, when or where their customers transact."
Bobby Morrison, Chief Revenue Officer at Shopify, commented, "By welcoming Vertex as a Shopify Tax Platform Partner, we are addressing the unique complexities of selling across multiple global tax jurisdictions and in niche categories with a service that is flexible enough to grow with enterprise businesses. Together, Vertex and Shopify are expanding on the value we bring to enterprise retailers, empowering companies to transact, comply and scale with confidence."
What3Words
What3Words has partnered with the Mongolian Ministry of Digital Development & Communications and Mongol Post. They partner on new projects supporting infrastructure, safety and e-commerce in the region. what3words has proved to be particularly useful in overcoming some of the addressing challenges that stem from Mongolia's unique infrastructure. It's the second largest landlocked country in the world. Also one of the most sparsely populated, with a semi-nomadic population. In many parts of the country, there is little to no street addressing. Directions to a specific address are often only achieved using descriptive landmarks – "past the crossroads, opposite the gas station" – frustrating everyday citizens and, on a larger scale, potentially holding back the development of businesses and government.
Chris Sheldrick, Co-founder & CEO of what3words, commented, 'It's been amazing to see what3words increasingly become part of everyday life in Mongolia. We are extremely excited by both the innovative nature and the pace at which our partnerships with the Ministry for Digital Development and Communications, and Mongol Post have been expanding and we're really excited to continue our growth in the country.'
With no Zip codes or postcodes, the what3words ecosystem in Mongolia continues to grow. Expert travel guide Lonely Planet has added what3words addresses to its Mongolia guide. Offering travellers a world of adventures, unexpected encounters and authentic experiences.
The Niislel guide, the capital city's leading guidebook, the Khovd Province Tourism Board domestic guidebooks, and the Mongolian Travel Passport Guide all use what3words addresses to help travellers experience the best of the country. Airbnb partnered with what3words to list stays with Mongolian nomads. Such as the Dukha reindeer herders at their forest camp, where there aren't any street addresses to use to find them.
Retail and eCommerce news from the week beginning 30 October 2023