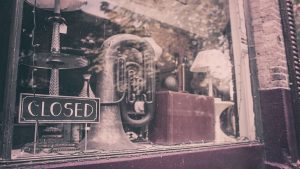 Nexcess has released a report on economic shifts and their impact on the dwindling traditional commerce sector in the US. The report 'The Fall of Traditional Commerce' uncovers the reasons behind stunted traditional commerce growth, future-proofing strategies through digital transformation. Furthermore, it outlines the steps brick-and-mortar retailers can take to survive. Nexcess is a hosting provider optimised for WordPress, WooCommerce, and Magento
Brick-and-mortar businesses have faced a tough few years. Technological innovations, the pandemic, changing habits of consumers have all contributed to the slowed growth of the traditional commerce sector. Meanwhile, eCommerce sales have grown rapidly. Ecommerce sales grew 7.7% compared with a 0.5% increase for overall retail sales from Q2 2022 to Q2 2023.
In the early to mid 1990s, society saw mainstream adoption of the internet. This was followed by the ascent of eCommerce giants like Amazon, and the beginning of the brick-and-mortar decline.
This marked the great shift in retail from traditional commerce to eCommerce. At this point, customers began to experience the luxury of online ordering and fast, easy returns. For the first time, eCommerce also gave customers a personal shopping experience, curated especially for them. Subsequently, many big-box, department, and other retail giants began to close their doors for good. Resulting in the mass wave of bankruptcies witnessed in the 2020s in the US.
Brick-and-mortar retailers aren't as nimble and scalable as fully-online counterparts, and it's hurting business. In fact, Chapter 11 bankruptcy numbers jumped 68% in the first half of 2023.
High prices
The advent of the internet did more than just pit eCommerce vs. brick-and-mortar retail. It also created more savvy consumers. Shoppers are able to research prospective purchases more easily than ever. They identified when items were more expensive than their competitors — even than those of fellow brick-and-mortar retail destinations like Walmart.
With the amount of research customers have at their fingertips, pricing can be a major flaw for many businesses. In a recent marketing survey, 25% of respondent businesses claimed they were losing customers in favour of cheaper competition. Companies must take whatever measures necessary to remain competitive with their retail pricing strategies or risk the fate of bankruptcy.
Online purchases continue to grow while overall retail sales remain largely stagnant. This poses a challenge to the traditional commerce sector. However, there are steps brick-and-mortar retailers can take to stay competitive and meet the evolving needs of consumers. Retailers are learning that options such as curbside pickup can attract customers. In fact, this offering has grown 66% year-over-year.
"It is intriguing to see how consumer behaviour continues to evolve, and faster than ever before," says Reid Peifer, VP of Creative at Liquid Web.
"At Nexcess, our mission is to help businesses who want to make money online. We are hoping that our report empowers brick and mortar business owners to embrace digital transformation. They must keep pace with consumer expectations. We are all about transformation. We pride ourselves on helping organisations of all sizes start, manage, and expand their online businesses. Something we have done for 23 years."
Enterprise Times: What this means for business.
This is an interesting report that outlines the history of commerce. The report notes the days of going to "the store" for items you want seem like a distant memory. Consumers can still run to a traditional commerce location, but customers are increasingly turning to the convenience of eCommerce. According to the US Census Bureau, from the second quarter of 2022 to Q2 2023, eCommerce sales jumped 7.7%. This compared with a 0.5% increase for overall retail sales.
Increasingly, a trip to the store often means parking in a pickup spot. Popping your trunk so a store employee can load your groceries or other items. In fact, curbside pickup is now up 66% year-over-year, according to pymnts.com. And simply purchasing items by phone or tablet to arrive at your doorstep is even more commonplace. Yet many brick and mortar stores still remain wedged to old commerce practices.
The report provides a useful checklist of the activities brick-and-mortars retail operations should consider to undergo a digital transformation to support online shopping and thereby attracting and sustaining relationships with digital customers. Overall, the report correctly highlights that digital transformation, omnichannel retailing, and personalisation are key to survival for traditional retailers.