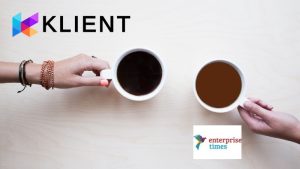 At Dreamforce, Enterprise Times sat down with Andres Restrepo of Klient to talk about the PSA company and Dreamforce. We met at the Canada Lodge, a hotel that had been taken over by Canadian organisations within the Salesforce ecosystem. Restrepo only joined Klient in June.
What is your role?
"What's your role? I'm the rookie of the team. I came in this summer. I was working with CBC/Radio Canada as a marketing content specialist. My role is marketing advisor with strong online marketing experience. I'm helping the team again have an updated presence online, PR, search engine social networks, and ad buys. All these touch points that contribute to making the brand findable."
I asked him for the elevator pitch for Klient.
"Klient is a professional service automation Salesforce app made to deliver projects successfully every time. We are a solution that helps companies, from quote to invoicing, scale their business through project management in the Salesforce environment."
Why do customers choose Klient?
"Because of our service. We're customer-obsessed. We have built this amazing product through this relationship. We want to build on repeating this winning recipe. So service, service, service, and then vision as well. We have the chance to work with very skillful people and know where this thing is going. Product and service will be our key recipes for success."
On 2023
What have you achieved in 2023 to date?
"We have extended our product. We have grown our customer base. We have a new team of marketers and a big alignment between sales and marketing. We are also very close to launching a partner programme for Salesforce ISVs. We want to involve the community as resellers, referral, and implementation partners; that's a big chapter. We want to grow to the next stage (to do that), we need help, and we need to count on our community. We are also very excited about getting certified on SOC 2.
"Our SOC 2 framework goes beyond the regular frameworks that we have right now. It's one of the most secure, most renowned certifications in terms of data management and privacy management. We achieved that through our platform. We managed that as a Klient-native project. That allowed us to really be able to expedite the process. KPMG was very impressed with how we did this. Now, we're giving away this recipe to all Salesforce ISVs that will like to get themselves certified as well."
On Dreamforce
At Dreamforce, during the main keynote, Salesforce announced Einstein One. The keynote focused on what it is providing customers of the Sales, Marketing and Service Cloud and little about how the ecosystem will leverage it. I asked Andres how are Klient looking to leverage the Einstein One platform.
"We were talking about that yesterday during our debrief. We're looking at that with a lot of excitement because we are innovators. We're always pushing the envelope one step further. AI is an important part of this digital revolution that started with the coming of the internet. We see it as a big player in project management.
We want to be able to learn from the projects that we're managing on the platform and help clients be able to have insights. To have this copilot presence where they can be assisted, they can be better managers through this whole copilot assistance, which is really new. We are engaged in testing all these modules very quickly and see how we can integrate them on Klient, basically in the project management track."
What's your main takeaway from Dreamforce?
"The scale of this movement, of this company. It's huge, and it's everywhere. It's the second-largest software company in Japan, and the growth is very impressive. They are also very aligned with their values. I think that's something very important because right now, we're entering this AI revolution, it brings a lot of uncertainty. We need guidelines and ethics, and I think Salesforce has very good values and is very credible in terms of how they are developing their products."
On the future
What are your objectives in 2024?
"Building this Partnership Programme, we're going to be doing that. Also, branding-wise, we want to align our brands and our communications with a more comprehensive vision of what we have in mind. By that, I mean the mind of our chief experience builder, which is Yannick (Abraham). We are helping him take his ideas from his mind and make them tangible. That's a good thing for us to be practical, operational and tactical.
"We will make our product evolve very quickly through the feedback of our customers.  We're very close to our customers. They really appreciate that. There's one common denominator when it comes to playing: we are very close to our clients, helping them not only use a system but also grow. Any challenges or any kind of feature they want, we are there to develop it quickly and provide value for their teams to manage projects."
What's on the product roadmap for 2024?
"I will let Yannick give you more details about that, but maybe I could tease you by saying that Project management is the main priority, and also the AI layer that will allow us to be more helpful to teams across the world."
Is funding on the cards?
"Yeah, for sure. We are looking at maybe entering this AI fund that was announced yesterday because we believe that clients are going to be asking for those kinds of capacities. For us, it's an easy grab; the money is there. We already have this dynamic that is very productive with Salesforce. We have also been accepted into the Salesforce accelerator last week as well. We're going to be prioritising the other resources that are provided by the Salesforce ecosystem."