Creatio is a company growing fast below the radar of many enterprises. Enterprise Times spoke with Andie Dovgan, Chief Growth Officer of Creatio, to learn more about this fast-growing company. The first question I asked was, who are Creatio?
"Creatio is a global vendor with a no-code platform to automate workflows in CRM with the maximum degree of freedom. We are located in the intersection of three major technologies: CRM, automation, and workflow automation. We enable everything through the no-code platform."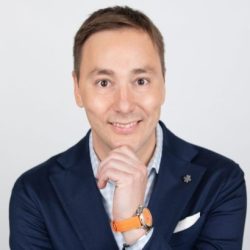 Do you have your own CRM platform, or do you automate other people's CRM platforms?
"We do have a CRM  platform. It has been recognised as a leader and a strong performer in multiple Gartner and Forrester reports. What is really interesting is that we build our CRM platform on top of our no-code platform. Everything is built using no-code components, including CRM and financial services products."
Creatio is a private company and raised $68 million in a 2021 funding round led by Volition Capital, with participation from Horizon Capital (according to Crunchbase). According to its website, the company has 700 employees across 14 countries. I asked Dovgan to share any other metrics.
"What I can say is we are growing much faster than industry benchmarks. We're growing within 60%, year over year growth. Our net retention is 120 plus. We have 700 employees, we have 700 partners, and we have 1,000's of customers. We don't disclose our revenue numbers, but the growth we have been experiencing is outstanding. We continue to expand aggressively through new customer acquisition and an expansion of the existing account base."
Partners
You've announced several new partners in recent months. Is that a focus?
"We are a very partner-driven company. We have this genuine care and capabilities to work very closely and efficiently with our partners. We recently did a big survey of successful partners and got incredible results. The average satisfaction is 4.6 out of 5.0.
"We have strong relationships with global SIs like Infosys or TCS, where we have larger practices of Creatio. We work a lot with local and regional partners. For example, in France, we have an incredible partner that is on a smaller side that exclusively works on Creatio technology. The same applies to other geographies.
"Then we also have lots of technology partnerships with software vendors or other  technology companies, where we see how we can complement each other regarding go-to-market motions."
What about global technology companies?
"Yes, strategically, we work with Amazon. Amazon is a big partner of ours from the hosting point of view. We also have relations with Microsoft Azure as a second vendor with whom we have several instances."
What has happened in 2023
What have you achieved this year?
"This year has been probably the most successful in the history of Creatio. We maintained the aggressive growth and incredible success, specifically within the financial services vertical. With banks, credit unions and insurance companies in the US, Europe, and Asia Pacific.
"We have signed several very significant logos, such as Coca-Cola Bottling Company. We started a global project with MetLife. Those companies are selecting Creatio because they understand they need results quickly. They appreciate the value of the no-code capabilities. Those selections have been made when they really need to accelerate their go-to-market. They understand that existing technology and those behemoths of the world available in the marketplace are incapable of delivering results immediately. We are very proud of that."
On the Future
What do you hope to achieve by the end of 2024?
"We are incredibly excited about the market opportunity. Digital is a big priority for many organisations, specifically in the financial services sector. We are about to make a major release. This is a really important milestone in regards to the product development. We will continue to aggressively follow the strategy. We feel this strategy is very balanced and enables the growth that we are seeing for our company. We have grown through partners by enabling and empowering them.
"We are verticalized in our direct sales teams. We have also expanded globally. We already have a presence in 25 countries. We will continue to land those customers, which opens up new markets for us. That's our plan. Everything is built on the heels of a very powerful product, and our trust in the platform and our capabilities to solve those unique business problems uniquely."
At the end of 2024, what will you hope to have achieved?
"Our strategy is to maintain the growth rate that we currently have in the future, even though we are getting bigger every year."
Quantum is coming
Creatio is ramping up its marketing to a major release. Version 8.1 of Creatio, the Quantum release, will launch on September 20th. Quantum is a next-generation release of Creatio's no-code platform. All applications on the platform can be assembled with no-code components. During the launch, the company will also publish an interview between Seth Godin, renowned business author and Andie Dovgan.
Why is the quantum release important?
"This introduces, in our opinion, a new era in business automation. Creatio, to my knowledge, is the only vendor in this space that offers this composable experience for CRM, workflow automation, and vertical solutions, which means that everything in our platform has been decomposed to a level of smaller components and blocks, every widget. Every feature, every set of capabilities, is now like a composable block. Non-technical people and business technologists can use these to assemble a workflow or an application from those available blocks.
"Right now, deposit acquisition is a big trend in the financial services market. We have all blocks available for a customer in this space such as customer success, deposit management, and business processes to create a new solution, probably in a matter of hours.
"We're talking about this new era of business automation. Before that, we had the cloud; before that, we had monolithic architecture. We believe we're in this no-code composable era that brings a very different experience and speed to change for those companies that require it.
"It's really important, in our opinion, because we don't know what awaits us around the corner. We just passed COVID, all those geopolitical issues, a full-scale war. Businesses need to build resilience and be ready to address future challenges that they don't have a lot of visibility on now. That's why we believe this technology approach is on a different strategic level for companies."
On generative AI
How close are you to delivering a generative AI interface for that no-code composable platform?
"Integration with Gen AI is a part of the Quantum release. GenAI is a part of our overall AI strategy. We think about AI strategy as an extension of our ML models for scoring classification, regression cases and everything related to that. Separately, we have a stream for Gen AI and a very aggressive roadmap.
"We have established two major sub-streams within the Gen AI stream. The first one is focused on application creation through open API integration. For example, I'm trying to create a new internal travel request management application. I can get into the application hub of Creatio. I can say that I want to create a new travel request management app. The system will pre-generate data models, UIs, and even workflows based on that request through an integration with open API.
"We are developing a set of use cases specifically to accelerate the no code development cycle, where Gen AI can help us with the MVP and those initial steps. That's also included with some AI-assisted development work.
"On the CRM side, or customer engagement side, we're introducing many use cases for the end user. For example, an inbuilt Gen AI assistant where in any section of the system like case management or Opportunity Management, you can ask a question and say, 'What can I do here to be more successful?' GenAI will generate steps that can be turned into actionable prompts within Creatio. It will regenerate activities and generate links to certain knowledge-base articles and stuff of that nature.
"To summarise, one stream is focused on no-code development. Another stream is focused on enriching CRM use cases. In general, we believe that Gen AI and no code is a great match, and we're trying to capitalise on those opportunities that GenAI brings to the table."
Who buys Creatio?
What is your target market?
"Our target market is corporate and enterprise organisations. We consider corporate as everything larger than 250 employees and enterprise as larger than 2,500 employees. We do spend a lot of time with verticals. We often work within financial services, banks, insurance providers, credit unions, and mortgage companies.
"Then we have solutions for over 20 different verticals with those prepackaged components. Every company with established processes and digital transformation needs can be a potential customer of Creatio. We don't directly focus on SMBs, though we have some partners mostly leaning towards smaller organisations."
Challenges
What are your challenges?
"How we can grow even quicker. It's a little bit bullish. We have incredible momentum. I have been with the company for more than 10 years now. I have grown from being an SMB account executive to my current role, which I enjoy. We took the right approach towards our product development. We're very proud of the technology we've built. We are a product, first company. We haven't built this company as a sales and marketing first Company.
"We are a leader in Gartner Quadrants, we're a strong performer and a leader in Forrester waves. If you compare us to some of those bigger organisations, you can see that we are a strong challenger and challenge the status quo. We are hiring aggressively across the globe. We are proud to capitalise on the momentum we're having on the market."
Priorities
What are your top two priorities?
"We are making sure that the brand is expanding as aggressively as possible. Make sure we can build the process in the organisation as needed for the future; both demand gen and sales. We are expanding the teams and building the organisational infrastructure we need for (the next) 1-3 years to ensure we can maintain the pace we've just discussed."
The Seth Godin interview
You recently interviewed Seth Godin. How are you applying the insights that you gained from Seth within Creatio? "I love, love, love, love, love, love, love that interview. I really love the phrase that Seth said two times during our inteRview
'Let's get real, or let's not play.'
"I think that we're going all in. We're fully committed to genuinely caring for our partners and customers. We have a lot of passion for what we do. We are going real. Another important aspect of this is that we're focused on providing freedom to people.
"What SaaS is saying is that the industrial age has been done. We are now entering a new leadership model. In this leadership model, we need to empower our employees to feel significant, to feel meaningful, to get more of this freedom. Our technology and no code specifically enable this freedom; you're not constrained, limited and dependent on your IT and other areas of the organisation to execute what you need.
"For example, I got an idea of what exactly I want to automate in my company. I will give a task to a no-code creator who works within my organisation and will build this process within the next couple of days, and we'll get it launched. That's a very good illustration of the freedom. We use Creatio internally very intensively. Those are my takeaways from my incredible conversations with Seth."
The book question
And what was the latest book you read? And what was your takeout for business from it?
"The are two books. I read Slootman's Amp It UP (Amazon Aus, UK, US). It's one of the best business books that I ever read. It's from a former ServiceNow CEO, and now he is CEO of Snowflake. It's an incredible book."
What is your take for business from it?
"Always compress your cycles; things that you can do quicker need to be done quicker. Compress cycles, raise your standards, and don't settle for mediocre performance and execution.
"Another book that I have actually read three times, Talent is Overrated: What Really Separates World-Class Performers from Everybody Else by Geoff Colvin – Amazon (Aus, UK, US). This is one of the best books I have ever read, and I constantly return to it to get inspired and motivated."
What is your takeout for business from that book?
"That you are so much more in control than you think you are. With deliberate effort and deliberate execution, you can become anyone you want in your profession if you execute deliberate and repeatable cycles and focus on incremental improvements. It's not that dependent on your genes or your background. You can achieve whatever you want. If you just do that for a long time and do it deliberately."