.
Salesforce has announced a major design update for Slack that will roll out over the coming months. The launch of Slack Sales Elevate last week gave a sneak preview of the new design. The aim is to empower users to stay focused on their work without switching applications.
Noah Weiss, Chief Product Officer, Slack commented, "We know millions of people start and end their workday in Slack, so we took great care to ensure these improvements make it a more productive and pleasant home. The new experience helps teams stay better organized, focus on what's important, and quickly access a growing set of tools in Slack."
The new look and feel delivers the ability to identify where new messages are, whether channel-based or direct messages, create and interact with tasks without being interrupted by messages, and rapidly access different tools needed to work. The UI begins on the Home screen, which provides each individual with their own Digital HQ of their work.
For users working within an Enterprise Grid organization, the Home view lets them view channels across different workspaces.  It allows them to holistically monitor important channels from each workspace. Or switch to the dedicated workspace for a closer view of what is happening.
What is in the new UI
The Home screen is divided into four areas. The narrow left-hand navigation column enables access to dedicated views for direct messages, activities and more. This also provides access to the search and create buttons. The wider second column provides a more detailed view of threads, direct messages and channels, With the number of unread messages displayed. The main workspace displays the current focus areas of work, such as channel messages, activity or threads. The top navigation bar includes a search bar access to settings and other administration functions.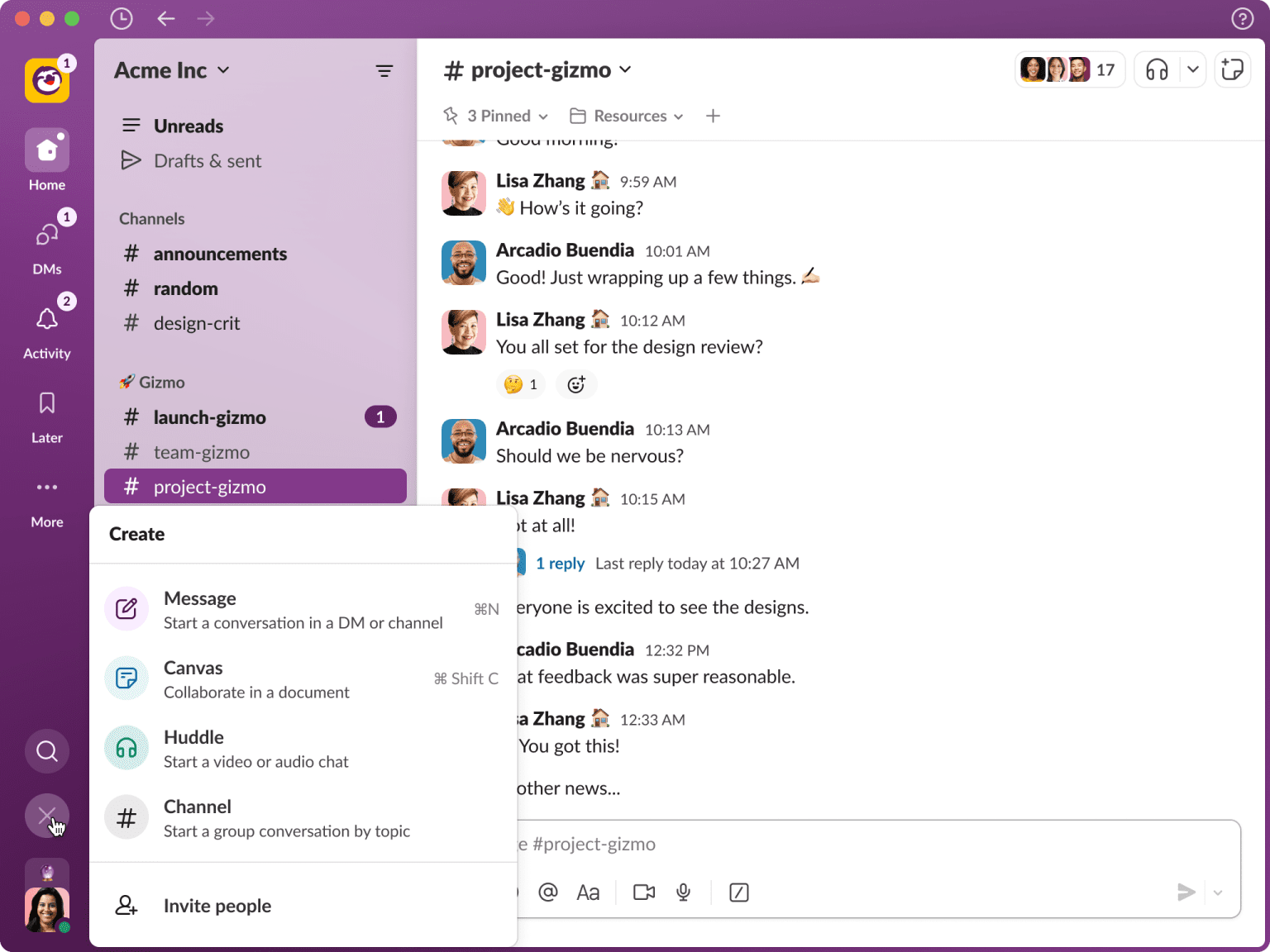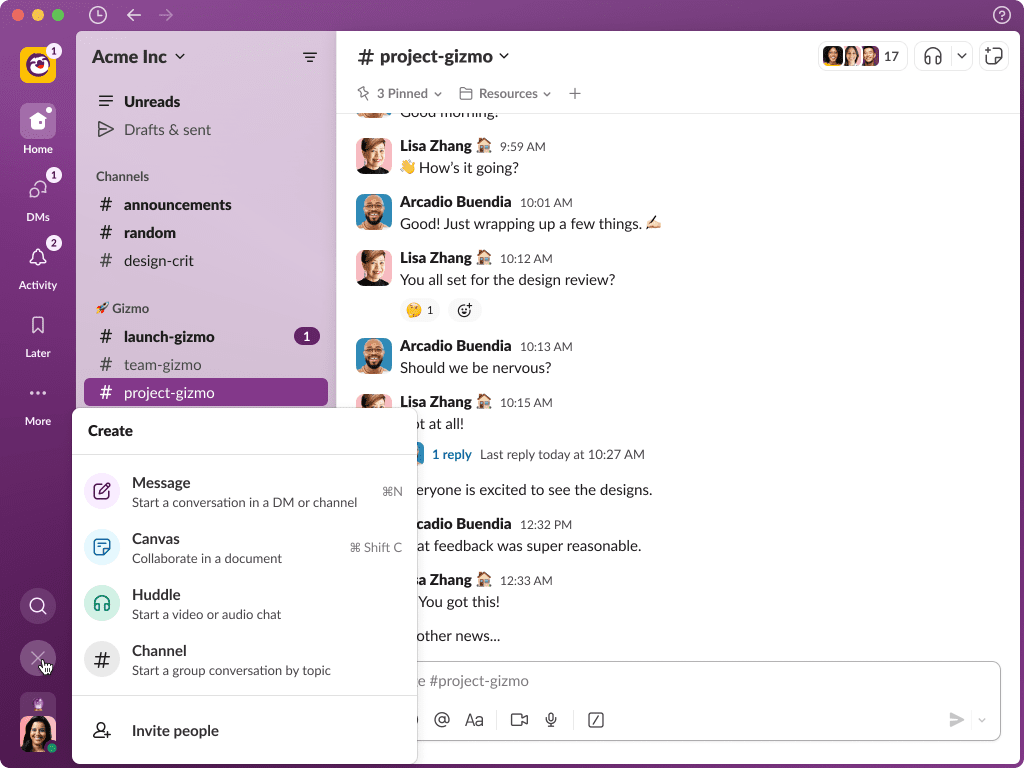 Slack has designed the Home screen so that users need a minimum number of clicks and mouse movements to interact with messages, tasks or new activities. For example, the create button enables users to quickly create a Message, Canvas, Huddle or Channel, guiding the user through each process.
The new interface also supports a variety of themes that users can select from. Though it is not clear how many themes are available as default (at least four). Nor whether users can customise these further.
Early adopters welcome the change, with Andy Kahn, Manager of Artist Relations, Sixthman commenting, "Over the years, Slack's value has grown from being a helpful tool that keeps us connected to our primary platform that is essential to our operations. This new interface has further optimized our workspace, allowing us to stay better focused and keep momentum going on tasks while making it easier to quickly access our favorite tools in Slack."
Slack has also updated the mobile UI for iOS, Android and iPad. The aim is to again provide users with the shortest path to the most commonly used features. Users can also sort and filter conversations. Enabling them to quickly see their important conversations within both DMs and threads and identify if activities are updated.
With Slack Sales Elevate in mind, I asked Slack about the availability of other 3rd party applications. Slack replied, "All of the 2600+ apps in Slack's app directory are available with the new UI. No rework would be required for existing integrations. Integrations can be found under the "More" view. We now surface 3rd-party App Notifications directly on the new Activity tab as well, alongside the user's other notifications that require their attention like @mentions, thread replies, etc."
When can you expect this update?
While Slack says it will roll out these changes in the coming months, it isn't clear how it will do so. In 2020 Enterprise Times spoke to Ali Rayl, VP of Customer Experience at Slack. She explained how the company has rolled out a previous UI update to the users. It does not take a big-bang approach but instead pilots and iterates. She said, "We didn't roll that out to every single new customer all at once. We rolled it out to half of the people creating new teams. Our research showed that new people could understand our product better.
"The data that we saw in our research bore out in practice. We cut that experiment short by two weeks and rolled the new UI out to everybody because we had overwhelming data that it was the right change to do for new people."
Is Slack taking a similar approach now? It is unclear; perhaps it will roll out by region.
Enterprise Times: What does this mean
With these updates, Slack has taken UI to another level. At first glance, the improvements should reduce work friction and increase the efficiency and intuitiveness of the application. However, some users may need to consider how they want their home screen to look regularly. Slack has not yet provided an intuitive AI Powered interface that adapts as the user works across different channels; that may be on the development roadmap, though.
In the meantime, users should consider what they use regularly. And ensure that those channels and activities appear on the home screen for easy access to further reduce the friction of working.
Wayne Kurtzman, Vice President of Social, Communities and Collaboration IDC, commented, "Slack continues to evolve its productivity platform to meet changing workplace and workspace needs. Slack did more than respond to customer requests: With this user interface update, Slack made it easier for people to better control their flow of work and maintain focus on what matters most to each individual user. At the same time, these updates create a path for more substantial features in the future."
Kurtzman's view is worth noting, especially in his last sentence. Slack will deliver more Elevate modules in the future. However, it will be interesting to see what other third-party firms develop. And how they can tailor the platform in the future if that is possible.