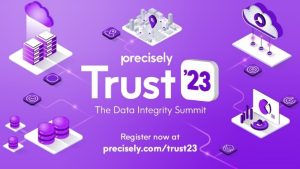 Precisely has announced the dates for its Trust '23 conference. The annual data integrity summit offers a forum where data professionals can better understand how to harness data to drive faster, better and more informed decision-making based on quality data.
The event, streamed twice to cater for interested data professionals working in the Americas+EMEA and the APAC, is being held from May 16th. The Americas and EMEA version starts at 1400 BST, 0900 ET on May 16th and May 17th. The event for APAC will contain the same content but will start on May 17th at 0100 BST, 1100 AEST and on May 18th at the same time. The content for both events is the same.
The event is fiercely anticipated, with content from Precisely and some of its customers that have leveraged its solutions over the last year. Todd Henley, chief data governance and privacy officer at Northwest Bank, commented, "Precisely continues to be the thought leader in data integrity, and I really appreciate the knowledge and insights they provide to business leaders worldwide. We're looking forward to being part of the fantastic line up for Trust '23."
What is happening at Trust '23
That lineup begins with a keynote from CEO Josh Rogers. Kevin Ruane, Precisely CMO, will then discuss the findings from recent research by Drexel University LeBow College of Business that looked at the state of the data integrity industry. Murugan Anandarajan, an assistant professor of management information systems in the Department of Management at Drexel University, will share the findings and their meaning.
The event will contain a mix of thought leadership, Precisely technology updates and customer stories. There are at least two streams of content during each day. After the keynotes, there are live Q&A sessions during each live-streamed breakout so that participants can ask questions during the event. Miss a breakout? Once registered, the content will be available on demand after completing the event.
Other noteworthy sessions include:
Why automation is now the driving force behind digital transformation efforts and how Hyperautomation principles for SAP processes are fueling this movement. It will include a case study from Exxon-Mobil.
Dan Vesset, group vice president of analytics & information management at IDC Research, will explore the role of data integrity in business decision velocity as a competitive differentiator in today's market landscape.
How can organizations unlock valuable location-based insights? The answer is through data enrichment and business-friendly spatial analytics to deliver trusted, contextualized data when and where it's needed through queries, visualizations, and API calls.
Mikkel Skougaard, director of ESG reporting and strategy at Verisk Maplecroft and Matthew Rusk, head of Global Reporting Initiative (GRI) North America, will participate in a panel discussion on the importance of trusted data in unlocking true business value from ESG metrics and reporting. They will offer advice on navigating evolving regulations and consumer expectations.
Atif Salam, CxO advisor and enterprise technologist at Amazon Web Services (AWS), industry analyst Sanjeev Mohan, and Precisely CTO Tendü Yoğurtçu, PhD will share perspectives on the importance of data quality, observability, and governance strategies in today's complex data architectures.
There will also be a deep dive session to look at the latest product updates from Precisely. During the first-day keynote, Precisely CPO Anjan Kundavaram and Emily Washington, SVP of Product Management, will share details about recent and maybe upcoming updates to the Data Integrity Suite.
Still virtual in 2023
Attendees will also learn about some major updates that have powered up the data integrity suite during the event. It will notably include the recent acquisition of Transerve and its spatial analytics solution.
Kevin Ruane, CMO at Precisely, commented, "We are incredibly proud of how our annual Data Integrity Summit continues to resonate with business leaders and data professionals worldwide. Trust '23 promises to be our biggest and best event yet, with more industry experts and customer speakers than ever before. In today's unpredictable market, harnessing the power of trusted data is critical for making confident business decisions. Trust '23 will provide you with the knowledge needed to truly put data to work for your business and, ultimately, achieve better outcomes."
There are only 11 open sessions during the event, lasting about three hours each day. Registered users can bookmark the session and download a calendar invite for each they wish to attend. Registered attendees can also request demonstrations or one-to-one consultations.
Attendees can request custom demo sessions or one-on-one consultations with the Precisely team of data integrity experts. The event follows the success from last year but with many (not all) other vendors returning to in-person events. Enterprise Times asked Precisely why they have decided to retain the virtual conference.
Precisely answered, "Virtual events can scale for a global audience meaning the best speakers can be sourced regardless of location. With less flying involved, virtual events are more sustainable, and also save on travel budgets/resources, allowing entry to more people. Attendees have more flexibility in general, as they can easily select and tune into sessions most applicable for them."
Enterprise Times: What does this mean
Precisely expects thousands to attend Trust 23. Any physical event would likely have been much smaller. Few, if any, vendors have cracked the hybrid event format. With at least one session covering ESG, Precisely has created a conference with a low carbon footprint, especially regarding travel. The challenge will be to get the attendees' focus for three hours on both days and create relationships with and between attendees valued at physical events.