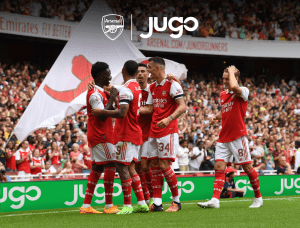 Retail and eCommerce highlights this week include: Jugo's immersive events technology to offer Arsenal supporters new engagement experiences.  Fast Simon, a provider of AI-powered shopping optimisation tools has launched a drag-and-drop visual editor for upsell and cross-sell product. Spirit Hound Distillers hires Chief Commercialization Officer, launches eCommerce platform with National Delivery for whisky, gin, and vodka.
Whitbread and Fujitsu sign a multimillion technology service partnership deal to bolster IT services in Premier Inn and restaurant brands. Entain's digital transformation of UK retail is on track as it celebrates the launch of its 100th Digi-Hub. Lee Mabey will bring comprehensive brand and marketing experience to the Lyfeguard board alongside six other industry advisers.
Jugo becomes official digital events partner for Arsenal
Jugo, a provider of immersive virtual experiences, has signed a new global partnership with Arsenal Football Club. The partnership aims to create new and exciting ways for supporters to engage with the club in a virtual setting.
While Emirates Stadium continues to attract a vociferous crowd on matchdays, many supporters worldwide can't attend matches and instead interact with the club digitally. The partnership between Arsenal and Jugo will offer brand-new virtual experiences that will boost engagement for global supporters.
Jugo's platform will give supporters the chance to enjoy a variety of events, including memorabilia auctions, Q&A sessions, interactive screenings, and opportunities to meet players virtually. Jugo will bring the power of human interaction into each of these events, creating realistic virtual connections between supporters and the club.
Fast Simon launches no-code visual editor for eCommerce upsell and cross-sell
Fast Simon, a provider of AI-powered shopping optimisation tools has launched a drag-and-drop visual editor for upsell and cross-sell product. Now customers can rapidly enable real-time personalized shopping recommendations.
Upsell and cross-sell account for more than 30% of online revenue. Fast Simon's algorithm uses customers' shopping behaviour to recommend additional products to increase sales and customer satisfaction. Merchants can implement this function on major eCommerce and headless platforms, including Shopify, BigCommerce and Magento, without engineering resources.
Fast Simon continues to lead the industry in no-code shopping optimization technology. The company launched the first no-code search and discovery solution for Shopify Hydrogen in September 2022, following its no-code editor for eCommerce search and collections earlier that year.
Fast Simon collects information about shoppers' behavior and uses data analysis to identify other products they would like. Recommendations are surfaced in real-time in an auto-generated widget. The product continuously tracks shoppers' reactions to the recommendations to improve the model.
Product Features include:
Matches shopper intent with personalized product recommendations in real-time
AI continuously learns about customers and improves their shopping experience
Seamlessly integrates with all major eCommerce and headless platforms, including Shopify, BigCommerce, Magento, WooCommerce and Shopify Hydrogen
A fully responsive widget works across all mobile and desktop browsers and with existing merchant designs
Offers lightning-fast page performance to ensure a positive user experience without impacting SEO
Uses the Fast Simon analytics dashboard to monitor the process and make changes quickly and easily.
Spirit Hound Distillers hires Chief Commercialisation Officer, launches eCommerce platform
Spirit Hound Distillery & Tasting Room announces the hiring of Chief Commercialization Officer, Abby Robertson. Additionally, Spirit Hound's whisky, gin and vodka are now available for purchase online in 40+ states. Prior, Spirit Hound products were only available at liquor stores throughout Colorado.
As the first female member of Spirit Hound's executive team, Abby brings a new perspective alongside years of experience as National Sales Director of E&J Gallo, the brand behind Barefoot Wines.
Abby's leadership and vision are already pushing Spirit Hound's growth initiatives as the brand focuses on national expansion in 2023. Abby's first endeavour as CCO is the launch of the company's eCommerce platform. Online ordering of Spirit Hound is a major step in becoming a household name. A logical one following being named Whisky of the Year at the 2022 London Spirits Competition.
Order Spirit Hound's whisky, gin, and vodka directly from their website located here. Spirit Hound runs an onsite tasting room open to the public seven days a week, where customers enjoy fantastic handmade cocktails, snacks, and entertainment.
Whitbread and Fujitsu sign technology service partnership deal for Premier Inn and restaurant brands
Fujitsu has announced a five-year partnership deal worth £57.9 million with Whitbread, one of the UK's favourite hospitality companies. The contract, which builds on an existing 35-year relationship between the two companies, will see Fujitsu delivering modernised and proactive outlet-focused IT services which support the 35,000 employees across Premier Inn, Beefeater, Bar+Block and other brands. This gives the Whitbread teams greater freedom to focus on providing excellent customer service.
Germany is an important growth market for Whitbread, with significant expansion underway. The contract will support this by providing outlet and corporate on-site support across the region. Boosting region-specific technical knowledge for help desks, and adapting support to align with Central European Time and local holidays.
In addition to the services which upgrade Whitbread's offering, the contract cements a long-standing and shared sustainability commitment between the two organisations to achieve net zero.
Entain's digital transformation of UK retail is on track as it celebrates the launch of the 100th Digi-Hub
Entain, the global sports betting, gaming, and interactive entertainment group, continues its digital transformation of its flagship Ladbrokes and Coral shops in the UK as it celebrates the opening of its 100th Digi-Hub in Muirhouse, Scotland.
Entain's Digi-Hubs reinvent the traditional betting shop, with the contemporary, digital-first spaces dubbed the shops of the future. Digi-Hubs have a transformed look-and-feel with more digital touchpoints, best-in-class sports betting and gaming terminals, and interactive displays. The company says this provides more dynamic content and experiences for customers.
Since 2019, when the first trial Digi-Hub opened, the roll-out of these digital-first shops has been integral in welcoming customers back to the high street. Entain has already seen over 1 million gaming sessions and over 10 million sports bets take place in Digi-Hubs. With this milestone, Entain moves closer to its ambition to open 200 Digi-Hubs by the end of 2024.
The modernised, relaxed atmosphere of the Digi-Hubs has been influential in attracting a new generation of customers to the high street. The Group highlights that more online-first customers, who are typically more diverse than traditional betting customers, are coming into betting shops for the first time.
The milestone moment for Digi-Hubs comes as UK retail continues its resurgence after the lockdowns of the pandemic. In 2022, Entain reported UK retail NGR up 56%, which is supported by an improved customer offer through more digital touch points in shops and best-in-class sports betting and gaming terminals.
Lyfeguard appoints dentsu Managing Partner Lee Mabey to Advisory Board
Lyfeguard, a life planning assistant and document management platform, has appointed Managing Partner at dentsu X, Lee Mabey, to its advisory board to lead on brand strategy.
Mabey is a Managing Partner of dentsu X with 17 years of experience leading major brand and digital campaigns. Mabey has worked with household names such as Vodafone, Next and Heineken.
With vast brand activation experience, including at TheLADbible Group, Mabey will lead Lyfeguard's brand strategy, increasing its share of voice in the marketplace and direct targeted campaigns to drive lead generation.
Lyfeguard was founded by father-son team Gary and Fraser Stewart to revolutionise financial management and life planning to help people keep on top of their important documents, bills and life matters, as well as address a lack of planning for end-of-life.