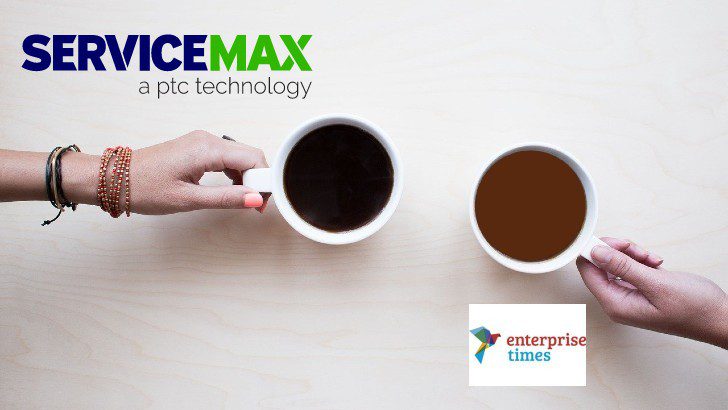 At the start of this year, PTC completed the acquisition of ServiceMax from Silverlake. The completion saw the creation of a new division unit within PTC called SLM, Service Lifecycle Management. Neil Barua, ex-CEO of ServiceMax, is staying on to head up that division. It will consist of several PTC companies with ServiceMax at the core of it. Others include:
Servigistics: A recognised leader in spare parts and inventory management. They help customers optimise their spare parts supply chain, working with huge organisations like the US Air Force.
Creo Illustrate: Technical illustration software that enables the creation of 2D and 3D technical drawings and animated sequences.
Arbortext: An end-to-end publishing solution streamlining how organisations create, manage and publish technical information on demand.
ThingWorx Asset Advisor: It enables an organisation to monitor assets and capture critical alerts in real time.
PTC Warranty: Warranty management software that delivers a strategic view of product and service knowledge.
The Acquisition
Enterprise Times spoke to Dave Kahley, SVP, Chief Customer Solutions Officer at ServiceMax, about the deal and what is happening now.
Before PTC stepped in, ServiceMax headed for a NASDAQ listing with the SPAC, Pathfinder Acquisition Corporation. That deal ended in December 2021. What happened?
Kahley answered, "We pulled out right before going public. It lends back to why PTC makes sense for us. We made, in hindsight, a really good decision not to go public 18 to 24 months ago when the markets were in such sad shape. A lot of companies that did do that in that timeframe have struggled.
"The things that we were planning to do with ServiceMax, with the capital that we would have gotten from going public, were to accelerate our roadmap in areas like IOT and AR. This acquisition put the pedal to the metal on the work we had planned in the public markets. PTC instantly brought us into that space."
It feels like you had a white knight acquisition. You've complimented and added to their portfolio rather than just being swallowed up
"Yeah. The excitement is palpable from the PTC, folks, all the way from the sales reps in the field up to Jim Heppelmann, the CEO, they're all fired up, and we are too."
PTC and ServiceMax
Could you say a little bit about PTC?
"PTC is a fantastic home for ServiceMax. They have been an interested party in our company since about 2015. Since then, we've been on a journey through GE and private equity ownership. This is a great home for us because we're able to marry the leadership that PTC has with digital assets and the design and engineering, and product lifecycle management areas with the expertise of ServiceMax and field service management.
"We're working on a messaging that talks about an infinity loop that marries the digital asset with the physical asset. The idea is digitally designing and producing the assets, then producing a physical asset, which ServiceMax maintains and collects a lot of data about that asset through its lifecycle. Which then can feed back into the digital design process and accelerate innovation. We feel we're uniquely positioned to change the market in that regard."
Where is ServiceMax today?
"ServiceMax is a leader in the field service management space. We are built on the Salesforce platform. We are the best company that fuels the success of customers looking to digitise and transform their service organisations, requiring significant uptime of complex, expensive, asset-centric field service teams."
Unlike ServiceMax, PTC is not built on the Salesforce platform. Is there an intention to change?
"We have three main product lines, we have Asset 360 and our core product, which ServiceMax was founded on and built on the Salesforce platform. We acquired a company called LiquidFrameworks that's in the oil and gas industry, and that product is also built on the (Salesforce) platform.
"(There are) no plans to re-platform anything with this acquisition. We've been very firm, and Jim Heppelmann, our CEO, in the acquisition announcement, even before it closed, stated his intention to not re-platform ServiceMax."
Looking forward
As you look forward to 2023, what are your priorities?
"We have a lot in front of us right now. We've got a new home. We've got a lot of excited people to work with. That's a good thing, to understand how we can gain some efficiencies from PTC and learn from some of the things that they do really well. We have some things we could teach them as a full-blown SaaS company.
"I also think that we need to avoid distractions if we can. We need to keep the business going. We need to make sure our customers are still our number one priority. Since I've been here, we've done a great job on our NPS over at least the last four years. It was at an all-time high of 60 heading into this acquisition. That's something we cannot lose focus on, ensuring we don't mess up our customer experience through this integration process."
What are your challenges?
"You've got to ensure we can keep the team focused. PTC is a company that's about ten times the size of ServiceMax. All those people are really fired up to work with us. We've got a lot of things coming inbound to us, like projects and co-selling opportunities, and you name it. We can't get distracted by that; that's probably the biggest challenge."
Is co-selling a distraction?
"Co-selling is going to be a great motion for us. This acquisition is not two months old, and we've already had many customers, both on the PTC side and the ServiceMax side, and some that actually are users of both of our products already, calling in, and they're excited about the potential to work together. They can give us feedback on what those product priorities will be and go from there. That's a very positive part of those distractions."
On the product roadmap
How has the acquisition impacted your product roadmap?
"Right now, the roadmap is as it was for the ServiceMax team, as a standalone company. We're 100% focused on getting that messaging right and setting the priorities for what products will come into ServiceMax.
"We're working on what products will integrate first into ServiceMax as the hub of the SLM strategy based on customer feedback and based on level of effort to get those products in.  It's too early to get into the specifics of those priorities.
"There's a couple of products that are not solely service-oriented businesses that PTC has—ThingWorx, their IoT platform, and Vuforia, their AR product. You start talking about bringing those into ServiceMax, and things get interesting. You use IoT to monitor products in the field and proactively trigger service alerts for technicians who are using ServiceMax.
"Then AR, there's a lot of use cases for AR, but think of it for 3D step-by-step instructions to help those techs, particularly ones that are more junior. Field technicians are an ageing workforce, and you're taking more inexperienced people out there. This allows expert people to walk new technicians through work procedures remotely. That's when things start to get cool."
On expansion, Salesforce and Challenges
PTC opens up a lot of opportunities for global expansion. Are you taking advantage of that?
"I think this will be one we take our time and think through. There's obviously going to be a piece where we're enabling the PTC teams on what ServiceMax does and how to spot an opportunity and things like that. I don't think it's realistic to get them to the domain and expertise that is needed to sell ServiceMax in some of those regions. Once we get this cross-sell going, and we find opportunities in regions, we will find a way to expand."
How is the relationship with Salesforce evolving?
"Salesforce, they're obviously a great partner of ours. We're a top 10 ISV partner for Salesforce, so we're important to them. Our products are built on the platform, and we have zero intention to change any of them. They've been very congratulatory of us on the acquisition. I don't know that things will change. If anything, we've got a more compelling Field Service Management story and closed-loop PLM story that we could do more with that."
What are your customers' challenges?
"I think Field Service Management has been evolving for a while. It's not just about the technician anymore. It's about services as a revenue source. Sometimes companies get $12 in service revenue for every dollar they get from selling a piece of equipment. It's a growing source of revenue. They're looking to increase the satisfaction of their customers, too.
"Above all, digitization continues to be a focus for many service organisations. Most technicians are still doing their jobs without the best technology and mobile tools in their hands. We're here to help them, and the more customers and technicians we put on ServiceMax, the better."
The book question
What's the latest book you read? And what was your take out from business from it?
"I follow this guy on Twitter called Sahil Bloom, and he recommended a book called "The Almanack of Naval Ramikant" (by Eric Jorgenson, Amazon (Aus, UK, US). He's a really smart guy and pontificates on a lot of things in life, personal and business. I really enjoyed the book. There was a lot of balancing personal and work time."
There is a quote from the book that Kahley shared: "All the returns in life, whether in wealth, relationships, or knowledge, come from compound interest. Play long-term games."
Kahley continued, "Particularly since we're all sitting here on Zoom calls, and we've been this way for the last three or four years, work tends to blend into personnel and the boundaries around the old eight to five, not that anybody's worked that way in a long time. Those likely have just disappeared for a lot of people. It's a good reminder that you have got to unplug sometimes and step out of your office and not take your laptop with you.
"Another good tip in the book is the power of compound interest. It's not just the money you're talking about. A 1% increase in your performance every day makes a big difference. Using that time productively may take a while, but you can dramatically improve your performance with just small changes."