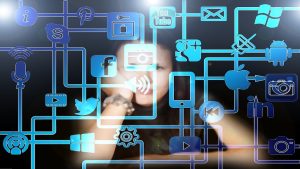 Businesses today are acutely aware that a digital transformation strategy must link business and technology. However, success is not guaranteed unless this relationship is understood. Or even how, core technology can be leveraged to create a strong, flexible backbone to support digital ambitions.
Enterprise Times met up with Dr Stefan Sigg, Chief Product Officer at Software AG to discuss the digital backbone and how organisations can create the true connected enterprise.
Dr Sigg suggests today's enterprises are looking for ways to connect all their technology. Whether it's legacy or cutting edge. Businesses continue to face the pressure of performing at the 'speed of business' while trying to democratise IT investments. According to Sigg, "the digital backbone is something that gives businesses strength in what they do. It gives enterprises a lot of reusable components for where to build the rest of your organisation. A strong solution which helps organisations to optimise or to build a new business."
Digital sovereignty
There are multiple reasons why digital transformation projects fail to meet their objectives. One of the main ones is a lack of flexibility in technology infrastructure. This is where the critical nature of the digital backbone becomes evident. Just like in the human body, the spine is the central support structure, underpinning different parts of the musculoskeletal system. Without it, the human brain-body connection would collapse. In the world of IT a connected digital backbone similarly represents the fundamental structure supporting systems, applications, networks, and users and is imperative for organisations to become a truly connected enterprise.
According to Dr Sigg, "The key characteristic of the digital backbone is its openness. Openness and flexibility and the interoperability that comes with it. Essentially, that boils down to the API's and having an agnostic attitude towards different platforms.
"One of Software AG's core mantras is being multi-cloud. We are able to deploy on any kind of cloud that you can think of, including private clouds, edge, and also integrate applications that are still on premise. So, the notion of digital sovereignty is very important to us. Namely, investment being portable, flexible, re-deployable, which is very important when an enterprise want to be sovereign."
Where can I get it?
You can view the videocast with Dr Stefan Sigg by clicking on the link below.
VIDEOCAST: The digital backbone and how organizations can create the truly connected enterprise