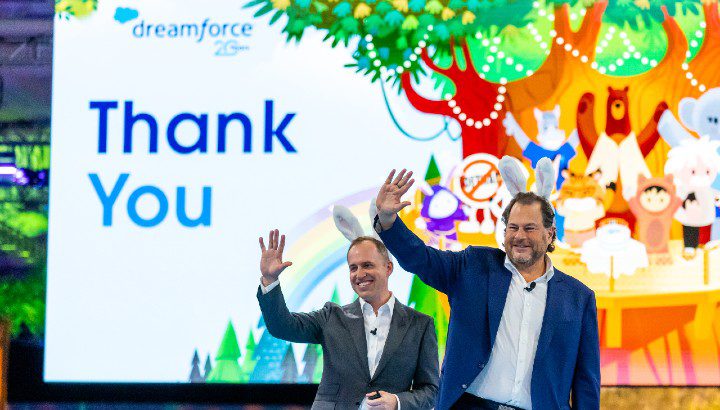 Dreamforce is over for another year. Yet again, Salesforce did not disappoint with a flurry of announcements and press releases indicating innovation, partnerships, philanthropy and customer success.
Salesforce Genie
Top of the list for the announcements was the launch of Salesforce Genie. Enterprise Times covered this launch in a fuller article that explains more about the new Customer Data Platform (CDP) that extends across and underpins the entire Salesforce platform. Salesforce CDP was previously limited to Marketing Cloud.
The announcement also saw the addition of 18 AppExchange partners to a curated AppExchange Genie Collection. Salesforce highlight three of these partners:  Criteo, LiveRamp, and Neustar, in a separate release.
Travis Clinger, SVP of Activations and Addressability, LiveRamp, commented: "Customer data platforms are transforming the advertising ecosystem into one that is more customer-first. By enabling a single, real-time view of the customer and centralization of customer knowledge, Salesforce Genie can deliver unparalleled consistency and effectiveness across all customer touchpoints throughout the media ecosystem." 
Ryan Engle, VP of Identity Products and Credit Informed Marketing, Neustar, commented: "As a marketer, simplified customer data and real-time market stats are critical to a higher return on investment (ROI) and essential to informed data-driven marketing decisions. Salesforce Genie will provide an invaluable data repository that is not only content-rich in customer data but also reflects marketing and website activity to make them actionable. Additionally, customer data platforms are generating the competitive advantage necessary to visualize the customer journey from end to end as they are reducing churn rates, enhancing lead conversion, and boosting retention."
Matthew Hogg, SVP of Partnerships, Criteo, commented: "By aggregating and consolidating real-time and transactional data, Salesforce Genie will allow marketers to analyze customer segments and trends to better increase repeat purchases, build loyalty, and grow the total value of each customer for their business."
In addition, Marketing Cloud saw improvements to its use of Salesforce Genie, building on what it had achieved with Salesforce CDP. Marketers can connect real-time data across Salesforce and external data through Mulesoft, native connectors, and Salesforce AppExchange. There is greater integration between the Marketing Cloud Customer Data Platform and Personalization powered by Einstein. In addition, marketers can benefit from the new connectors with third-party data sources like AWS Redshift and Microsoft Azure to ingest data at scale.
Slack innovations
The other major announcement was the launch of Slack Canvas. This is the next generation of Quip, which never managed to wrest control of Microsoft Office's dominance of the Office automation market. Slack Canvas enables organisations to create, organize, and share essential information within their Slack channels.
Ali Rayl, Senior Vice-President of Product Management, Slack, commented: "Canvases enhance the real-time collaboration you have in Slack channels by offering a set place to organize and share information of any kind in ways that make people more productive and efficient."
Canvas goes beyond what Quip did with tighter integration into the Salesforce ecosystem, enabling organisations to build workflows that leverage content within Slack Channels. With companies investing in Slack, this provides a vehicle which may see many finally move away from Microsoft Office for the first time.
Slack also added new features to huddles. It includes support for video, multi-person screen sharing, and message threads to compete with Zoom. In beta, Salesforce announced the new Slack platform. It delivers reusable building blocks for developers to build organisational workflows and solutions. Slack has already worked with consulting partners such as Accenture, Atrium, Capgemini, Deloitte, Globant, IBM, KPMG, NeuraFlash, PwC, Silverline and Slalom to build industry solutions. These solutions currently target the financial services, manufacturing, communications, retail, media, and technology industries, and more will become available in time.
Partnerships
The big partnership announced was with WhatsApp, with the firms working together to transform how brands connect with customers. Roy Edwards covered this news in a piece last week.
Salesforce also deepened its relationship with AWS. Salesforce customers can now leverage Amazon SageMaker, AWS's machine learning (ML) modelling service, alongside Einstein. It allows customers to choose an AI engine outside of the Salesforce ecosystem for the first time without the need to extract data from the platform. The partnerships also include integration between Amazon Ads and Salesforce Genie, bringing even more marketing data onto the platform for use by customers.
Liz Miller, Constellation Research, noted: "Customer experience is most impactful when it happens in the moment that matters to the customer, when it's personalized, and when it's comprehensive. That requires a massive amount of real-time data, automation, and intelligence to train AI models to understand a brand's customer AND a brand's business. By empowering organizations to bring their own AI models, Salesforce and AWS are enabling teams to bring AI…and the customer data now available across the enterprise with CDP…out of the silos for the benefit of everyone."
Philanthropy
Less swag this year at Dreamforce may have disappointed some people. Still, it meant that Salesforce could also focus more on their philanthropic efforts, especially around sustainability, without adding a contradiction to their efforts. This year Salesforce announced $25 million in grants to support school districts and education nonprofits across the United States. This year's funding will focus on student wellbeing, supporting both social and emotional learning, behavioural and mental health programs, and trauma-informed therapy, as well as robust support to improve the resiliency of schools and educators.
Marc and Lynne Benioff also announced a $60 million gift to the marine research centre at UC Santa Barbara. The funds will further support the work of the Benioff Ocean Science Laboratory (BOSL), including Whale Safe, an innovative whale monitoring and alert system launched today to help reduce whale deaths from ship collisions in the San Francisco Bay. It is a typical move by the Benioffs as they support a local institution that aims to make the world a better place for the natural world.
Sustainability
Salesforce announced the Net Zero Marketplace. The new platform aims to connect buyers with ecopreneurs in a trusted, transparent carbon credit platform to scale climate-positive impact. The announcement also formed part of the Salesforce Winter 23 release as it looks to extend Salesforce Net Zero Cloud to help organisations measure and reduce carbon emissions.
Built on Commerce Cloud, the initial cohort of carbon credit providers includes: Climate Impact Partners, Cloverly, Lune, Pachama, Native, A Public Benefit Corporation, Respira International, and  South Pole. In addition, third-party rating organisations Calyx Global  Sylvera and CO2.com join as inaugural partners.
Suzanne DiBianca, EVP and Chief Impact Officer, Salesforce, commented: "The uptick in extreme weather events shows that no one is spared from climate change — we need smart climate solutions now. Businesses aiming to achieve long-term emission reductions can complement their efforts with high-quality carbon credits. Net Zero Marketplace brings together Salesforce's values, technology, and commitment to ecopreneurs to accelerate climate action."
Corporate News
As the company came together in San Francisco, Salesforce also announced the appointment of Robin Washington as Lead Independent Director of the Company's Board of Directors, effective September 15, 2022. He succeeds Sanford Robertson, who will continue to serve as a Director and Chair of the Nominating and Corporate Governance Committee.
Marc Benioff, Chair and Co-CEO of Salesforce, commented: "Robin's outstanding leadership and commitment to Salesforce is evident to all who know her. She is the ideal person to succeed Sandy and become our next Lead Independent Director."
Bret Taylor, Vice Chair and Co-CEO, added: "Robin's experience and sound perspective and advice has been critical to our success. I look forward to continuing to partner with her as we deliver unparalleled value for our customers around the world."
Washington responded: "I am excited and humbled by the opportunity to help lead this great Board. I have a deep appreciation for Salesforce's team, customers and vision for the future from my years as a Director, and look forward to leveraging my nearly two decades of experience serving on a diverse collection of boards to drive continued value creation for our stakeholders. I would like to thank the Board for their confidence and trust, and Sandy for his invaluable guidance and steadfast support through the many years of incredible growth at Salesforce."
And the ecosystem also shared some announcements
Below is a small selection of some of the announcements made by the Salesforce ecosystem during Dreamforce.
Conexiom launched the Conexiom Order Management App on the AppExchange. It enables B2B and B2B2C manufacturing and distribution organisations to consolidate all sales order channels under Salesforce Order Management for a single view of Order history and servicing. It helps customers get more from their Salesforce investment using the standard objects, flows, and validations already built into B2B Commerce Lightning and Order Management.
Validity announced the launch of DeDuped and DemandTools Free edition at Dreamforce 2022. DeDuped is a duplicate assessment that will evaluate up to 20,000 account records in Salesforce and, within minutes, populates a report detailing how many duplicates the system finds.
Sprout Social announced a new integration with Salesforce Service Cloud to provide brands with a 360-degree view of customer interactions. The announcement extends the global partnership, which made Sprout the preferred social media management solution for Salesforce customers.
Enterprise Times: What does it mean
Post-Covid, Salesforce has held a successful Dreamforce, returning to a physical event for the first time. This year, conscious perhaps of the event's air mile and carbon footprint, the event was scaled back. However, it was still huge and talking to many of the attendees, there was excitement about the return of what is the key event of the year in the Salesforce ecosystem calendar. While the dates for Dreamforce 2023 are not yet in the Moscone event calender, it seems likely that it will appear again next year.
This year's announcements did not disappoint, and while there was no new acquisition, Salesforce is building a powerful technology stack to further power growth and compete with the other industry giants. What is missing is an ERP within the platform, although it has a close partnership with Workday and growing ecosystem partners such as FinancialForce and Rootstock. Is an ERP vendor the next big acquisition that the company will make?