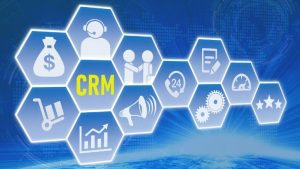 monday.com has launched monday sales CRM, a fully customisable solution built on the monday.com low-code platform. This is the first of several product solutions built on the monday.com work operating systems. There are four others in the initial tranche of solutions built on the monday.com platform. They are monday work management, monday marketer, monday dev and monday projects.
Ron Kimhi, monday sales CRM Product Lead at monday.com, commented: "As organizations' digitization continues to evolve rapidly, the need for a unified cross-department customer view becomes more pressing. We're building a fast, flexible CRM that breaks down departmental silos to connect teams across entire organizations, increasing efficiency and results.
"Our new approach to CRM is unified but very easy to use, ensuring a seamless journey from prospect to customer and beyond, optimizing daily teamwork, team satisfaction, and success."
Enterprise also spoke to Kimhi further about the launch. This isn't a completely new product, as monday.com has been trialling the solution and publishing information about it for several months, including a short video back in March, which gives a good overview.
Origins in customer demand
The origins of monday CRM begin much earlier than this year, though. A google search for monday.com and CRM finds that customers have been using the platform for their CRM for some time.
Kimhi explained further, "We just saw customers that made such an enormous effort to use the older monday as their main CRM platform with extraordinary workarounds. So the product market fit was already there. We just took this opportunity and started to create those dedicated features that really took Monday and made it a fully functional, very powerful platform."
What is Monday CRM?
Enterprise Times asked Kimhi to describe what kind of CRM the solution is.
"We are describing it as a new unified experience. The main market is SMBs and mid-market. The essence of it is to create a new kind of CRM that combines all the processes from prospecting all the way to the post-sales processes.
"Managing the deal phase really, but also once the deal is closed, managing on the same platform, the post-sales processes where other teams like Customer Success teams, onboarding, project management teams can also collaborate on the same information that was managed in the deal and CRM portion."
The new CRM targets small to mid-sized firms and comes out of the box fully featured with boards for Leads, Contacts, Accounts, Opportunities (deals), Activities and other dashboards. Each component comprises information and workflows that enable Sales teams to fit into the wider organisation, whether marketing or delivery.
For example, leads can be ingested from a spreadsheet, a form or using the integrations that the monday.com platform already supports. The activities dashboard enables an agent to send emails and schedule meetings and calls within a single place. The low code platform delivers automation across the sales lifecycle. Customers can customise to suit their processes. It also contains automation of emails, including synchronisation with Gmail and Outlook, where emails are received and logged.
The metrics built into the task management elements have also been applied within sales. So team goals such as quota and wins are monitored across individuals and teams. There are also workflows for other common activities, such as hiring and onboarding new sales staff.
The solution integrates with other third-party applications such as Salesforce, Hubspot, Slack, Aircall, Mailchimp, PandaDoc, and Docusign. This enables organisations to automate processes between functions.
As monday CRM sits on monday.com, Work OS once leads become opportunities and then deals, the information is passed between each stage even through to the execution by the project and operations team.
More than just a product
According to Kimhi, this is not just a product launch. He explained that monday.com had created a separate business unit with its own product marketing, sales, implementation and development teams. Kimhi said, "We are acting as a company within a company. So it's like a startup."
What is next for Monday CRM
Enterprise Times asked Kimhi what is on the roadmap for monday CRM.
"We aim to make the CRM experience even easier, more customizable, and more dedicated for sales teams. So sales teams can not only successfully manage their deal cycle really well, but they could also work on their prospecting phase better."
The direction development, according to Kimhi, will also mean that monday CRM will replace some of the other tools that sales teams often use. Enterprise Times also asked Kimhi whether monday CRM would support existing sales methodologies within the solution. At present, it doesn't, but he hopes that partners will build applications that can map these for customers in the future.
What is the opportunity?
Enterprise Times also asked Kimhi where it believes it will see traction for the new solution?
"We both see a pressing need from existing customers who already work in monday, and they want to extend their services that they're getting from monday into additional teams, like sales teams, it's also in terms of the pricing point, it's very convenient for them as monday sales CRM position is quite more affordable solution compared to other platforms, other CRM platforms in that regard.
"We also see an amazing opportunity for new customers because we see a huge opportunity for SMBs and mid-market sales teams that want a customizable, easy to use CRM platform in the past couple of years. That was one of the main reasons why we've decided to tap into this market much more aggressively."
With the many CRMs on the market, how will monday CRM differentiate itself? The answer lies in the WORK OS platform approach. Kimhi explained
"What is important for us to say is that there are many CRM platforms. We are not seeing any other tool that provides a really unified experience. So, multiple teams can come in and work on the customer data. On the other end is the flexibility of taking the structure and evolving it easily as the processes evolve for 100 different reasons. We think that this value proposition is extremely strong."
The pricing is also attractive. It starts with a free version for up to 2 users. Basic CRM is £8.50 pupm, minimum three with the most popular one (and with most of the features above at £12 pupm. There is a Pro CRM version for £20 pupm, min 5 users, and an Enterprise version.
Enterprise Times: What does this mean
It had to happen. Task management is not just the domain of teams in operations and marketing. Tasks also drive sales teams. However, whether this task-centric approach will work for all sales teams is another matter. In some organisations, especially those already using monday.com as their work management platform, it will be interesting to see if it gains traction. The company already claims 750 customers, so perhaps it does.
If monday.com succeeds with this product, one can expect other work management solutions to produce their own solutions. Companies such as Smartsheet, Wrike and Asana could quickly provide rival solutions if they feel at a disadvantage in pitches. It will be interesting to see how this impacts the more traditional CRM solutions, as they appeal more to the customer-first ethos rather than task-first. There are also features that most of the CRM solutions have built out, such as integrations to telephony, chatbots and other channels.
monday.com places its solution between Salesforce and Zoho. However one feels that perhaps it is better placed to attack the Zoho CRM market and the Zoho platform approach, it could be an interesting contest. Zoho has traditionally had low marketing spend and relies upon freemium entry and customer recommendations, monday.com spends much more.