Sage has announced the expansion of its partnership with Microsoft. The focus of the new partnership is deeper integration between the applications provided by both companies though some details are lacking. The intention is to build fuller solutions for small and medium-sized companies.
The announcement comes with the launch of a product called Sage Active, initially available in France for early adopters. The solution will become available in Germany and Spain later. Enterprise Times asked Sage about the UK and US, and Sage replied that they are working this through with Microsoft.
There are few details about what Sage Active is. The press release merely states an "easy-to-configure, integrated Business Management Solution built on Microsoft Azure." Hopefully, more details will be forthcoming in time.
Both companies will also work on deepening the integration of Sage products to Microsoft Business Products, including Microsoft 365 and Microsoft Teams. The intention is to embed Microsoft Products within Sage products and the Sage Digital Network.
This is interesting. If it means that Sage will introduce collaboration within applications like Sage Intacct or enable users to work as effectively within Teams, it could be a significant advantage over some rivals. It is something that FinancialForce is working on delivering with a Slack interface on the Salesforce platform. This level of integration is seen as the next generation of user interfaces.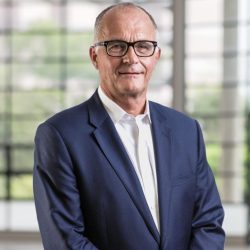 Steve Hare, CEO of Sage, commented: "Increasingly, SMBs are digital businesses – but connecting the tools they use can be a barrier to their success. Microsoft products have long been the tool of choice for collaboration, with Sage powering the back office. Through our expanded partnership, we will simplify life for millions of SMBs, removing friction and helping them to achieve real productivity gains."
Advantages of this Microsoft + Sage
Sage has pulled out four key advantages of the combination
Powerful: As Scott Guthrie, executive vice president, Cloud + AI, Microsoft, notes: "Bringing together Sage's financial expertise, with the power of the Microsoft Cloud, our partnership will deliver reliable, secure, and scalable solutions that will empower millions of SMBs around the world to be more productive, reduce costs, and grow their businesses."   
Simple: Together, the combination of Microsoft 365 business automation software and Teams with the payroll, HR and finance applications will simplify workflows and remove manual processes in businesses.
Reliable: Running on Azure, the Sage products will have the reliability, security, performance, and scalability organisations expect in a digital world. With access to virtual apps and desktops, Microsoft OneDrive, and SaaS apps on their devices with a single sign-on (SSO), as part of their Sage subscriptions, users can work whenever they want, where they want and on their chosen device.
Productive: Users can leverage the seamless integration between applications linked solutions such as Excel with data from Sage in a secure way. This allows organisations to securely work on their chosen applications without manual ETL processes.
Stacy Schuettler, President, LBMC Technology Solutions commented: "The need for more business flexibility and resilience has never been greater. Together, Sage and its partners are helping to accelerate the transformation of customers' businesses into intelligent and frictionless organizations that run with confidence in the cloud. Sage has been at the forefront of supporting businesses for 40 years – we are excited by the new horizons this partnership provides and the opportunities it will give our customers to be more productive and simplify their operations."  
Enterprise Times: What does this mean
Not only is this a technology partnership there is also synergy in the sustainability goals of both organisations. Microsoft has been carbon neutral since 2012 and aims to be carbon negative by 2030.
With Sage reliant on the Azure platform, the services Sage delivers are often carbon neutral at worst. In its aim of knocking down barriers, its carbon neutral solutions also help further down the supply chain for those SMEs aiming to protect the planet. Sustainability was already important. With the recent heatwave across Europe and the wildfires as far north as England, it is likely to become of greater interest to many.
That the details of Sage Active are scarce is disappointing. Hopefully, Sage will reveal more about this new application enabling people to understand what it can offer. The innovation in the combination of Microsoft and Sage product integration also has promise, although further details would be useful. What is clear is that this partnership is important to both companies. Whilst Sage Intacct competes with Microsoft Dynamics, in the SME segment this partnership could help Sage accelerate growth for Sage Accounting.