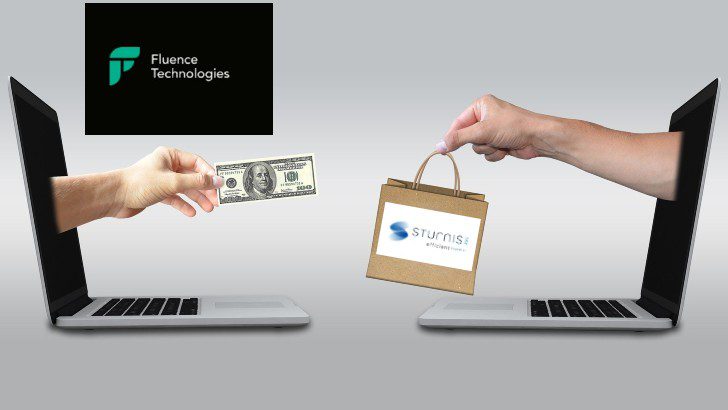 Fluence Technologies has announced the acquisition of Italian-based Sturnis365. The company has built an intelligent, collaborative disclosure management and narrative reporting platform that will now complement the Fluence platform.
Partners include Reportwise Consulting, Deloitte, and EY. Sturnis365 was acquired when TechEdge acquired a 75% interest in PA-4tune SrL, its parent company, in 2019. Sturnis365 was founded in 2017 by Marco Mattei, COO, Piero Ferreri Senior Product Manager, with Didier Katz joining the team later that year. All three leaders are joining Fluence.
Didier Katz, co-founder and director at Sturnis365 commented: "We are excited about the value Fluence and Sturnis365 presents to our customers and partners. Companies across the globe are looking for a solution that combines financial consolidation, close and disclosure management in a single offering. Now, Fluence is the only player on the market that can meet this need."
Michael Morrison, CEO of Fluence Technologies, commented: "Sturnis365 is a natural extension of our consolidation, close and reporting solution so CFOs can stay ahead of evolving reporting demands on the office of finance. Further, Sturnis365 strengthens our position in Europe, where more than 70% of their customers and partners are based. We also gain seasoned employees with strong 'DNA' in collaborative disclosure management."
In a call with Enterprise Times, Morrison also shared that Hervé Capo VP of Product at Fluence was a fourth founder who helped build the technology behind Sturnis365 as their senior product manager. This means that the technologies are "very much aligned", according to Morrison.
A perfect Tech tuck-in and market tuck-in
This acquisition is a perfect tech and market tuck-in for Fluence. The technology supplements Fluence solutions, and there is little market overlap. Sturnis365 company has an impressive roster of customers and partners. Customers include public, private and pre-IPO organisations across Europesuch as AB InBev, Enel Group, Rothschild & Co., Bouygues Group, Ferragamo, Takeaway.com and KBC Bank.
Hermes Bron, Takeaway.com, commented: "We picked up Sturnis365 in a single day training and our plans go beyond the annual report and iXBRL. We will embed the collaboration/reporting tool into more of our frequent process for internal and external reportings".
The lack of overlap is highlighted by one of the few joint customers who bought the solutions only a few months ago, the cryptocurrency trading platform provider WonderFi.
John Rim, CFO at WonderFi, commented: "When we learned about Sturnis365, we were considering a legacy disclosure management solution that would have cost a significant amount and taken months to implement. Between its out-of-the-box functionality, Office integration and the fact that our finance team can manage the entire reporting process, we quickly realized how much more we'd benefit from Sturnis365."
With XLCubed, the company it bought in November 2021, Fluence now has 900 customers, mainly in North America and Europe.
Europe expansion
With an office in Milan, Enterprise Times asked Morrison whether this would become the EMEA headquarters?
"Probably not. We picked up a dozen or so people in the UK with XL cubed, and they have an office there. We also picked up a couple of people in Paris. Probably six months ago, we hired a GM for Europe based in Paris. We've got a mini shared office there. With Sturnis365, we're picking up another dozen or so people, most of them in the Milan area. If we're going to have a nexus in Europe, it would likely be either Paris or the UK as we evolve."
With Sturnis365, Fluence will now have 25 people in Europe, out of a total of 85.
A natural addition
Morrison calls Sturness365 a natural edition, partly because the two solutions are built on Microsoft Azure with tight integration with Microsoft Office. Its platform enables organisations to draw in data from different data sources. Sturnis365 has clients across SAP, Oracle Hyperion and other ERP solutions. The platform combines them to simplify the publication and disclosure of corporate information collaboratively. It includes:
Annual and periodical reports
Sustainability reporting
IXBRL / XBRL
Compliance & risk reporting
Procurement disclosures
Sturnis365 serves dozens of public, private and pre-IPO customers across Europe, including AB InBev, Enel Group, Rothschild & Co, Bouygues Group, Ferragamo and KBC Bank. Like Fluence, Sturnis365 offers a familiar Microsoft Office interface and domain-specific workflow to automate collaborative report production, combining company-wide data and narrative text for:
Immediate adoption among finance and business professionals compared to reporting available in their ERP system
Game-changing efficiency gains in report production compared to standalone Excel spreadsheets, Word and PowerPoint documents
Trusted, accurate internal and external reporting for any stakeholder, auditor or regulator
What is next?
One area that Fluence has not covered is ESG reporting. Enterprise Times asked Morrison whether they considered acquiring ESGeo, another subsidiary of TechEdge?
"We did not, we have an opinion on that technology. And we do see the Sturnis365 platform and XLCube together as a great foundation for ESG reporting. We don't have an announcement yet but you'll see something in the coming months where we extend the capabilities that we get with Sturnis365 into the ESG arena."
What is missing for Fluence?
"There are other capabilities that we could extend into. ESG is one of them. We can buy something there or build it ourselves—like cash flow forecasting. We do cash flow management now, we don't do the forecasting aspect of it. There are several players out there, some in Europe, that do that.
"There are other extensions of what we do, and we're always on the lookout for things like that. AR automation capabilities are another one. Anything that can help the office of finance, specifically the controller's office, to do their job around the monthly close, consolidation and reporting."
What about wider financial forecasting?
"Budgeting, forecasting, planning is big in the Office of Finance and the CFO. While we don't do that, our approach is agnostic. We will partner with anybody in the space. We came into the market with Vena and we are still a partner. I think their best partner right now. We've extended it with other budgeting and planning players, and we're in discussions with a few more.
"Our goal and strategy would be to continue being agnostic. We'll play with anybody and the ones that want to add up a world-class consolidation engine to their planning solution, we will sign them up, we'll integrate with them and go to market together."
Future acquisitions?
What about future acquisitions: "You will likely see us doing more acquisitions in the coming years. It will be around building out this consolidation, close platform of having it be the most robust and broadest platform for that."
The Fluence's principal investors also blessed the latest acquisition with Stephen Davis, managing partner at Banneker Partners, commenting: "Acquiring Sturnis365 continues building on the vision of a complete financial corporate performance management suite that Michael Morrison and our team had when we originally invested in Fluence. We look forward to Fluence continuing to deliver exceptional value to its customers."
Enterprise Times: What does this mean
With this acquisition, Fluence has significantly extended the reach of its product, which its existing customers are likely to want to look at and hopefully purchase. The Sturnis365 customers likewise will see the option to purchase Fluence close management and reporting solution.
With organisations looking to deliver ESG reporting, Fluence may need to accelerate the launch of its ESG reporting. Other vendors already have solutions, including the market leader Workiva and other vendors such as Workday and Fenergo adding ESG solutions to their platform.