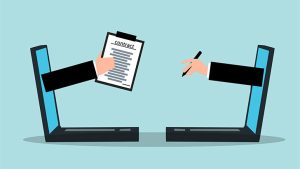 Disruption, digital transformation, and heightened customer expectations define today's businesses. As a result, legal departments everywhere face operational challenges and increasing pressures as they provide legal counsel to the organization. That pressure is exacertabted with reviewing new regulations and the increasing complexity of high-impact strategic transactions like potential mergers and acquisitions.
According to the 2021 EY Law Survey, conducted in collaboration with the Harvard Law School Center on the Legal Profession, workloads are expected to rise by 25% between 2021-2024. Yet 75% do not expect budgets to keep pace with the growing volume. More than half of internal business clients point to inefficiencies and delays in the contracting process, slowing revenue recognition.
Why does this matter? Legal professionals are increasingly expected to be more than just the legal guardians of the business. As the speed of business shifts, legal teams serve as strategic partners, leveraging their expertise to help their organization. To support the shift, legal departments, supported by their legal operations teams, must start by examining the very foundation of their business – contracts.
Contracts are central to any attorney's day and subject to legal operational processes. Contracts are arguably the most common touch point between the legal department and the business. Yet, these critical agreements have remained stagnant with inefficient manual processes as the world around them has grown more digital. This has led to legal being seen (unfairly!) as the "department of slow" or the "department of no" in the business. However, new Contract Lifecycle Management (CLM) systems empower legal teams to streamline contract workflows. The workflows extend from drafting to execution and post-execution management, bringing speed and predictability to this valuable business area. These capabilities deliver clear strategic value to the business through faster, safer, and more profitable operations.
Bigger Role, More Challenges
The dizzying pace of business has put unprecedented demands on corporate legal teams, who are asked to negotiate and approve contracts in record time. Many challenges have emerged in the wake of increasingly common scenarios such as:
Too big, too fast
Companies driven to grow by leaps and bounds often face growing pains across departments. The legal team is no exception. Take one rapidly growing biopharmaceutical company, for example.  ​​As the company grew, each new location developed and followed its own disparate and decentralized contract drafting and approval processes, relying on legal for simple tasks like sourcing contract templates.
The company's lawyers spent an alarming 90% of their time on contracts, which became a burden as the number of agreements continued to increase. Rather than focusing on more strategic initiatives, in-house counsel resources were almost exclusively focused on contracts. As a result, the company relied on expensive external legal resources for contract drafting and processing.
Mature companies, manual processes.
It makes sense that established organizations often rely on traditional or manual processes. Consider one such mature organization that recognized this limitation and took action. An international healthcare company underwent a global digital transformation focused on automating manual processes that would bring organization-wide efficiency and visibility.
The company recognized contracting touches every part of the business but it didn't have a contract management system. Contracts were managed manually, and the data was stored across the organisation in numerous repositories, including file cabinets. This impeded visibility throughout the business, tying up legal resources and potentially exposing the company to unnecessary risk.
Gartner's research underscores this obstacle, finding that "Analyzing contract clauses and assessing risk can be a lengthy manual process for organizations managing very high volumes of in-house and third-party contracts, or contracts inherited through mergers and acquisitions."
The Opportunity to Evolve
As these case studies demonstrate, contract management is not some obscure back-office process. It directly impacts a company's ability to grow, evolve and scale. In both cases, the legal team ushered in a better way to manage contracts through digital technology. By deploying cloud-based CLM software, they could realize better contract creation, automation, and insights – delivering tangible value for their partners in the business [and across the globe]. By reducing and simplifying templates, they also reduced complexity and increased compliance.
Those companies overcame legal and operational hurdles when they recognized the opportunity to advance with CLM software. ​​CLM made it much easier to review contract drafts, speed up negotiations, and track risk and compliance across a portfolio of contracts.
CLM delivers results
The biopharmaceutical company streamlined its existing piecemeal library of more than 200 contract templates down to 36, significantly reducing the necessity of expensive lawyer involvement. With the help of a self-service, AI-powered CLM system, their legal team now devotes its resources to supporting higher-value initiatives.
The international healthcare company brought operational, organization-wide efficiency and visibility, automated processes, and streamlined contract management across the enterprise. It gained unprecedented transparency into its commercial relationships and significantly reduced contract cycle times.
Today's advanced CLM solutions provide value that extends well beyond the organizational benefits of a central repository. It allows teams to engage contracts through the most well-known legal workflows (drafting, negotiation, approval, and execution) and to see contracts through the entire lifecycle. That includes the processes of those outside legal who handle and manage the contract and the underlying relationship.
Modern CLM solutions should also leverage artificial intelligence (AI) to enhance the benefits it delivers. AI technology automates and streamlines contract processes as it unlocks critical contract data that has historically been siloed away from the business processes contracts touch. With the right modern CLM in place, legal departments can empower stakeholders in the business with actionable contract insights.
Why The Right Time Is Right Now
As legal teams are asked to contribute at a higher level of the organization, they're still acting as the day-to-day stewards of their company's legal and compliance strategies. This proves why digital transformation must be embraced now.
Contracts should be a top priority for digital transformation adoption across the enterprise. Legal teams can help their companies better compete with rich, connected data that drive unprecedented levels of transparency and agility across their organizations.
IDC finds that "Digitally transformed enterprises are breaking down silos and creating well-oiled machines that work as one instead of an amalgamation of documents. Very few pieces of technology cut across the organization quite like CLM."
With actionable intelligence, legal teams can be strategic while working faster, smarter, and more efficiently. Contract Intelligence allows for complete visibility and high-impact insights legal teams need to manage risk better and ensure compliance.
---
With unmatched technology and category-defining innovation, Icertis pushes the boundaries of what's possible with contract lifecycle management (CLM). The AI-powered, analyst-validated Icertis Contract Intelligence (ICI) platform turns contracts from static documents into strategic advantage by structuring and connecting the critical contract information that defines how an organization runs. Today, the world's most iconic brands and disruptive innovators trust Icertis to fully realize the intent of their combined 10 million+ contracts worth more than $1 trillion, in 40+ languages and 90+ countries.