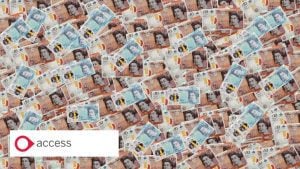 The Access Group announced a substantial investment by its existing shareholders Hg and TA Associates. The funding also sees the company valued at £9.2 billion. This is significantly higher than the market cap of publicly listed Sage PLC.
The funding gives The Access Group a £1 billion war chest in the form of an incremental facility to continue its aggressive acquisition strategy across the globe. The round also saw GIC, a global institutional investor, taking a small shareholding in the firm. The transaction is expected to close in the second half of 2022.
Chris Bayne, CEO of The Access Group, commented: "I'm incredibly proud of our continued success and delighted that our leading investors, Hg and TA, continue to support us as the company expands in the UK, Ireland and APAC. With GIC's additional investment, Access continues to receive strong support from the investment community, helping to drive our performance and growth plans.
"We have made massive progress in our growth strategy since we announced the last investment from Hg and TA in 2020. Hg and TA's further investment in Access signifies our business and team's strength. We look forward to expanding and continuing our relationship with all three of our investors as we carry on with organic and acquisitive growth projects and further geographic expansion.
 "Over the next few years, the management team and I will continue to focus on our growth strategy and our products and solutions, especially Access Workspace, our SaaS platform, which allows our customers' products and data to be consumed in one place with a consistent user experience.
"The acquisition facility gives Access the power for even more significant expansion as we continue to add exciting new technology and people to the Group. It's our mission to transform our customers' productivity and give them the freedom to do more of what's important to them."
Acquisitions continue
Access has wasted little time in continuing its acquisition strategy. Access People announced this week its intent to acquire caboodle, a leading UK employee benefits platform. Charles Butterworth, Managing Director, Access People, commented: "The need to reward and recognise employees to aid retention of valued employees is now more important than ever before.  
"Employee needs are shifting, especially with the rising cost of living – so providing money-saving benefits that are accessible at any time is essential. We're delighted to welcome caboodle as the latest acquisition to the Access Group, allowing Access People to expand its range of HR services."
Caboodle is a typical acquisition by Access. It extends one of its solution portfolios. It will hope to increase its wallet share across other customers that leverage Access People solutions. While headquartered in the UK, the company has also acquired companies overseas, notably in Australia, where it recently bought Reckon Accountants group for £100 million.
The company has doubled in size since 2020 through frequent acquisitions and organic growth. The company now has 60,000 customers and around 5,000 employees across nine countries.
Acquisition strategy working
Unlike Sage, Access is still a private company, and therefore its operations and finances are less open to scrutiny. Hg and TA Associates are willing to reinvest in the growth is a testament to the success of The Access Group strategy.
It has now built up several business units that include Non-Profits, Construction, Education, Healthcare, Hospitality, Legal and HR. These units have a significant presence in both the UK and other markets in some cases. How big can Access grow? What is the end game for the investors? Will it decide once the different vertical businesses reach a certain size, will it spin them out?
Both HG and TA Associates have significant investments in some of the most successful software companies in Europe. Hg is also a shareholder in Visma. Visma is growing quickly through acquisition across Europe and now South America with similar methods to Access. It is a formula that seems to work.
Jonathan Boyes, a Partner at Hg, said: "Access has proved to be one of the biggest UK successes in cloud software. Chris and his team should feel incredibly proud of their achievements, delivering an exceptionally robust performance whilst significantly growing the business during a tough environment over the last few years.
"It has been a pleasure to work with the team and we're delighted to commit further as a significant investor in the business. Hg is now a proud investor in three of the largest private equity-owned software businesses in Europe and we're more excited than we've ever been about the future prospects of the role of SaaS in the business world."
Similarly, TA Associates has investments in Aptean, another acquisition hungry organisation. J. Morgan Seigler, a Managing Director at TA Associates, said: "Over the course of TA's more than seven-year partnership with Access, the business has continually shown its strength, resilience and capacity for innovation, driven by the leadership of Chris and the management team.
"We have been proud to support the journey and are thrilled to further our partnership. Looking ahead, we believe the business is well-positioned to continue delivering on its vision, focusing on strengthening product offerings, both organically and through strategic acquisitions, for its growing customer base."
Enterprise Times: What does this mean
The acquisitions are unlikely to slow down. The big question is whether they can find the acquisitions they want. This was a challenge highlighted by TVN Reddy, Aptean CEO in an interview that Enterprise Times will publish tomorrow.
Access seems to have a much wider focus than the other acquisitive firms. However, it still maintains a focus on specific verticals and horizontal sectors. Has it managed to bring these acquisitions together into coherent business units? It is now a significant player in the market. Will it find a bigger voice?
The addition of Singapore based GIC may also signal that Access is likely to add further investments in APAC and grow its presence significantly in that region. This is something it has started to do in recent years. The acquisition of caboodle would indicate that it will still look for and acquire vendors in its home region.