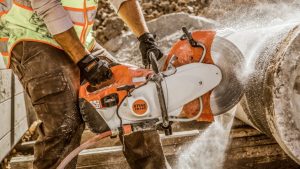 STIHL, a power tool industry leader, has opted to deploy the SirionLabs Contract Lifecycle Management solution to control its contract landscape. STIHL had already migrated from a legacy SAP R3 solution to S/4HANA moving its historical data with the assistance of SNP BLUEFIELD software. The company realised that fully digitising its contracts needed to be part of the overall digitisation.
It selected SirionLabs to assist with this project. It has signed a multi-year agreement that will initially focus on digitising, standardising and then optimising the STIHL contracts. The SirionLabs end to end contract management platform will enable STIHL to achieve this.
Hannes Krauss, Project Lead of STIHL's legal department, commented: "Our collaboration with SirionLabs is geared towards integrating our contract system with all the business modules. During the first phase, we will focus on building three blueprints for the different levels of complexities we see in our global organization. These blueprints can be applied easily, quickly and with very limited customizations to our regional markets. We look forward to a great association with SirionLabs."
The challenge
While best known for its pre-eminence in chainsaws, it has been the leading global seller since 1971. STIHL also provides power tools for a wide range of uses. The company sells and distributes its products to more than 54,000 dealers across 41 markets. It is supported by over 20,000 employees worldwide. The implementation of SirionLabs forms part of the much wider ONE STIHL digitization strategy.
STIHL will deploy SirionLabs to around 4,000 employees. The solution will standardise the contracting process while adhering to the local legal requirements.
Phillip Keupp, IT expert and Co-Project Lead for STIHL in the purchasing excellence department, noted: "While SAP S4/Hana is the backbone of our IT landscape, CLM is the frontend, acting as connector between different worlds. SirionLabs was a clear choice in our CLM decision due to its unique approach to not only streamline processes but also analyze data, providing us the flexibility and agility to react to market challenges and leverage savings opportunities, while keeping us consistent across all contracts."
In recent years STIHL has expanded its product range. It has added wildfire fighting equipment and tools for garden and house do-it-yourself enthusiasts. This has extended the breadth of contracts required. With thousands of different contracts, STIHL needs SirionLabs to provide oversight and efficiency to the contract process. Once deployed, it will deliver transparency, compliance and efficiency across the contracting process.
SirionOne deployed
SirionOne will enable STIHL to maximise the value of its existing contracts. It will highlight areas that need changes before renewal and ensure clauses are up to date from a legal standpoint. The SirionLabs analytics capabilities also provide knowledge and transparency about its contractual engagements that the company has never had before.
Ajay Agrawal, Co-founder and CEO of SirionLabs, commented: "The myriad challenges confronting a global industry leader require a contract management platform that is flexible, robust and scalable.
"With the right contract management solution, companies can get real-time intelligence, streamline their operations, collaborate with business functions, and create stronger, more compliant contracts that help them succeed. We're pleased to be a part of STIHL's growth and look forward to witnessing how our system helps it realize its ambitious ONE CLM initiative."
Enterprise Times: What does this mean
This is a significant win for SirionOne as it looks to expand its reach worldwide. STIHL had a record year in 2021, achieving more than €5 billion in total revenues, with more than 10% growth. With the implementation of S/4HANA and now SirionOne, STIHL ONE is likely to help with further growth and profitability levels.
Once deployed, this will be an interesting case study for SirionLabs. How did STIHL deploy the solution, and what features did it see the biggest benefits from.