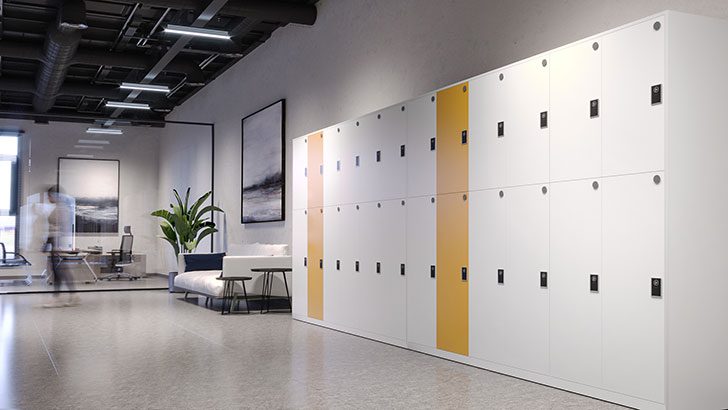 As a result of Covid-19, employees want greater flexibility and corporates are therefore adopting a new hybrid working model. Hybrid working is an increasingly popular way to meet the changing demands of both employees and real estate teams and is highly beneficial for the business. Agile working and hot desking can reduce operational costs while improving workplace productivity, profits, and flexibility for your staff! However, we all know how hard it can be to transition to a hybrid working model without the right tools.
Introducing eLocker! The Smart Locker solution for your office. Implementing eLocker into your hybrid workplace enables employees to access tools necessary to support them when they are on site and provides them with safe and secure storage for the days in which they work from home. Read on to learn more about this innovative solution!
Locker Management Automation
The eLocker Smart Locker system replaces outdated keys, combination locks and storage cabinets with fully automated processes, removing the need to manually manage personal office storage. Employees have complete control over their Smart Locker and can use either their smartphone, or personal RFID badge to use their locker, making the whole system fully self service!
Upgrading to wireless smart locks will reduce admin time associated with traditional locker management by 94%, this is proven and demonstrable by our current list of customers. The reduction in administration time allows managers to focus on activities driving growth, while team members take care of their own workload in a more efficient way. Who wouldn't want to save valuable time in resourceful areas like marketing strategies for increased profit margins!
Reduction in your locker count
eLocker gives live data analysis on the way your staff interact with smart lockers. The analytics package is delivered on the online dashboard and can allow you to remove unnecessary lockers in your workplace, a recent example of this is with a global financial organisation eLocker has worked with to deliver a reduction in the locker count by 90%! This allows you to reutilise space and remove old, unused storage, making way for new breakout areas or hotdesks
Increased Workplace Security
Installing smart lockers in your workplace will not only increase productivity but is an easy way to improve workplace security. eLocker provides employees with a safe place for their personal belongings, as well as giving teams a place to store valuable assets and other business equipment that need protection on site.
Contactless smart locker systems are more secure than traditional lockers because you can easily manage access control through the online system – there's no chance of staff gaining unauthorised access as permissions are easily managed via the portal. This makes sure your sensitive equipment or data does not fall victim to theft or false loss claims while giving reassurance where everything is at all times.
Enhanced User Experience
Smart lockers are a great way to increase productivity and profitability by giving employees autonomy over their own storage. Improving employee experience can result in 17% higher productivity which in turn can result in around 21% more profit – and all without having any problems with lost keys!
Having self-service locker systems that are keyless and efficient means there are no delays if someone is out of the office or working remotely, and staff can access everything they need via a convenient self-service solution.
Locker Usage Tracking
In a similar way that keys cannot be lost using eLockers, it is also extremely unlikely that you will lose track of equipment or important documents using this solution. Smart Lockers provide live analytics, reporting that allows you see how often each locker is being used and when they were last opened. Not only does this make it easier to locate items but will prevent the common workplace problem of having underused facilities.
Wrap Up
As previously mentioned, the flexibility to work remotely is becoming the norm, with many businesses allowing their employees a split between working at home and being present in an office. Flexible schedules have been shown time after time as increasing productivity which results in higher sales and profits margins – but employers should not simply adopt this trend without adapting first!
By providing Smart Lockers for staff members who are in the office for a number of days during the week, managers can provide an efficient and secure environment for staff belongings and equipment and give greater control to independent individuals taking the strain off themselves and administrative workers.
Get in touch now with our specialist team if you'd like to discuss how smart lockers can transform your business – we're here to help!
---
eLocker is a tech company set up in 2016. They supply a SaaS based, smart locker solution which removes the need for keys and spreadsheets, with an online locker management system that can save companies up to 94% of locker management time – this has been proven with their first client, the largest eCommerce company in the world.
eLocker is the latest innovation in locker management. With systems to run locker rooms in multiple locations using web-based management systems and high end technology, eLocker has been developed to overcome the cost and frustrations associated with traditional locks and locker management. It's totally keyless, wireless, and easy to use!