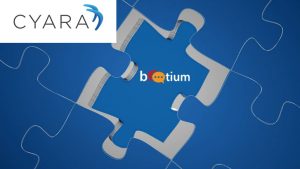 Cyara has announced the acquisition of Botium, a chatbot testing platform that automates 85% of chatbot testing. Named a Gartner cool vendor in 2021, Botium has delivered services to over 1,500 customers and 185,000 open-source users. The acquisition by Cyara makes sense, complementing its CX testing and assurance platform.
Many organisations are already using chatbots, but the customer and employee experience of many is variable. One of the challenges is the time taken to test them. Poorly tested chatbots can deliver a poor experience. Despite that, the chatbot market is expected to grow by 22.4 CAGR between 2020 and 2027 to nearly $2 billion, according to Fortune Business Insights.
With the Botium solution, Cyara now has a Chatbot testing capability that automates the testing of conversational AI with Botium Box. Botium Box works across all channels and platforms and is already connected to more than 40 chatbot technologies. These include:
Microsoft Azure Bot Service
Google Dialogflow
IBM Watson Assistant
Amazon Alexa Voice Service
Google Assistant
Microsoft Luis
Sap Conversational AI
Facebook Chatbots
Salesforce Einstein
Alok Kulkarni, CEO of Cyara, commented: "This acquisition is a major milestone in Cyara's growth and it further enhances our ability to help companies assure their end-to-end customer experiences. We are so pleased to join forces with Botium to provide an easy way for enterprises to ensure their CX through an IVR, chatbot, agent-based phone, or some combination of voice and digital channels is flawless."
Neither party disclosed the terms of the deal. Botium is based in Vienna, Austria, and the acquisition will also give Cyara its first office in the DACH region.
Chatbots powering growth
Botium provides a missing piece of the CX assurance jigsaw for Cyara. Companies have growing pains with their chatbots as they look to automate their CX processes. Botium Box will alleviate that as it replicates the manual testing that organisations have had to go through. It also learns iteratively, allowing human interaction to improve the training datasets and the automated testing.
Botium has already completed more than 1 million tests with its software and boasts a 92% recurring customer rate (though this is 8% below the 100% recurring customers noted on its website). It also estimates that customers have achieved a 93% time saving by using Botium. Traditional manual testing that takes as much as 300 person-hours would take only 26 person-hours for a customer using Botium
For Cyara, this acquisition hits two checkboxes. It is a tech tuck in that can quickly slot into the Cyara CX platform. Though how quickly this will happen and what integrations Cyara will make is unclear. It is also a geographic expansion and market tuck-in, providing access to more customers and a new regional presence.
Christoph Börner, Co-founder and CEO of Botium, commented: "We see Cyara as a natural fit since it is a forward-looking company that's well-positioned to lead the digital CX assurance category. The Botium team is made up of talented developers and engineers, and joining Cyara's team will give us additional resources to expand our efforts in developing innovative solutions for testing chatbots and conversational AI, as well as reaching a wider global customer base." 
Enterprise Times: What does this mean
This is a natural addition to the CX Platform and one that makes complete sense. It strengthens the Cyara customer base and geographic presence and adds a missing piece to its technology platform. Some questions remain unanswered. Botium has taken down the current pricing from its website, and there is no pricing present in its new home on the Cyara site. In 2020 (Source Wayback machine, pricing was 429€/month for Professional and 999€/month for its enterprise edition).
Also, whilst it mentions the 185,000 open-source users, there is no indication whether Cyara will continue to support the Open Source code available on GitHub.