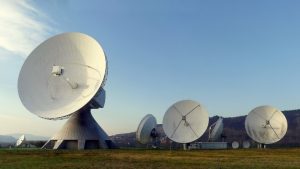 Cleo has further enhanced the Cleo Integration Cloud (CIC) with the introduction of RADAR. The CIC Cockpit already provides a view of every transaction flowing through the Cleo Integration Cloud. RADAR (Real-time Analytics, Data-Driven Action & Results) provides a way of turning that into actionable intelligence. It is now possible to define SLA parameters for transactions that RADAR can measure, report, and take immediate action if they are breached. It enables organisations to measure thousands of transactions in real-time and take immediate action should a point in the supply chain fail.
For example, a shipment may fall short of the expected and required amount. This has a knock-on effect on production and could put a significant customer shipment at risk, losing revenue and brand loyalty. With complete visibility of every transaction flowing across the systems, RADAR can act immediately to mitigate the issue.
It enables organisations to measure SLA performance in real-time rather than at the end of the month when a report is run.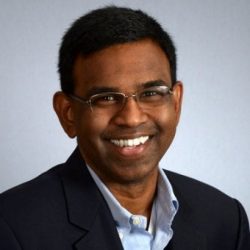 Mahesh Rajasekharan, president and CEO of Cleo, commented: "RADAR is one of the most impactful innovations ever for the supply chain industry. It leverages digital and operational precision to completely turn the tables on SLA mandates.
"With compliance requirements constantly changing, and penalties getting steeper, it's high time supply chain-driven manufacturing, logistics, and distribution companies have the wherewithal to proactively take control by optimizing operations and KPIs. Our customers will be able to create ecosystem trust, improve their reputations, and build predictable performance."
How does it work
To set up Radar, the user must select the supplier SLAs in a few minutes. Each SLA must be set up individually for each supplier. There is a huge range of parameters users can access.
For example, after receiving a purchase order, set a response time by which an order acknowledgement should be sent. If breached, the escalation is passed to the appropriate person. It means that not only does RADAR manage transactions within the supply chain, it also manages interactions (where they flow through Cleo) within the organisation.
It is also possible to set an amber alert if the SLA is at risk. In the above example, the SLA is 12 hours; the alert could be set for 8 hours.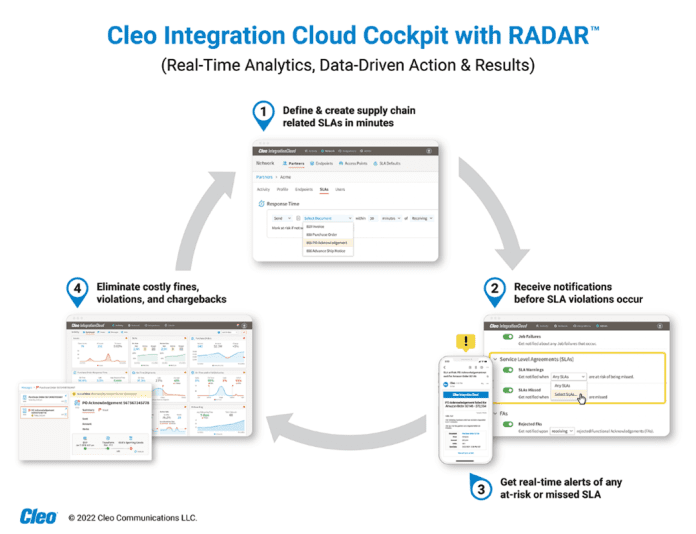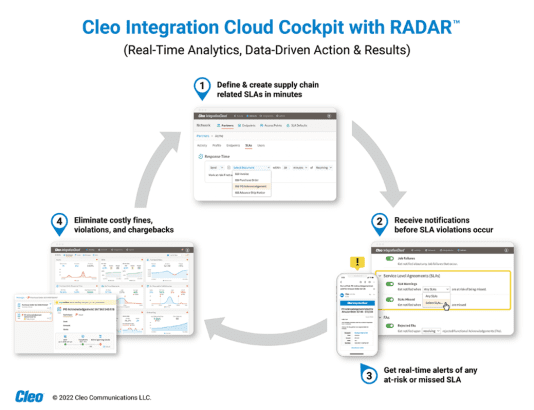 Once created, it is possible to see SLAs at risk and missed within the cockpit, filtering all transactions to get an immediate view of what is happening. The view of "at-risk" transactions is probably the most useful as it allows users to take action immediately to avoid another missed SLA. As the solution also works for internal transactions, SLA is interchangeable with OLA and Cleo RADAR does not differentiate.
Users set notifications on for missed or at risk SLA breaches. Once activated, the user will receive an email notification for each potential or actual breach with the transactions and business partner details. The email also includes a hyperlink that takes the user back to CIC Cockpit.
What isn't in RADAR
This is the first iteration of RADAR, and there are potential issues. There does not appear to be a way for a user to set up a global SLA across all suppliers or copy a specific SLA to other suppliers once created. This could make the process time-consuming.
Also, it would have been useful for users to select which suppliers they get notifications for. The setting appears to be all or nothing. Separating the suppliers for specific individuals or by priority would prove useful.
The supporting video only shows an option for the response time SLA. There did not appear (as yet) to be any other criteria that could be monitored, for example, shortfall or quality.
Besides notifications to users, there are no other actions available. For example, if a supplier missed an SLA, the internal user is notified. Could a supplier contact also receive a notification?
Looking to the future, an integration with a CLM provider that also ready has the relevant SLAs defined within the supplier contracts could provide a new level of automation.
A powerful new tool
Despite the above, this is an exciting development by Cleo. Where other applications, such as ERP, have similar, often enhanced solutions for supply chain management, Cleo has one advantage. It sees the flow of transactions between all systems, not just the ERP. It can therefore act faster where organisations have a hybrid software architecture.
Rajasekharan agrees, saying: "Literally no one else in the integration market has an SLA management offering like RADAR, and there's a reason for that. Providing companies with the agility to rethink how they setup, monitor, measure, and optimize business performance is a technological challenge too big for most, but Cleo has done it."
One customer also sees the advantage; others will follow. Jeffrey Dinard, CIO of Vari, agrees: "Cleo's RADAR is proving to be a total game-changer by creating more predictability in our operations and protecting our revenue and relationships through better SLA management of our B2B transactions. We can set up these valuable SLA notifications within 15 minutes.
"Now, with real-time access to monitor our SLAs, our team can be more proactive when managing the health of our B2B business with Amazon, resellers, warehouses, logistics providers, and our fans. RADAR brings us the ability to track and exceed our commitments for critical parts of the transaction life cycle; it will give us complete control and visibility to address risk to operational SLAs before problems occur which will positively impact our bottom line."
Enterprise Times: What does this mean
Cleo has taken IPaaS to a new level with this release. However, it is, to an extent, a blunt instrument at the moment, though one that offers significant benefits. The configuration could be enhanced, especially for larger organisations.
Cleo also needs to consider the competitive advantage over other supply chain management solutions, such as ERP. That advantage lies in viewing every transaction between every solution within an organisation. Often that will be the ERP. In which case, the ERP solution will only be second behind RADAR in detecting an issue.
There are other places where it may find even larger, more innovative benefits. One opportunity is where systems connect carriers and trading partners. If Cleo can manage, monitor and alert potential issues to improve compliance, it could give customers a competitive edge.