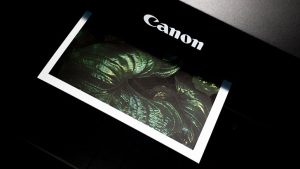 Canon is having to ship ink cartridges for its multi-function printers (MFPs) without DRM microchips. The company, like many others, has been caught out by the global chip shortage. To help customers in Europe, it has published advice on how to get around the problem for its ImageRUNNER MFPs.
Like other printer manufacturers, Canon introduced chips to its printer cartridges over a decade ago. These were designed to stop the import of counterfeit and grey cartridges. At the time, the company said this was to protect devices from cartridges it sought to block. What it never provided was evidence that such cartridges caused damage to printers.
What do the Canon ink cartridge chips do?
The chips work with the Canon printer software to provide the user with details of ink levels. It lets users know how much ink they have used and how much is left. Beyond that, the chips seem to serve little other purpose apart from protecting Canon's lucrative ink business.
In its advice, the company has said customers can simply override the warnings from the printer when it detects a cartridge with no chip. While the process varies slightly between models, it is as simple as accepting the chip and then just carrying on.
The only risk to the user is that they need to make a little more effort to monitor ink levels. Apart from the obvious degrading in quality when ink is low, nothing bad will happen to your printer.
Enterprise Times: What does this mean?
The lesson here is, never believe the marketing. Canon, like HP and others, have done their best over the years to protect their highly lucrative ink businesses. These range from disinformation about damage to printers to firmware that blocks non-official cartridges. However, work by Which? and independent testing labs have forced changes in behaviour.
This current issue shows that for Canon owners, the whole argument is about "can I detect how much ink is left?" The answer is with an official chip yes, without it, no. For most users, that is not a problem. However, for medium to heavy users, they might want to ensure they always have spare ink in case they unexpectedly run out.
What is not clear is whether this is a Canon only problem. Brother, HP and Samsung appear to have yet to reach the point of having no chips left. As such, it is not known if they will follow Canon and issue the same advice to keep printing.