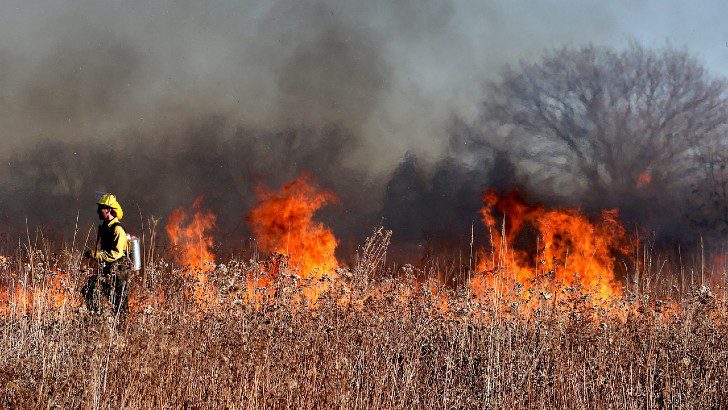 Precisely has acquired Anchor Point Group, LLC, neither party disclosed the terms of the deal. Anchor Point, founded in 1999 in Boulder Point, Colorado, provides risk-based wildland fire solutions. It provides risk assessment for the protection of homes, communities and infrastructure. It also provides a wide variety of expert services to communities, governments and organisations with interests in wildfires. Not only does it model potential and active wildfires it also offers advice around managing and fighting fires.
Anchor Point data and services will become part of the Precisely Dynamic Weather which offers customers similar services in a range of weather and now environmental conditions. Dan Adams, Senior Vice President of Data Strategy at Precisely commented, "The past few years have seen a dramatic increase in wildfires not only in the U.S. but globally.
"Through the addition of Anchor Point, we're able to help our customers make faster, data-driven decisions as they react to the impact of these wildfires. And, in the future, we anticipate offering insurers and property owners real-time wildfire warnings as well as consumer wildfire risk reports for properties to help better protect communities against these impending threats."
Enterprise Times asked Adams what countries do Anchor Point have data for? He replied, "Currently data is just available for the US but we plan to expand this to other countries in the near future." In conjunction with the location data that Precisely provides, Australia, with its annual wildfires might be a good first choice for that expansion.
Stronger together
The combination of Precisely Dynamic Weather and the Anchor Point solutions will enhance both sets of solutions and services. It will also provide benefits to several industries. These include:
Insurance: Identifying underestimated property risk due to wildfire
Property technology: Understanding wildfire risk for property valuation
Telecom: Understanding potential impact of wildfires on cell tower placement
Combining weather, wildfire and location data will help the firm deliver even more accurate assessments of risks ahead of time. Importantly it will help firefighting activities during wildfire season perhaps saving more lives.
Rod Moraga, CEO, Anchor Point, LLC commented, "Since our founding more than two decades ago, we have been committed to helping protect and preserve communities by offering the highest level of service and solutions when it comes to wildfire modelling. As part of Precisely, we're able to extend our reach while offering an extra level of accuracy to customers through Precisely's unparalleled location data."
Why Anchor Point
Enterprise Times asked Adams why Anchor Point?
"Precisely has been working with Anchor Point, over the last 10 years. Precisely uses their data in our insurance and property risk solutions and have been collaborating on shared data integration and development. Acquiring Anchor Point was thus a natural fit and allows us to more quickly enhance capabilities and offerings as they relate to wildfire data."
Adams added, "Anchor Point has a historical client base that could benefit from cross-sell opportunities across the Precisely portfolio"
Why purchase rather than continue to partner?
"Integration removes the barriers that can exist in partnerships. We will now have the opportunity for true integration with common, defined outcomes.
"Additionally, Precisely can help broaden the fire model use case, expanding to utilities, telcos, and real estate. This includes bringing these products to market. Precisely's long-standing customer relationships, go-to-market and deployment capabilities are big factor in why Anchor Point decided that we are the best match to take their business to the next level." 
Will Precisely invest further in Anchor Point? If so how?
"Precisely resources can help accelerate existing Anchor Point product development efforts. Precisely is investing in the integration of the wildfire products with our Address Fabric, Risk and Dynamic Weather offering which compounds the value for fire risk use cases."
Enterprise Times: What does this mean
The addition of Anchor Point makes sense, wildfires are becoming more dangerous and to some extent more frequent globally. NASA's Terra Satellite clearly shows wildfires, and controlled fires in virtually every continent (the exception being Antarctica). Organisations with interests in the communities and countryside need to understand how these wildfires spread to better fight them.
This deal makes sense. Importantly the Anchor Point data modelling solutions will also benefit other countries around the world. This will open up new markets to Anchor Point solutions and services.
Will Precisely will rename Dynamic Weather to something like DynamicI Environment as it further extends the solution?