Epicor has unveiled Kinetic 2021R2, the latest version of its multi-tenant cloud-based ERP that it rebranded from Epicor ERP in June this year. Since the pandemic, manufacturers face a range of, if not new, then larger challenges than ever. They continue to seek increased efficiency. Simultaneously, the move to hybrid working and supply chain difficulties, including the rising importance of sustainability, has brought more challenges. Kinetic ERP and the new updates aim to help solve some of these challenges.
It does so with a cloud-first approach which manufacturers are increasingly adopting. Recent research by Epicor found that 94% of business leaders surveyed stated the cloud is critical to future-proofing their business. The pandemic has been a catalyst for that, with 82% saying Covid-19 had accelerated their cloud migration plans.
The release is not just about new features, with improvements to surrounding services and the platform. Epicor has enhanced five main themes with this release:
Cloud Acceleration: Includes platform and security enhancements
Empowering Users: Changes to how users learn, use and enhance Kinetic
Business Insight and Automation: Leveraging AI for analytics. Improvements to automation, including connectors
Industry Depth: At the heart of the ERP update are feature improvements across industries and functions
Global Expansion: Updates to support international and multinational companies better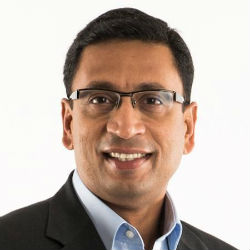 Himanshu Palsule, Epicor President and CTO, commented, "Staying resilient and competitive in a global marketplace are top of mind for manufacturers, especially in the past 18 months due to disruptions and changes brought by Covid-19.
"Our latest release of Epicor Kinetic is laser-focused on ensuring our manufacturing customers stay agile, productive, and more profitable. And with expanded cloud capabilities, we're helping customers pave a path to modernize technology infrastructure, reduce risk, and gain greater insights into their operations."
Cloud Acceleration
2021R2 includes several services targeted at larger companies as Epicor aims to attract larger manufacturers to its solution. The Enterprise Cloud services offer several features slightly different to the standard multi-tenant offering. They include:
A single-tenant instance
Access to greater computer power, to scale with the business requirements
Annual rather bi-annual upgrades to allow greater time for change management
Self-service access to databases to leverage corporate expertise
Dedicated Technical Account Manager
Epicor has further improved the Epicor Security Suite announced at Epicor Insights earlier this year. Besides a secure backup, SonicWall subscription firewall service and malware protection, in November it will add Cellular ISP failover from Cradlepoint.
This offers a secondary link to Epicor services should the primary internet connection be severed. That includes: Epicor Identity provides MFA and single sign-on across Kinetic, Epicor ECM (DocStar), Senior Living Solution, Epicor Ideas, the EpicCare support portal, EpicWeb, and the Learning Management System (LMS). More applications are due to be added at a later date.
Empowering Users
2021R2 also includes the continued introduction of Kinetic UI themes across the application. With this release, Epicor Financial Planner (EFP) receives a makeover. It continues to work on forms with most at least 95% complete. Epicor Application Studio is enhanced with several new and updated features. There is a new warning panel to surface in-context errors as you work. There is also a preview mode available to check designs.
The Kinetic UI and changes are not immediately enforced, and administrators can choose to turn on features after communication or training as required. There is a time limit, though, with all classic UI deprecated by 2024.
To help users adopt the new UI and other improvements, Epicor has added 56 new learning tools to Epicor Learning Centre. These include
23 videos
18 hands-on exercises
12 guided learning workflows
The various tools are for both administrators and end-users providing information training, for example for Application Studio, MRP, Time Management
This upgrade is complemented with more than 56 new hands-on training that is seamlessly integrated into the platform.
Other improvements include improvements to the Epicor Virtual Assistant (these were launched in July).
Business Insight and Automation
Epicor continues to leverage AI solutions developed internally and by partners. The release sees the addition of several Sage Clarity solutions to enhance its Manufacturing Execution Systems further. These include:
Sage Clarity ABLE: ABLE models machines and production lines with no modification to PLC logic to automatically provide downtime reasons/locations. Using ABLE, customers can create digital twins from real-time manufacturing data.
Sage Clarity Next Gen Andon: Next Gen Andon allows your team to capture issues and set priorities across any important areas to your organization.
Sage Clarity OneView: One View is a shallow dive analytics tool with mobile manufacturing-focused metrics.
There are new eCommerce connectors to Amazon and eBay as part of the latest Epicor EDI release. The new API driven connectors will automate order processing, speed order entry and fulfilment, and provide real-time stock availability.
Industry Depth
As usual, the bulk of the new features are targeted at manufacturers. Customers will have requested many of these. There are a few worth pulling out:
Epicor CPQ (previously KBMax) provides visual product configuration for sales reps and customers. It is now integrated into Kinetic, sharing sales, operational, inventory and manufacturing data. The supplier portal is not included in this integration yet. Epicor CPQ is also available with Epicor Commerce Connect.
Through a new partnership with SecturaSoft, Kinetic is now connected to the metal fabrication manufacturers' estimating and quoting tool.
Several features are improved. The advanced Unit of Measure feature now supports attribute tracked transactions, multi-company support for global organisations and inventory availability.
There are enhances to the Quick Ship integration. Updates include validation for US customers using UPS. For international organisations: currency conversion for freight charges and local language support for Spanish LA, Canadian French, Chinese, Simplified/Traditional, German, Swedish and Finnish.
Global Expansion
Epicor is a global company and continues to support manufacturers with operations across the globe. The release includes the latest localisations required for several countries. There are updates for Argentina, Australia, Canada, Chile, Finland, Germany, India, Indonesia, Malaysia, Mexico, Taiwan, Thailand, The UK and Vietnam.
While Epicor lists the following updates under Global Expansion, they should possibly be listed under a sixth category of functional depth. They include improvements to financial management and project management.
Spreadsheet Server, an OEM solution from insightsoftware provides several improvements, including
Periodic postings
Query designer enhancements
A new profile creation wizard
Within Epicor Data Analytics (EDA), there are improvements to the prebuilt financial statements. There are also improvements to EDA Budgeting and Planning. Epicor Financial Planning also introduces new machine learning capabilities by creating predictions, a tool that populates draft budgets based on historical data.
Kinetic Project Management adds the ability to calculate revenue recognition across multiple projects from a single dashboard, saving time for both project managers and finance teams.
Enterprise Times: What does this mean
Compared to many other releases recently covered, Epicor has pulled out something impressive. New features, updated features, new embedded solutions from acquisitions, new services and more. This is an impressive release, and there is likely more to come in the next release.
It proves that not only can Epicor continue to update its existing solution, it can also quickly ingest new acquisitions and bring them to market integrated within the Epicor Core. This article scratches the surface of what the update includes, and customers are advised to read the collateral or attend the webinars Epicor or its partners are sure to host.
There are some things not mentioned in the release note that may require further questions. For example, when will single sign-on support KBMax and SecturaSoft? There is also no mention of sustainability in this release, a hot topic at the moment for manufacturers globally. It is an area that Epicor should note and deliver more improvements to help organisations with Kinetic.