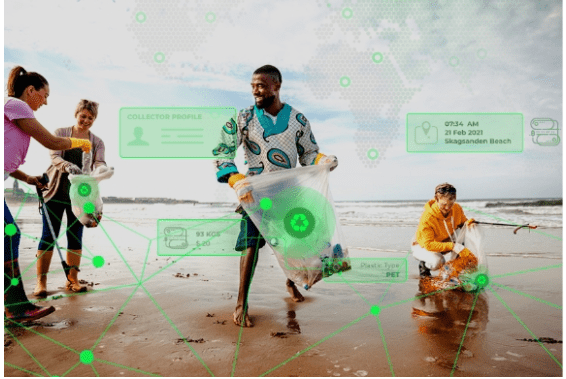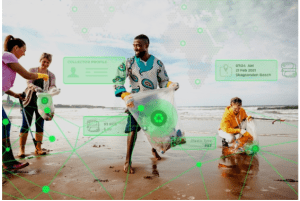 Norsk Gjenvinning, Norfolier GreenTec and Grønt Punkt Norge have started a pilot project which will track more than 600 tonnes of plastic packaging. They will do this in collaboration with Empower – which has a digital platform connecting all the players in the waste and material recycling chain. The objective is to increase traceability and transparency – and complete a circular economy.
"We want to be at the forefront of new solutions for traceability and reporting, from collection, and recycling to new production", says Petter Aaby Vebenstad, quality manager at Grønn Punkt Norge. "It can also provide even better efficiency and simplify reporting."
The challenge
As shifts towards greener consumer behaviour accelerates, brands are increasingly under pressure to take, and be seen to take, meaningful action. Yet many of their efforts encounter significant roadblocks.
One example: despite millions of tons of plastic ending up as waste each year, there is a global lack of quality recycled plastic stock on the global market. This comes from limited:
supply (attributable to a lack of both a marketplace and transparency)
infrastructure (for collection and/or clean-ups)
access (especially for smaller suppliers to the market).
As Marke Schneider (CEO of Nestlé) puts it: "It's hard to find suitable recycled material. Nestlé says its's willing to spend more than US$2B to try and fix that (…) and it would be paying above the market rate for the recycled material."
Going beyond what exists
Mr Vebenstat makes the point that both Grønt Punkt Norge and the industry in general already have good control over the handling of plastic at each level. Yet, with new technology and close collaboration between key players, he believes there is further potential to achieve even better traceability across all levels of the value chain.
Through the pilot, Norsk Gjenvinning and Norfolier GreenTec will introduce blockchain-verified tracking of plastic packaging until it ends up as new waste bags. This will include:
collection
sorting
recycling.
"We are experiencing increasing interest in traceability. This applies to the plastic we recycle and use in new products. It is exciting for us to explore new solutions where technology can create added value for our partners and customers", says Joacim Dubrefjord, Technical & Purchasing Manager at Norfolier GreenTec.
 Empower and smarter data
Blockchain technology enables transparency throughout the value chain. It carries the potential both to:
reduce the distance between waste owners and recyclers
offer an openness that tomorrow's markets for plastic waste will require.
Empower Tracking is a digital platform for recyclers. It enables these recyclers to track their plastic, from clean-up to processing.
By using blockchain technology the tracking data is immutable. This guards against corruption. In turn, this:
increases the value of the plastic waste
acts as its own an incentive to collect and recycle
means recycling can show compliance with EU and other regulations/certifications.
Simpler tracking and reporting is the starting point. The tracking of deliveries – which includes weight and material data – from the >600 tonnes of plastic foil should provide the base data to transfer to more complex value chains – which need an incentive for tracking. Making values visible to end producers creates new synergies.
For example, full traceability of the waste streams is central to Norsk Gjenvinning Group. This then anchors through Norsk Gjenvinning Downstream's internal compliance processes. "The (Empower) platform opens up simpler data exchange and verification on the blockchain for new and circular business models related to origin and tracking data", says Wilhelm Myrer, CEO of Empower.
Enterprise Times: what does this mean
In the week before COP26, this Norwegian initiative looks like a win-win pilot. It has the twin common goals of:
strengthening the material recycling rate
improving communication with producers and consumers.
Mr Vebenstad asserts that this is essential to achieve national – and global – goals for a circular economy. To Enterprise Times, the Empower Tracking approach makes sense. The use of blockchain to enhance recycling effects stands in stark contrast to the energy intensity that seems to go with Bitcoin and other cryptocurrencies.