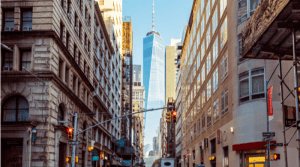 BNY Mellon has joined the Marco Polo consortium working to introduce blockchain technology into international trade finance. The intention is that this will digitize how working capital becomes available for both suppliers and buyers across the globe.
"Blockchain has the potential to transform the trade finance industry by replacing multiple systems with a single shared record through one distributed ledger. As all participants in the transaction will be immediately updated of each development in the trade lifecycle, this enables us to extend working capital more quickly and more securely to clients," says Joon Kim, Global Head of Trade Finance Product & Portfolio Management in BNY Mellon Treasury Services.
BNY Mellon and Marco Polo
Through its participation in the Marco Polo Network, BNY Mellon believes it will be able more efficiently to provide and improve liquidity to international supply chains. It will seek to make available supply chain finance solutions to suppliers shipping goods and services to their buyers around the world – including:
payables financing
receivables discounting
The Marco Polo Network is a consortium of approximately 45 banks that already offer an open software platform for trade, payments and working capital financing to banks, corporates and other market participants. Marco Polo's platform is a cloud-based blockchain-powered network that allows the seamless, secure and fast exchange of trade data assets in a multi-channel environment.
More than just the financing for suppliers and buyers
By using Marco Polo, BNY Mellon will not only provide financing to suppliers, but will also have real-time visibility into trade finance instruments and their status, such as purchase orders and invoices. This is relevant because real-time visibility speeds up trade finance workflows.
On the blockchain, the moment when both parties agree that a transaction's terms are correct, the trade confirms in real-time. This means both parties have:
confirmed the data in the trade documents
checked, matched and confirmed this.
When this happens, improved (and faster) delivery of working capital to finance trade happens. In turn, this releases liquidity for finance providers like BNY Mellon.
Digitization and the multi-channel Marco Polo network also has the potential to open up the development of a liquid secondary market in trade finance. This would be where a trade instrument already subject to financing become saleable to an alternative liquidity provider consortium member. This would act to free up still more capacity for additional working capital.
Digitisation delivers particularly pronounced efficiencies for large buyers such as big box retailers that may issue tens of thousands of purchase orders each day and that previously had to rely on an antiquated paper and email-based workflow to secure trade financing.
Enterprise Times: what does this mean
Use of a blockchain reduces risk. In the trade finance instance, the same trade instruments can secure working capital from multiple liquidity providers. Reducing credit risk increases confidence. Real-time insights improve creditworthiness. The long term effect should be better financing rates for all those seeking working capital for trade. Furthermore, BNY Mellon believes that it will be possible to:
track the labour conditions for workers within the supply chain
identify whether raw materials come from prohibited areas (such as conflict zones)
monitor the carbon emissions of vehicles being used to ship orders
link to satisfaction of ESG goals.
Put like this, blockchain-based trade finance would appear to be the next step in BNY Mellon's drive to expedite the paper-to-digital transformation. More significantly, outside the Bank, the active participation of finance in supply chain digitisation is a logical next step. Too often trade finance and supply chain digitisation have seemed either to compete or exist independent of each other. This was nonsensical.