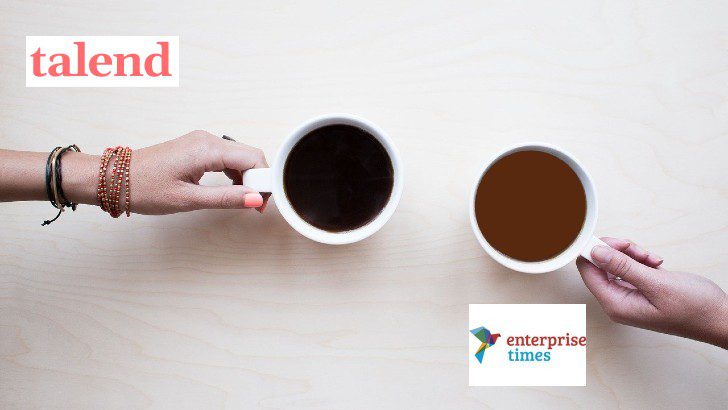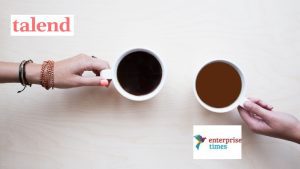 Antony Elliott is the Regional vice president for EMEA North at Talend. That includes the UK, Ireland, Belgium, Netherlands, and the Nordics. He runs the revenue organisation for that area, the sales teams and the commercial teams. Enterprise Times spoke to him about Talend and the challenges faced by modern enterprises around data.
Enterprise Times asked him to describe Talend.
He replied, "All companies are struggling with massive amounts of data. What Talend does is allow organisations to gain the true value from their most important asset, which is their data, by providing various tools and solutions to all types of people inside an organisation to gain true data health and visibility."
Could you explain what you mean by all types of people?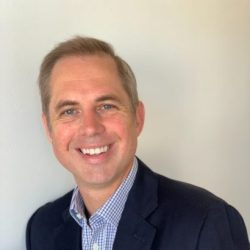 "In organisations, data is not just something that the IT organisation uses. The people that now work in companies are all very data-aware. There is a demand for data from the data-aware that say – get me the right answers on this, typical leaders like myself. Then there are the data literate, who they are trying to wrangle that data, and they're not always data scientists."
"Companies are all wanting to become data-driven in their decision-making processes. That means the demand upon IT organisations to provide new datasets, more data in more real-time, is ever-growing. Analysts or, like me, former accountants, want to utilise and get access to their data.
"It's really about data democratisation. In our industry, many of the tools out there are still focused on the more technology savvy people. This is about being able to provide tools that everyone could use to get real true data for what they need to do."
On Thoma Bravo
Can you comment on the Thoma Bravo acquisition? What differences has the Thoma Bravo acquisition made to Talend within the scope of your role?
"I'm really excited about the acquisition. It was something that was intended by our leadership team. It's only a couple of months old. Right now, there is not a fundamental amount of difference. That's a good thing because Thoma Bravo bought into the leadership team's approach and our strategy.
"What they're really saying is, we want you to go faster. This is about how we can expedite our plans and increase our growth trajectory even faster by following the path that our leadership team have set out. From that point of view, it's do more of the same. That's exciting. We have got the vindication that we're on the right track."
Does that mean more organic, inorganic, or both growth?
"It will be both. I couldn't say whether there are any inorganic options out there, I wouldn't be able to comment, but all things will be looked at. Any organisation is right to do that. Not only are we looking to go out and acquire new accounts, but we are also looking to expand the relationships we have with existing accounts, technologies, and ecosystems more now than ever. You have to look into your ecosystem and understand the advantages of partnering and other available options."
On moving customers to the cloud
Talend launched its cloud solutions about four years ago. Where are you with the migration of customers to the Cloud?
"It's accelerating. We're about 76% cloud, from our customers. That's a huge growth and over the last four years, and it continues at a rapid pace. Europe is one of the leading regions for that. It's definitely the way forward.
"As we accelerate that move to the cloud, we also need to pivot towards being a true SaaS organisation. That's what we're looking to do by providing new services and support to our clients that they're looking out for and want us to provide. In November, we'll have a couple of announcements about new services that we've been working on and built up based on the requests from some of our clients that will now release to the general market."
What are the barriers remaining for organisations to move to the cloud?
"Some organisations do still have a genuine barrier. Those will be the ones that are in highly data-sensitive industries. The defence industry is one. Otherwise, most organisations want to accelerate their journey to the cloud. One of the byproducts of the pandemic is the acceleration of that roadmap.
"The barrier is is now to do with the bandwidth of their teams to support a move to the cloud, because it's not just about Talend. The very nature of what we do is supporting data integration and flow and making sure that the right data is at the right person at the right time. That means there's always an A and B in that conversation of where the data is going. Those can be quite complex projects.
"Organisations are having to deal with either legacy architectural complexity or future architectural complexity. Something that is coming up more and more where different lines of business inside organisations are making decisions that are causing more headaches for the CTOs and CXOs out there as their architecture gets a bit more complex."
On challenges
What are your challenges?
"Collaboration. All organisations and all employees are sick to death of the office at home, I am. It's getting people in, to work together. We're all having to work out in the new normal.
"It's how do you get that collaboration that was part and parcel of being inside an office and people seeing each other more often. How do you get that in a virtual world? How do we make sure everyone understands, they're part of the vision and the roadmap that we're trying to layout and what they can do to help and support that. That's the hardest thing to achieve. We can always do better as leaders to make sure we're supporting that journey for our teams to understand how they fit as part of the vision."
On achievements
What have you achieved this year?
"We've achieved so much as an organisation. Going through the private acquisition by Thoma Bravo, that's a huge achievement for the organisation. If you look at the last performance that we announced to the market; we're clearly accelerating our growth. We're showing a faster move into the cloud, and that's a testament to the hard work of our teams.
"Like many organisations, we said, at the beginning of the pandemic, we weren't going to make any redundancies, and we haven't. In fact, we're constantly growing our team because we need more people to come in and help us on the journey and help our clients.
"All of that is a lot for everyone to manage. There's a lot of change here for people to manage. So the simple fact we're able to manage that change, focus on our customers, provide them with the right solutions they need during all of that, and gain the great responses that we're getting from them, think it's a huge testament to the organisation that we've got and the people in it."
On the future
What do you hope to achieve in the next six to 12 months?
"I want to accelerate our growth towards the cloud. I want to bring out some of the new innovative services that we're offering to the client. We've created a few here in my team, meeting the needs of the client and understanding the complexity that they're in.
"I want to grow the importance of data health. Make sure that organisations start to see their data as more of a positive lever for them and a huge asset that they have, and they're able to get more value from it.
"Too often, there's a groan and a sigh in different parts of an organisation when it comes to the data, and trying to get insight into that. I want to turn that around for organisations. I want them to stop living in that data chaos and start to quickly and easily see the valuable data that they've got and get the answers from it."
How is the integration market evolving? Will it be different in a few years?
"I think the data integration market will almost become secondary to other markets that will grow out of this one. If you're just going to focus on solving the plumbing, you're missing the whole point. That's something the whole industry and CTOs and CXOs are facing.
"We've got very good at storing large amounts of data in the cloud. We now need to start saying, what's the value of storing that large amount of data in the cloud? Is there any point in storing some of that data in the cloud because it's not utilised or useful for anyone?
"How do we make sure that we're able to make data-led decisions? How do we ensure that organisations and employees have the right data they can trust in front of them at the right time? That's the biggest challenge we've got going on.
"I've sat in meetings throughout my career as a finance guy, where people have questioned the data and the numbers you're showing them. We need to get out of that. We need to start to focus more as leaders on making decisions on trusted data rather than arguing about the data. That's the challenge we've got to answer as an industry, not about storing it."
The book question
What's the latest book you read? And what was your business-related take out from it?
"I've got two young kids, and with COVID, I've had to pick up the homeschooling, start a new job, get to know a new team remotely. It's been a lot of pressure on me to do all that. The last book I read was Matilda (Amazon UK) to my seven and a half-year-old daughter, who loves Matilda.
"Did I get a business learning out of it? Actually, as well as thinking about it from a comedy point of view, I did, there are two things that you learn from the Trunch: don't do a job you hate. The funny thing about the Trunch is she hates kids. Why are you doing a job you don't love? I love my job, and I love working with my teams. I love working with clients, helping solve complex problems, and seeing the delight people get at the end.
"You've got to do a job that you love. You've got to make sure your team are doing the job that they love and that's not always easy.
"The other one was probably to stop being such a tyrant with my children. Likewise, make sure that you're always working on your communication with your teams. It's been really hard for everyone working from home, and everyone's got their preferences as I had. Everyone's got their own story. It's about making sure you communicate and understand your team to support them more."