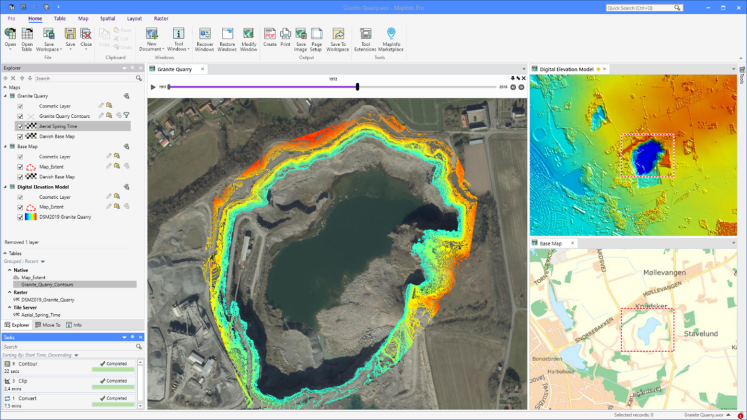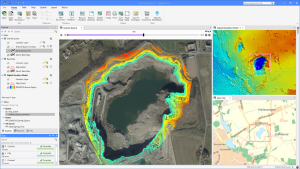 Precisely has launched the latest version of its GIS solution, MapInfo Pro v2021. The release is initially available in English. Precisely will release a further 17 language versions by early 2022. The new release enhances visualization capabilities, increases data access, and expands the ability to streamline processes.
Clarence Hempfield, Senior Vice President, Product Management at Precisely, commented, "Precisely has a longstanding history and commitment to helping our customers to more effectively utilize their data to generate location insights that fuel their organization.
"The new release of MapInfo Pro enables organizations to more flexibly manage, analyze and visualize data in space and time, in one easy to use solution, while dramatically improving the return on investment in location decisions."
Location-based context  visualization
One of the new features builds on the Select by Location feature enabled within MapInfo Pro v2019. That feature enables users to create spatial joins between datasets. V2021 enables the comparison of numerical values to given values or average values within a column.
The feature is enabled by a simple drop-down selection, rather than needing knowledge of SQL to leverage. It therefore enables location-based context and then rapid visualization of patterns within the data.
Location-based data is critical for businesses today. Dresner Research believes that 70% of organizations consider data visualization and mapping as "critical" or "very important" to accomplishing their business goals. This is not just about the geographic location but about the data that relates to it, such as demographic data, weather data etc.
Customers such as M&S have already used MapInfo to help plan its highly successful "Simply Food" launch. With the new enhancements, companies can identify new locations even faster.
Southwark Council, UK, is already seeing advantages of v2021. Stuart Carter, Corporate GIS Manager, commented, "Our collaboration with Precisely during development assures us we can trust MapInfo Pro v2021 to connect to the new Ordnance Survey (OS) data APIs. This will provide our MapInfo Pro users with new and efficient methods of connecting to geospatial data."
Precisely believes the new feature will help organisations from across different industries. They include risk management within insurance, network planning within telecommunications providers, site selection in retail, and city planning within the public sector.
Time-based visualisations
Understanding how data changes over time is critical for some organisations. Are traffic flows reducing? Is income going up? Is crime increasing?
V2021 also adds time series analysis. Customers can break data into time periods and then visualize them on a map using a time slider. It is also possible to add Smart test and embedded legends and use analysis tools such as thematics, querying, labelling etc.
Enterprise Times: What does this mean
The above just scratches the surface of what MapInfo c2021 does. More information is available in a webinar on October 6th. The webinar also promises to explain new subscription options that will enable customers to save money. However, the press release did not identify any detail around these.
MapInfo Pro v2019 Premium is available from £958.77 and MapInfo Pro v2019.3 is available from £590.01. There is also a 30-day free trial available for MapInfo Pro v2021. We will update the article once Precisely publishes the new pricing.
This latest update continues to demonstrate why MapInfo is one of the leading GIS software solutions available. It is currently in the leader quadrant for the G2 Grid for GIS. More importantly, it is also a momentum leader in its Trending Grid. These latest updates should help propel MapInfo even higher.
Update on Pricing
The new pricing options are detailed below: