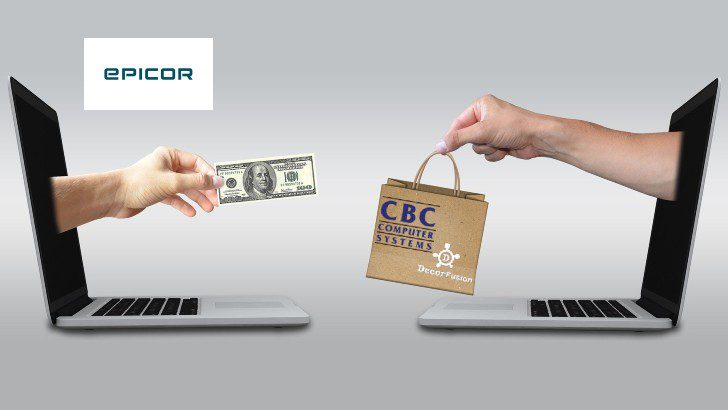 Epicor has made another acquisition to strengthen its portfolio. It has agreed to acquire CBC Computer Systems, the ISV behind Decor Fusion POS software. Decor Fusion consists of an enterprise version that is used by paint & decor stores. Calling it POS software underplays its functionality slightly as it contains Sales Order Processing, Purchase Order Processing, CRM, EDI, Inventory Management, Ecommerce and a contractor portal. There is also a version specific to Benjamin Moore authorised retailers and integrates to Benjamin Moore's colour system. More than 1,350 paint and decorating retailers use the solution. The company has customers worldwide though most are based in North America, where its headquarters is located.
For Epicor, this is a natural add on to Epicor Eagle, its retail ERP solution. It strengthens the Epicor retail portfolio with a solution that is specifically suited to paint and decor retailers.
Steve Murphy, Epicor CEO, commented, "Retailers of all sizes have needed to quickly adapt to changing buying behaviors and supply chain challenges born out of Covid-19 to ensure they have the visibility and control to grow their businesses and delight customers.
"The integration of CBC Computer Systems and Decor Fusion software into our solution set will help our customers solve for those challenges today, and ensure their operations are flexible and optimized for tomorrow."
Neither party disclosed the terms of the acquisition, but it is expected to close on October 4th.
Does CBC Computer Systems gain more?
In some ways, the deal makes more sense for CBC than Epicor. Epicor brings a wealth of cloud-based modules, including finance, analytics, and EDI, that can significantly strengthen the CBC product once integrated. Epicor also called out six areas that it can improve the solution delivered to customers:
Streamlined sales order and purchase order processing
Enhanced CRM and industry-specific eCommerce
Insight and integration with manufacturer and supplier systems
Robust inventory management
Knowledge of Cloud technology, delivery and DevOps
Improved business continuity for existing Decor Fusion customers
It will be interesting to hear what the roadmap is for the product. Epicor has also been taking a more modular approach to development. Will there be elements of Eagle that Decor Fusion can leverage in the future, such as Loyalty? Will it also receive the Epicor look and feel, its Kinetic UI? Epicor will also provide a massive boost to its international credentials with a sales organisation that, assuming Decor Fusion is localised, can help expand the solution internationally.
Finally, while Decor Fusion offers a cloud option, there is an inference that many of its customers still use the solution on-premise. Migrating customers to the cloud is something that Epicor now has good experience of, and it has also redeveloped many of its systems into multi-tenant cloud-based solutions. It can offer advice and assistance should CBC Computer Systems require that.
Wade Partridge, co-president of CBC Computer Systems, commented, "Epicor truly understands retailers, and the integration of our software into the Epicor portfolio will help ensure the world's most essential businesses can digitally evolve and thrive.
"Our Decor Fusion software was purpose-built for Paint and Decorating retailers from the ground up, and our customers will benefit from Epicor's continued investment to scale and expand the software suite to meet their changing needs."
Enterprise Times: What does this mean
This is a slight shift in strategy for Epicor. The other recent acquisitions were clear technology addons to the Epicor platform. Earlier this year, it acquired KBMax for its CPQ solution. In 2019 it acquired 1 EDI Source bringing in house a company it partnered with for EDI. These acquisitions seem to hark back to when it bought acquisitions to expand market share in its chosen industries rather than strengthen the platform. Will Epicor look to acquire more solutions in its chosen markets?
What is intriguing about CBC, however, is the relationship with Benjamin Moore. This integration between retail chains and manufacturers is something that Epicor is well placed to develop. Will it can extend its Kinetic ERP solution to provide software for manufacturing retail outlets?