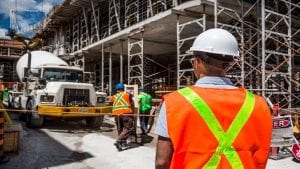 Ahead of its annual virtual conference, Groundbreak, on October 12-14, Procore made several significant announcements that it will showcase during the event. Procore continues to dominate the construction management cloud software market. It has helped to manage more than one million construction projects across more than 125 countries. More than 1.6 million construction professionals already use it.
Wyatt Jenkins explained there were three major product announcements, "Number one, how Procore's infrastructure is meeting the needs of customers globally. We're making a big push to go global. Number two, how we're connecting the field and the office through mobile and artificial intelligence. And thirdly, we're really excited about a new product, the Procore construction network, that further delivers on our mission to connect everyone in construction."
Going global
Procore is extending its document solution worldwide. Procorenow has 15 cloud data centres worldwide, adding 11 new ones recently to support file storage. These will enable Procore to improve speed and performance in each region. It will also improve compliance in several regions, including GDPR, California's Consumer Privacy Act (CCPA) and Australia's Privacy Act of 1988.
Wyatt Jenkins, Procore's Senior Vice President of Product, commented, "For all Procore customers around the world, this will provide a single location for all project documents, from preconstruction through closeout, and can only be accomplished with a true platform offering unlimited users, unlimited data and unlimited collaboration on every project."
With data centres in the EU and the UK, compliance for GDPR and should the UK modify its data protection laws Procore is prepared. Philip Lambourne MSc MCIOB, head of design and information management at Henry Boot Construction Limited in the UK. Commented, "We use Procore to manage documents on our projects and to digitise our inspections and snagging processes. The level of support Procore offered with configuring the platform, and its usability was largely the reason behind our decision to select them. The support provided is vital, not only for our internal employees but for all our supply chain partners."
Mobile-first
Procore has leveraged recent acquisitions of INDUS.AI and Avata Intelligence to enhance its mobile application's machine learning and AI tools. It has introduced Quick Capture, a means by which users can capture a short video of a punch item requiring attention. The application will capture audio in the video, create a Punch item actions within Procore, turn the explanation into text, analyse it, and allocate the item to the appropriate trade.
Jenkins noted, "Testing has shown the time required to capture and log information in the field decreased by at least 50%. I've had a few customers tell me; this is five times faster!"
The solution is not available yet but should be in beta in H1 2022. Jenkins commented, "For the last 18 months, we met with customers and challenged ourselves to rethink how we innovate and improve the lives of everyone in construction.
"We are building solutions that connect the field and the office across mobile, leveraging AI, voice commands and messaging with Procore Conversations. On top of that, we are introducing the world's largest online network of construction companies. It really feels like the beginning of the next chapter of construction technology."
Enterprise Times asked Jenkins whether there was an offline mode for the new application. He replied, "There are a few different mobile features. For Quick Capture, we have an offline mode. It's not going to benefit from having AI to do the work right there. It's just going to do the capture offline. We are focused on being able to do some of the work offline, and then when you are online, being able to use the AI."
The Procore Construction Network
The third announcement was a new Procore Construction Network. This online business directory aims to connect general contractors, speciality contractors, owners, architects,  engineers, suppliers, and vendors in a single community. The intent is to enable construction firms to extend their online presence, promote their business and grow their business networks. Jenkins revealed that with Procure Construction sending out hundreds of thousands of bids, soon Procore users will be able to send out bids across the network, enabling subcontractors to respond.
The network is live now, though most of the construction companies appeared to be North American based. Enterprise Times asked Jenkins whether it would extend globally and become multilingual as well.
Jenkins responded, "We are starting with English speaking. It's not in one region or another. We are going global as soon as possible. We are planning multilingual."
However, Jenkins could give no dates for that.
Enterprise Times: What does this mean
Procore has rapidly leveraged its acquisitions with the mobile Punch Item capability, quickly seeing the light of day. It is disappointing that it will only be beta in 2022. However, by then, there may be more use cases. These could include tasks such as meeting notes, snagging and inspections also automated by voice interaction over video.
The key announcement is the Construction Network. Wherever this takes off, Procore will have a significant advantage of winning business in those regions. With more data centres opened, the questions about performance will also go away. It will be interesting to see how many construction businesses join the network and from what sector and where. What Procore does need to think about is how it will attract those firms to the network. There may be lessons from the expansion of Alibaba, Infor Nexus and SAP Ariba.