I want to just cry when I teach PowerPoint and my delegates tell me that they recreate the slide from scratch when they wish to use the same information that they had in a previous presentation. All because the template is different and has totally different colours and fonts.
WHAT!
You poor things. You're working far too hard. There is no need for that at all. You can use the same slide in another presentation and it should just miraculously change to the template it now sits in.
Let me explain.
Use the Slide master and create your design in a template. If you do that when you copy a slide from one presentation to a different one the slide takes on the new presentation's template and thus changes the fonts and colours and layouts. Easier still you can drag and drop the slide or slides you need from one to the other.
Here is sample presentation.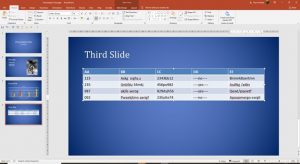 Here is a new sample presentation.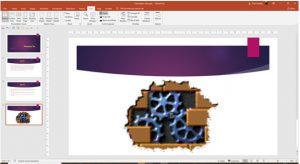 Select to see them both side by side on your screen.
How to see two presentations on one screen.
In Presentation One
Select Arrange all in the Window section.
You result will be this if there are only the two presentations live on your computer.
Single-click in Presentation 1 to activate that presentation.
In the View tab select Slide Sorter view.
Single-click in presentation 2 to activate that presentation.
In the View tab select Slide sorter view.
You are now presented with this on your screen.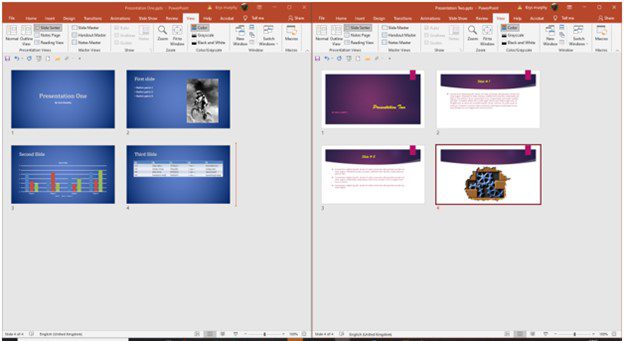 Using the right mouse button, click hold and drag the slide you require to the other presentation.
When you let go of the mouse you will be presented with a question.
Select Copy with the left mouse.
This will result in a copy that takes on the template features in the new presentation but leaves behind the slide in the original presentation. Here I have dragged slide no 2 that has the man on a bicycle from the left presentation to the right presentation.
Now I have dragged the interlocking cogs from the right presentation to the left one.
It just could not be any easier. The key thing here is to use the Slide master so that all new slides follow suit.