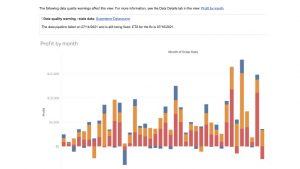 Ahead of the release of Tableau 2021.3 later this month, Tableau has unveiled new capabilities and features for enterprise customers. It also gave a sneak peek of what customers can expect after the upcoming release. Francois Ajenstat, Chief Product Officer, Tableau, commented, "Tableau has long been a favorite to help individuals see and understand data. We're making it easier for IT leaders to make it a favorite across the entire enterprise and deliver an end-to-end solution to leverage the full power of data analytics."
Tableau is introducing a new bundling offer. It will combine Creator, Explorer, and Viewer licenses for Tableau Online with Data Management. It will also include Data Management and Server Management for Tableau Server. This will simplify procurement and enable organisations to promote wider usage of the solution across the organisation.
Doug Henschen, Vice President and Principal Analyst, Constellation Research, said, "IT leaders are facing unprecedented challenges today and the COVID-19 pandemic has underscored the need to increase data self-sufficiency and empower everyone to do more with data. It's no longer a luxury for businesses to have a data analytics platform, it's a necessity that could make the difference between surviving and thriving."
Tableau's intent aligns with Henschen's observation. It should also help address the challenge that McKinsey recently identified, that 92% of organisations have failed to scale analytics. Loreal Lynch, Vice President, Product Marketing, also revealed the architecture that Tableau now fits into in a blog (see diagram below). The five-layer architecture includes Slack for the first time and demonstrates how Tableau is fully integrated into the wider Salesforce platform. This new subscription offer will be available later in the month when Tableau 2021.3 is launched.
Upcoming features for 2021.3
Tableau revealed several imminent new features, these include:
Within Tableau Catalog, it will be possible to see inherited descriptions within web authoring flow
Data quality warnings are now available in subscription emails with links to access the affected data dashboards
The Tableau Prep Conductor can run consecutive jobs on Tableau Server and generate sets of data, filling missing rows based on dates, times or integers
Tableau has improved security within 2021.3 adding greater flexibility and segmentation, including row-level security across the platform
Coming soon
Not included within Tableau 2021.3 are some additional capabilities that Tableau intends to launch over the coming months. These new features are intended to help enterprises scale their analytics platform cost-effectively.
There is a new enterprise reference architecture available. The Enterprise Deployment Guidelines (EDG) provide a methodology for creating a best practice tiered topology to create a secure, scalable architecture for their organisation.
For example, it is enhancing support for containers. In 2022 it will add dynamic scaling within a container, beginning with Backgrounder. The intent is to help administrators rapidly respond to changing demands on Tableau Server, enabling a more consistent performance. It will also be possible to set limits for Backgrounder resource usage, improving resource management within Tableau Server.
Enterprise Times: What does this mean
There are four key themes from this announcement. The first is that the assimilation of Tableau and Slack into the Salesforce ecosystem continues. Secondly, Tableau is also reacting to the needs of the market. Notably, the growing importance of data and analytics to business with its new subscription plans.
There is a focus on security, one that the pandemic has highlighted. Research from Mulesoft and Coleman Parkes Research noted that 87% of IT and business leaders are concerned that security and governance are slowing the pace of innovation. Finally, Tableau is still innovating, bringing further enhancements to its latest container deployments by adding scalability.
Analytics is critical for organisations post-pandemic. The availability of data is increasing. Organisations that can understand and analyse their own and third-party data to make data-driven decisions are more likely to succeed.
Megan Oertel, Director of Product Analytics, Sysco LABS, commented, "Tableau's been at the forefront of our journey to better understand and serve our customers through data. Tableau is used across our entire organization to help us report from all the different data sources we have in a governed and trusted way."