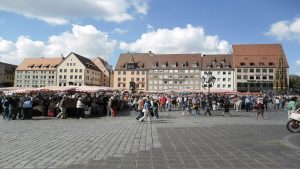 Shopify has expanded its integrated retail hardware for Shopify POS. In addition to Shopify Payments for in-person transactions to retail merchants in Germany. The company says merchants will benefit from unifying the online and offline shopping experience. The pandemic ushered in a new standard for shopping everywhere. Shopify's research on consumer behaviour in Germany reveals that shopper preferences have fundamentally changed as a result.  As the majority of German consumers look to shop in physical stores post-pandemic.
Over the past year, brick-and-mortar merchants across the globe have had to radically reinvent the way they do business. Germany is a market where brick-and-mortar retail has remained the dominant preference for consumers. However, 26% of German consumers are likely to use both on and offline channels for shopping (up from 18% pre-pandemic). Additional insight from the research reveals increased demand for a commerce approach that unifies the online and offline experience.
Two thirds of German shoppers said they would like to purchase items in-store and have them shipped to their homes.
50% reported they would like to buy online and pick up in store.
69% said they would like to be able to check store inventory online before shopping in-store.
Over half of German shoppers (54%) would like physical retail locations to be able to access customers' online purchasing history.
The majority of shoppers in Germany also now show an increased appetite for using contactless payment options.
Providing a unified commerce solution
To help local merchants meet these evolving consumer demands, Shopify is providing merchants with a unified commerce solution. Shopify says the solution seamlessly integrates online and offline channels. It also offers more ways to accept in-store payments with Shopify's integrated card reader.
"We are experiencing a fundamental shift in how people shop following the global pandemic," said Hagen Meischner, Agency & Tech Partnerships Lead, EMEA, Shopify in Germany. "This retail renaissance is forcing retailers to adapt business models as customer expectations for convenience, personalisation, experience, and safety grow. We believe that the future of commerce is everywhere—online, offline and in hybrids of the two."
Retail in Germany is ripe for innovation: While eCommerce has dramatically grown in popularity, the majority of Germans would still prefer to shop in-store after the pandemic. But now with new expectations that bridge the offline and online shopping experience. Shopify's integrated point-of-sale and in-person payment solution allows merchants in Germany to meet these new customer expectations. It provides a seamless in-store selling experience that integrates with the business to meet consumers wherever they are.
Learn more about how you can unify your in-store and online sales through Shopify POS here, and check out further information about integrated hardware and payments with Shopify POS here.
Shopify's research was based on a survey of over 1,000 German consumers commissioned by Shopify. The survey was undertaken in cooperation with research institute Angus Reid from June 1 to June 5 2021.
Ecommerce in Germany
Ecommerce in Germany was worth 83.3 billion euros in 2020. This is an increase of 14.6% compared to the situation one year before. The growth is significant, as the average growth over the previous three years was 'just' 11.3%.
Needless to say, this increase in German eCommerce was predominantly due to the outbreak of the coronavirus and resulting lockdowns. Last year, ecommerce in Germany was worth 72.6 billion euros. According to the German eCommerce association Bevh, one in eight euros of household expenditure on goods were spent online last year. And even though grocery stores, drugstores, and pharmacies remained open in Germany. Goods such as groceries and pharmaceutical products still recorded the strongest growth in online retail.
Enterprise Times: What this means for business?
Like elsewhere in the world, the coronavirus pandemic has significantly accelerated the development of eCommerce in Germany. This rapid evolution will not be reversed. Going forward, retailers have to incorporate the customer experience (CX) into their digital and bricks-and-mortar infrastructure. Hence Shopify's decision to integrate retail hardware and payments to Germany. Essential to help retailers meet shifting consumer demands. The research indicates that the German consumers are still stubbornly clinging to bricks-and-mortar. Merchants will benefit from unifying the online and offline shopping experience. As the majority of German consumers will continue to shop in physical stores post-pandemic. The challenge for German retailers will be ensuring the seamless integration of their retail outlets into their digital real estate.