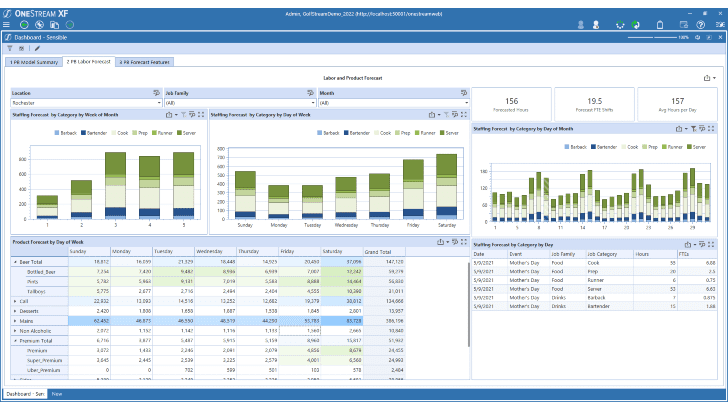 At its Annual conference Splash, Tom Shea, CEO of OneStream, announced new Artificial Intelligence (AI) and Machine Learning (ML) capabilities within its Corporate Performance Management software during his keynote. The new functionality furthers the OneStream mission of delivering a financially intelligent platform. It will support various requirements, including period-end financial close, reporting, planning, forecasting and operational analysis.
Tom Shea, CEO of OneStream, commented, "Looking at the market, there aren't many FP&A vendors that are able to handle large volumes of data for predictive decision-making without reliance on a data science team or third-party tools.
"Our new built-in AI and ML capabilities will make intelligent forecasting accessible to finance and operations teams, expanding use cases outside of finance for Demand Planning, Sales Planning and Workforce planning while increasing time to value for customers."
Shea delivered a preview of what is to come as it is not yet available to customers. OneStream has yet to determine the pricing, according to John O'Rourke, VP of Communications and Brand Marketing. ET also asked some questions about the launch.
The future of finance
Finance departments are digitizing and automating processes. COVID lockdowns have left many finance departments realising that automation and artificial intelligence can deliver huge benefits for the department and the wider business. A recent study, OneStream's 2021 Hanover Research Finance Decision-Makers survey, identified that 59% of finance teams invest in AI and 54% in machine learning. This move to take advantage of modern data analysis techniques is not surprising.
OneStream has developed new capabilities to supplement the OneStream Planning functionality with AI and ML to address this need. AI and ML need data. The new features will leverage internal (ERP, HRM, CRM and SCM) data and external data (macroeconomic and weather).
Enterprise Times asked O'Rourke where this data is stored.
O'Rourke replied, "The data supporting the ML processes is integrated from other internal systems (as well as external sources) and is stored in the OneStream platform for processing. "
What data sources can OneStream extract data from?
O'Rourke answered, "OneStream already integrates with over 200 ERP, CRM, HCM and other enterprise systems. It has the ability to import data from any external source the customer is using. OneStream is also capable of enriching internal data with external data sources such as weather and other macro-economic metrics to help increase model performance and forecasting accuracy."
OneStream delivers
Has OneStream developed the capabilities itself or used a third-party solution embedded in its platform?
O'Rourke replied, "OneStream's ML capabilities were developed with an exclusive partner focused on developing and supporting Auto AI and ML capabilities at our direction."
This is good news for OneStream's customers. It means the AI/ML are likely to improve over time as the third party will have a better focus. The risk is that the company is acquired by someone else. The press release highlights several areas where the new functionality will make a difference for customers:
demand planning
revenue forecasting
anomaly detection
cohort analysis.
ET asked O'Rourke, what specific features customers can expect. He answered, "Sensible ML provides time series forecasting capabilities with the ability to handle any time series-based prediction ranging from monthly financial forecasting to daily demand planning use cases."
The new feature will deliver new forecasts and insights for finance teams. Ones that are finance focused and, OneStream believes, better than other generic solutions on the market. Ultimately it will support effective eXtended Planning and Analysis (XP&A) across the enterprise.
This is not something that OneStream will deliver in the distant future. While OneStream did not announce the general availability date, there are beta customers already using the software.
O'Rourke added, "There are three customers currently in OneStream's Technical Preview program, and additional customers are being considered for the program.  These customers span CPG, Retail and the Restaurant industries – all with large volumes of data to analyze and the need to support thousands of ML models."
The executive director of finance applications at a premier cosmetics company commented, "Deploying ML solutions to business users can be very challenging without a dedicated team of data scientists. OneStream's approach of embedding ML capabilities into their Intelligent Finance Platform and providing predictive solutions that are designed for business users will make it a lot easier to deploy and gain rapid value in areas such as demand planning and revenue forecasting."
Enterprise Times: What does this mean
Finance teams will need to adopt not digital transformation but a continuous transformation to keep up. As Heraclitus wrote, "Change is the only constant in life". Finance teams need to make sure that they digitize, automate and constantly improve their processes and technology. OneStream is aiming to ensure that they can continuously improve their technology for their customer with this announcement
Howard Dresner, Chief Research Officer at Dresner Advisory Services, commented, "In our 2021 Wisdom of Crowds Enterprise Performance Management Market Study, 52 per cent of respondents remain uncertain about the business value of machine learning and AI.
"Many users may be waiting for vendors to bundle these capabilities with their enterprise performance management solutions. Uptake is likely to increase over the next 12-24 months if vendors deliver on their road map intentions."
The 52% are at risk of being left behind by those that adopt AI/ML and other technology. Importantly this is not just about finance, but the wider business. Finance teams that can better predict the future can help other business leaders make better decisions for corporate success.