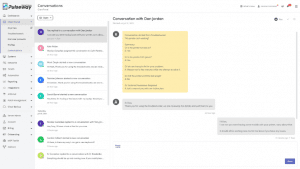 Pulseway has launched Pulseway Client Portal. The solution enables MSPs to offer a self-service support platform for their customers. Client Portals were first unveiled in May this year to a limited set of beta customers. The portal enables customers to ask questions and receive answers.
The platform can also run remediation scripts based on the customers' requirements. Last month Pulseway added Conversations to the portal enabling clients to use a chat function to communicate directly with MSP technicians on an issue. The intent is to reduce the workload on those technicians and to offer customers an improved service, one that is scalable without additional human resources.
Marius Mihalec, founder and CEO of Pulseway commented, "We are giving organizations a whole new and efficient way to deliver IT support. Pulseway Client Portal gives companies a central support hub that allows their end-users and employees to resolve their own IT issues, quickly and efficiently. From ordering new equipment or requesting more storage to fixing their own printer and computer issues.
"For the end-user, they get their problem fixed quickly and they are operational. For the organization, they spend less time doing basic mundane tasks, which frees resources to focus on business-critical projects. The portal and the self-help troubleshooters are completely customizable, meaning each organization can set up their own unique self-service flows. We already had some amazing feedback from our partners and will continue to enhance and develop the product in the future to ensure we meet the real-world needs of users."
Enterprise Times also asked Mihalec some additional questions about Client portals.
Building out automation
This is not a static website that enables customers to log support calls but the first iteration of a solution that MSPs can enhance themselves. It allows IT technicians and system administrators to build resolution paths for issues that automate the user requests through to completion. If the issue resolution cannot complete, the support call is moved to a chat conversation where a technician can help resolve the issue. The conversation is recorded for later audit or analysis if required.
Andy Ellwood, VP of Product Marketing commented, "We've been working very closely with MSPs and IT professionals to understand the issues they are facing in today's climate. Improving IT efficiency has driven most of our product enhancements and new feature releases and Client Portal was not an exception. Pulseway Client Portal enables both MSPs and internal IT departments to automate most of their repetitive support enquiries and empower users and customers to troubleshoot issues instantly, with fully customisable and tailored resolution paths for each business."
Enterprise Times asked Mihalec whether Pulseway has prebuilt any workflows for the client portal?
"I need more storage and My printer is not working-  troubleshooters are pre-built out of the box. But we are planning to expand the prebuilt library soon, based on customers' feedback. The troubleshooters execute existing tasks and scripts, that have either been provided by us or the customer has created themselves.
"The Client Portal effectively gives the end-user direct access to these tasks & scripts rather than waiting in a support queue for a technician to execute them. The troubleshooters basically handle the logic of interacting with the user but can share the scripts & tasks with automation workflows."
What lies behind the Client portal?
Client Portal appears to have its own workflow solution. Is it the same as Pulseway Automation Workflows?
"The Client Portal uses similar logic and interface to the automation workflows but they are distinctly different. Automation workflows can execute multiple paths based on automatically checking the result of specific actions – without any user interaction.
"As the client portal is an interactive platform that relies on end-user responses to questions to trigger actions they are different and not interchangeable. However, you can still utilise the same scripts and tasks within the troubleshooter and automation workflows."
There is little information about the user administration and about setting up the Client Portal. Enterprise Times asked Mihalec how MSP's administrate the user accounts on portals?
"Individual users are enrolled per specific troubleshooters. You create a user account inside the client portal and then assign those users to the specific troubleshooters of your choice. Automated enrollment is planned for Q4 this year."
What else is Pulseway planning to add to the solution?
"The next major release of Client Portal will include Remote Control, Mass Enrollment, Ticketing, Knowledgebase and Password Vault."
While the portal is focused on support, will customers be able to access billing information about their contract?
"No. Client Portal is a purely remote support platform."
On customisation and pricing
MSPs are clearly able to customise the portal with their own workflows. Can they personalise the portal for customers?
"Yes, you can brand Client Portal the same way you can white-label other parts of the product. You can upload your logo and it would brand the entire user experience."
What languages support is there in the client portal?
"The logic is built-in English. However, there is nothing to stop them from writing the prompts in their own local language. Therefore, the end user-facing interface of the user can be in any language."
ET also asked Mihalec about the pricing structure of Client Portals.
"It is free up to 10 end-users. From 11 users, it is a flat rate fee starting from $55/month for an unlimited number of end-users."
At first glance, this may seem expensive. With ten clients available free, the platform is already likely to have delivered a return on that investment once rolled out to the eleventh client.
Benefits
While customers may not like automation according to recent surveys, what they do want is issues solved faster. In a recent survey, Freshworks found that 39% would rather go the self-service route than speak to a company using any other channel. In the same survey, the respondents contradicted themselves as 71% would rather speak with a person than use self-service technologies. Pulseway seems to have met both desires combining self-service and chat.
MSPs also want to reduce the cost of supporting clients without compromising quality. Enterprise Times asked Mihalec what savings the beta triallist MSPs realised?
"We currently have over 100 customers trying Client Portal and we actively monitor the data, but it is very early stages for customers to see the full operational impact. However, from the feedback that we have so far, customers have reported the reduced workload on the support desk, which ultimately means that the support team has more time to focus on more pressing issues, by filtering out mundane issues.
"In case the issue will require the assistance of a technician, the full context of the interaction between the user and troubleshooter gets passed to the technician, so the technician gets a full understanding of the issue before getting in touch with the user."
Enterprise Times: What does this mean
The Client Portal will provide MSPs with the ability to scale. However, they will need to create workflows to automate many of the tasks that customers need. It is disappointing that Pulseway has created so few tasks out of the box. What they could do is create a library or marketplace. One that they and MSPs can create, is validated additional workflows to strengthen the offering. Many support requests will be common across MSPs. There will still be some that are not, and those will deliver a USP to each MSP.
Regardless, with the promised improvements this portal is worth keeping an eye on by customers, prospects and existing users. As Pulseway adds more features this could become a very useful tool for MSPs, even more so than currently. What will be interesting to see is how far the MSPs can take this towards a fully automated support solution.