Function Point has launched Proofing, a built-in module that enables creative agencies to review and approve digital files as part of a seamless workflow process. It intends to eliminate emails that have historically flown around organisations and their clients to seek approval for digital content, including docs, pdfs, spreadsheets, video and audio files.
The announcement comes after nearly two years of virtually no press announcements. The resurgence started in July when it announced the arrival of Lucia Kwok as Director of Customer Experience. Proofing is the first product announcement it has made for some time and may signal a change in its marketing activity. So what have they unveiled?
Proofing
Proofing is more than a simple workflow that Function Point has created. It contains the ability to set up, manage and complete every step of the proofing process within Function Point. Users can configure each proofing project with several options. For example:
Can users download files?
Should approvers view all comments?
Can approvals progress with changes?
Should files be approved individually or as a set?
Are comments allowed after approval?
What isn't clear is whether users can create templates for each approval type. Or, whether defaults are set and then have to be adjusted or set for each proofing project. Each proofing workflow can have several approvers. These can include external clients who can access Function Point Proofing to review, comment and approves files.
Reviewing
The functionality of the proofing solution is impressive. It allows users to add comments in context. It means that if another reviewer looks at a comment, they can click to display the exact location that the comment refers to.  Users can mark up documents, images and videos. The assumption is it is also possible to tag comments against audio files for a specific point in time.
For example, suppose a video includes a competitor logo in the background. In that case, the reviewer can highlight the offending item with a box at the specific time that the video displays it. Comments are also threaded; thus, not only are they in context with the reviewed file but they can also be linked together to see a conversation flow.
As they create comments, reviewers can also mention other individuals to draw them into the conversation as required. Finally, creatives can resolve comment threads as issues are resolved, thus helping to progress files through to the final approval and signoff
As the Proofing progresses, managers can review where they are in the process and track versions at their different approval stages with real-time logs. The system will also send reminders to users if they fail to review within the agreed timescales. Function Point believes that Proofing will reduce the time to approve files by 50% compared to a process underpinned by email.
Benefits
With the system built within the Function Point software, no additional applications are needed. It means that creatives spend less time flicking between windows and spend more time within the all-in-one Function Point business management platform.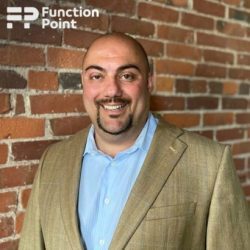 Function Point CEO Bobby Floujeh said, "Our customers' needs have always taken priority at Function Point. We have been listening closely – Proofing was a highly coveted need. With this new product addition, customers will recognize and appreciate the boost in their teams' workflow efficiencies."
What isn't clear is whether there is separate pricing for Proofing. Existing plans start at $45 per user per month for up to 9 users and is discounted for high volumes. Client access may require the Client job request portal, which appears to have an additional cost.
Enterprise Times What does this mean
This new functionality is impressive. It appears as though the company has thought through most of the requirements for its clients and delivered a mature solution. The ability to comment on all media types means the solution is valuable across its user base.
Floujeh joined the company in 2019, sometime after Volaris Software Group acquired the company in July 2018 and right before the pandemic started. It seems that as the pandemic, hopefully, draws to an end, Function Point may emerge as a significant competitor.  This feature certainly adds value to its comprehensive business management solution. What other product enhancements does Function Point have on the roadmap? Will it signal a resurgence in fortunes for the vendor?