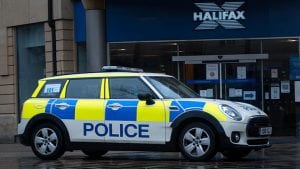 The London Metropolitan Police has seized £180 million ($249 million) in cryptocurrency. It surpasses the previous record of £114 million ($158 million) set just three weeks ago. Importantly, the police have seized control of both the crypto wallets and associated passwords in both cases. It means that the criminals involved have not just lost access to their funds but that the police have recovered them.
Both seizures come from a 39-year-old woman who was arrested for money laundering on June 24th. She has been questioned about both offences and has been bailed to attend court at a later date. That she was unable to dispose of the funds in the second wallet when out on bail suggests that the wallet was stored on computers and other devices seized by the police during their initial raid. It raises the spectre of more cryptocurrency funds being discovered as the police continue to search those devices.
Detective Constable Joe Ryan said: "Less than a month ago we successfully seized £114 million in cryptocurrency. Our investigation since then has been complex and wide-ranging. We have worked hard to trace this money and identify the criminality it may be linked to. Today's seizure is another significant landmark in this investigation which will continue for months to come as we hone in on those at the centre of this suspected money laundering operation."
Enterprise Times: What does this mean?
This is good work by the Metropolitan Police unit involved. It shows the benefit of intelligence-led operations and how the seizure of technology can lead to further successes. While the focus here is on cryptocurrency, they will gather other intelligence. Part of that will be around how the money was being moved around to clean it. In cryptocurrency terms, that means mixing and tumbling it to disguise where the funds are coming from and going.
It is also likely that the UK will look at any cryptocurrency dealers involved. Last month the Financial Conduct Authority reported that a large number of companies had withdrawn from its TRR scheme. It said: "A significantly high number of businesses are not meeting the required standards under the Money Laundering Regulations. This has resulted in an unprecedented number of businesses withdrawing their applications." If any other dealers are implicated in this current case, they will also face FCA action.
This latest seizure brings the total from this investigation to £294 million ($407 million). It is one of the largest ever seizures of cryptocurrency from any criminal organisation around the globe. What is not known is what will happen to the funds. Once any court case is over, if a confiscation order is granted, they will likely be put up for auction, as happens with other seized assets. Given the volatility of the cryptocurrency markets, the final total will not be known until after the auction.