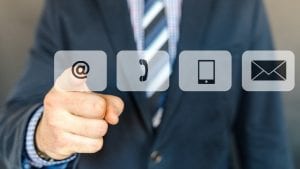 At its Trust '21 conference last week, Precisely announced the launch of EngageOne Communicate. It claims that this is the first unified customer engagement SaaS platform. The solution brings together multiple channels, including email, SMS, PDFs, Video and Chatbots. Engage One enables organisations to create personalized, meaningful and interactive digital engagements from a location with a user-friendly interface.
As the pandemic forced both people to work from home, communication with customers became challenging. Traditional methods such as face to face gave way to personal preferences that were often digital. Even as organisations return to a sense of normality, that normality has changed. As a result, companies are increasing investment in digital transformation.
In 2019 IDC predicted that global spending on digital transformation would reach $2.3 trillion in 2023, with a CAGR of 17.1%. Since the pandemic crisis eased, that spending seems to have accelerated. EngageOne aims to help deliver a data-driven customer experience across the customer's channel or channels of choice.
EngageOne Communicate
In the words of Chris Cummins, Principal Product Manager, EngageOne Communicate, "is a new way to drive  seamless, superior digital customer engagements in the most streamlined and efficient way with a secure highly-scalable SaaS platform that makes it easy for you to design, personalise, and deliver digital communications and then measure the results."
EngageOne is part of the Precisely Customer Engagement portfolio. It supports multiple channels including:
Personalized Interactive Video
Chatbots and virtual assistants
Data-driven, personalized emails
Real-time SMS
Dynamic PDFs
It is how EngageOne Communicate integrates with the rest of the suite that makes this new solution different from competitor solutions such as Pega and Freshworks. The Precisely solution ensures data integrity, enhanced with its data enrichment capabilities to deliver a quick, contextual, and accountable solution.
EngageOne Communicate enables the user to create, design and deliver customer engagements in minutes rather than days or weeks, leveraging the integration and data from ERP, CRM, or other sources the communications created are in context and personalised for each user. Finally, it has a layer of analytics to ensure that decisions are accountable, with users able to measure the success of each engagement. Importantly the solution, while complex, is simple to use.
Out of the box, the solution integrates seamlessly with other Precisely products, including Precisely Spectrum, Precisely Trillium and Precisely Connect for data quality and data integration. This is not a completely new solution but combines existing channel engagement solutions from the current portfolio.
How it works
Each of the different channels can add value. Cummins revealed four initial use cases:
Onboarding
Acquisition
Servicing
Opportunities
Each use case leveraged different channels historically to deliver benefits for different organisations. For example, in a session at Trust '21, Cummins demonstrated a customer onboarding scenario. It commenced with a personalised email and a personalised video. A chatbot then carries out a conversation answering further questions. This conversation could be handed over to a human seamlessly if required. Finally, the customer receives an SMS confirming the engagement.
Each engagement is created by using a drag and drop designer with the ability to preview the engagement on a tablet or mobile. In addition, each engagement can leverage personalised data using the customer record, which other Precisely solutions ensure is both accurate and up to date.
Greg Van den Heuvel, EVP and GM at Precisely for EngageOne, commented: "The new normal calls for seamless, personalized and digital self-service experiences across the key channels of engagement. Those that fail to embrace the 'new normal' and deliver seamless digital experiences will fall further behind their competition. Backed by Precisely's leading data integrity products, EngageOne Communicate is the only platform of its kind that powers confident business decisions, turning trusted data into engaging customer interactions."
Enterprise Times: What does this mean
In EngageOne Communicate Precisely has created a natural addition to their Engage portfolio, which support customer engagement. It appears simple to use and will offer organisations the ability to create personalised engagement journeys for users that add value. However, what isn't clear is what social media platforms EngageOne supports. This is an area that seems to be missing from both the release and the documentation.
What will be interesting is when companies adopt EngageOne Communicate. How will they start to use it? How complex will their use cases be? Are they easy to maintain and what is the value they derive from them?
Kaspar Roos, Founder and CEO of Aspire, a consulting firm specializing in the CCM and Digital Customer Experience industries, is complementary. He commented: "Precisely's EngageOne Communicate platform is the industry's first unified SaaS platform to combine CCM, interactive, personalized video and chatbot functionality. It's an exciting and strong move for the company to offer business users an integrated self-service platform that enables them to transform their print and document communications into media-rich, digital experiences."