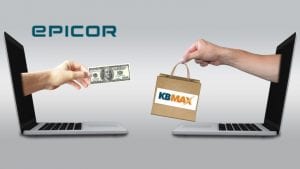 Epicor has acquired KBMax, a leading CPQ vendor for the manufacturing sector. Neither party disclosed the terms of the acquisition. The deal closed on May 27th. This is the first acquisition by Epicor since it was acquired by Clayton, Dubilier & Rice (CD&R). Interestingly CD&R was not referenced in the press release, but their approval, at least tacit, will almost certainly have been sought. It is a very complementary purchase for Epicor, and the KBMax software already integrates with Epicor.
KBMax provides a visual configuration tool and is a leader in the recent G2 Grid for visual Configuration. KBMax will be marketed going forward under the Epicor brand. Like Epicor the company has offices in Austin, Texas. It also has locations in Italy and Ireland with customers across the globe.
Steve Murphy, Epicor CEO, commented: "Our customers are the essential businesses who make, deliver and sell the things everyone needs. We knew we needed to move fast, to enable them to be able to stay digitally competitive and build out scalable digital commerce capabilities.
It's a perfect time for businesses to reach their customers in new and compelling ways. The integration of KBMax's technology into our platform will solve that challenge for our customers, enabling them to create an information-rich and immersive online buying experience. The integration of next-gen CPQ tools with our ERP system will enable vital connectivity points to our customers across inventory, costs, pricing, and customer data."
How close are Epicor and KBMax already
The KBMax solution is a powerful CPQ solution that supports more than 20,000 users. Companies using the configurator software have seen average deals sizes increase by 105%, with a 40% increase in conversion rate. Customers have seen a 168% increase in annual sales revenues, 38% faster sales cycle and a 35% increase in productivity
KBMax supports both 2D and 3D visualisations and can create proposals. It helps automate the whole quote to cash process when integrated with third-party solutions. In a single acquisition, Epicor has brought a globally known solution into its portfolio. The combination makes complete sense enabling Epicor to enhance its portfolio for make-to-order customers specifically.
Enterprise Times asked Murphy which Epicor products KBMax connects to and what the roadmap looks like.
"KBMax has built a connector to Epicor's flagship Manufacturing product, Kinetic. Next, we will be creating a much tighter, standardized integration package between KBMax and Kinetic as well as Epicor's eCommerce solution. Our eCommerce solution connects to many of our flagship products including Prophet21. These are targeted for GA within our regular fall 2021 release schedule. After that first wave of integrations, we will assess additional opportunities beyond Manufacturing, Distribution and eCommerce.
"We have a robust onboarding plan crafted, one that has been built in collaboration with KBMax's leadership team, truly creating a joint message and experience. KBMax will be tucked into Epicor, aligning by functional area for optimal integration while still ensuring focus on KBMax stand-alone business."
Epicor will market KBMax as a stand-alone module within its productivity suite. Like DocStar, it seems likely that it will retain a measure of independence that will enable it to retain its best in class label whilst deepening the integration with Epicor products.
What about existing customers
KBMax has several other integrations with third-party solutions. It has partnerships with Salesforce and SAP and integrations with several other ERP vendors. The former is likely to remain, the latter?  ET asked Murphy whether KBMax continue to develop integrations to third party solutions.
He replied: "We value the strong partnership and integration that KBMax has built with industry CRM leaders such as Salesforce.  We will be assessing the rest of their stand-alone business to look for optimal growth without diluting what will become a clear Epicor/KBMax differentiator."
Enterprise specifically asked about SAP, Oracle and Dynamics but no response was given. What will be interesting is whether KBMax helps to deliver a deeper relationship between Epicor and Salesforce. KBMax has an AppExchange listing and might provide Epicor with a route to access the Salesforce manufacturing Cloud customers.
ET asked Murphy how closely the companies will work together. Murphy commented: "Epicor and KBMax already have joint customers and will be exploring immediate opportunities to join forces during the sales cycle while still allowing time for integration and readiness activities."
Epicor will also support existing KBMax customers going forward, delivering them business continuity for the time being. However, they will need to ask and have answered questions if they are using rival ERP solutions. That may also provide Epicor with cross-sell opportunities.
KBMax sell ups
KBMax was a bootstrapped company, and with both companies based in Austin, Texas, there would have been close relationships between the two. Enterprise Times asked Murphy why KBMax sold up now.
"The primary shareholders/leadership believed they had taken the company to a level that needed either a strategic or financial partner to take it to the next level.  Ultimately, they believed that Epicor would be the ideal partner to accelerate their overall vision and growth aspirations."
Will the leadership join Epicor?
"The overwhelming majority of the leadership team is joining Epicor."
Whether that includes the founders is open to debate, but the administrative leaders such as Finance and HR are unlikely to move across as the firms integrate.
Kevin Bennett, KBMax CTO and a co-founder, commented: "Epicor truly understands the industries it serves and its deep expertise in critical verticals from manufacturing to distribution make it the ideal home in which our technologies can nest seamlessly, deliver immediate customer value while allowing us to scale and expand the technology suite. The integration of our software into the Epicor portfolio will help ensure the world's most essential businesses can digitally evolve and thrive."
Enterprise Times: What does this mean
This is a smart purchase by Muprhy and Epicor. The proximity of the organisations should help to make the transition smooth. There is a natural synergy between the KBMax solution and the Epicor platform that will provide Epicor with a major leap forward in functionality. Once the dust is settled, it will be interesting to see how Epicor markets both the combined and separate solution. There are clear synergies and huge opportunities.
For KBMax, they have access to a much larger client base. If they can demonstrate that the solution delivers benefits to other ERP solutions without compromising Epicor sales, it will be a win-win situation. Epicor may also gain relationships with some KBMax customers with legacy solutions. As the products integrate, automating more processes should also help them win net new logos from the KBMax base.
Since the CD&R acquisition, Epicor had been fairly quiet. That has now changed. Epicor has signalled its intent as a modern innovative ERP vendor with a differentiator few can match. What is next?