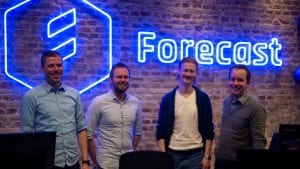 The headline is the penultimate message in a short video by Forecast that announces the funding round. Balderton led this Series A round along with previous investors Crane Ventures Partners, SEED Capital, and Heartcore. Balderton issued a press release about the funding, giving some insights into why they invested in the PPM vendor.
Founded in Denmark, the company has grown rapidly over the last year, tripling revenues and opened its first international office in the UK. The company was founded in Denmark in 2016 and has attracted customers such as Holition, Health E and DEQA.
James Wise, Partner at Balderton, commented, "The feedback we got from Forecast's customers was quite incredible, both in their praise for the platform and in how much of a difference it had already made to their operations. We look forward to supporting the company to scale this impact going forward.
"We are really excited to be an early investor in Forecast. We share their belief that the next generation of SaaS products will be more than just collaboration tools, but use machine learning to actively solve problems for their users."
In addition to the funding, Jeremy Roche, the founding CEO of FinancialForce and a senior executive at Unit4 for several years, has joined the Forecast board as a non-executive Director.
Dennis Kayser, CEO & co-founder at Forecast, commented: "With Jeremy on board to steer strategic direction, it's an amazingly promising time for us."
Expansion plans
Forecast will use the investment to extend the functionality of its project management platform. It will also launch in the US and is planning to open its first office in New York in Q3 2021. Roche will be a valuable asset as it enters into the US. He successfully launched and grew the FinancialForce presence there.
Kayser revealed the growth plans in a blog where he shared further details. He wrote: "We will be further scaling the team across our 3 geographies (Copenhagen, London, and New York City) to anticipate market demands and enable more businesses to empower their people to do their best work."
The chances of success are good, Forecast has customers in the US including Very Big Things, Health E and Paul Consulting. This should provide a base of customer advocates for solid expansion. Overall, Forecast has customers across more than 40 countries and its AI features have helped to power over 178,000 projects. The expansion has already started with jobs available in Denmark, London and New York as the company starts its expansion.
Kayser did not reveal much on the product roadmap but it will no doubt continue to develop functionality. Already this year it introduced a new feature called Baseline which enables companies to forecast project profitability better. In 2020 it launched AI enabled project scheduling.
Kayser commented: "Our mission is simple: to unlock the power of AI to help people do the best work of their lives. This funding is a significant step in Forecast's journey to reimagine the project experience, as we move the company from an innovative challenger to a true leader in the market."
Enterprise Times: What does this mean
This is a small funding round compared to some US firms at Series A. It is enough for the company to open in the US and rapidly expand. It may then come to the wider attention of US investors. That could further accelerate its growth with a larger funding round. The appointment of Roche makes sense. He has a wealth of experience and understands both the European and US markets well.
Success is by no means certain though. With the funding, new advisors and a product that is already a high performer on the recent G2 Grid for Professional Services Automation the future looks bright.