I have written before about how to create a signature in Outlook. I believe that it is very polite but also very important to have a signature at the bottom of your email message. This gives the recipient the information they require to contact you in perhaps many different ways and gives them other information about your company too.
Read the tip on how to create a signature in Outlook, if you don't already know. There, not only do I show you how to create the words but also how to insert your company logo. You may have created several signatures for different reasons. But if you have a standard one that would make your life a little easier if it appeared automatically then follow these steps.
How set up and Automatic signature
Open a new message window in Outlook.
Select the signature tool from the Message tab.
A list, if you have several signatures, will appear.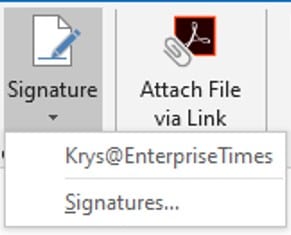 Select Signatures…. At the bottom of the list.
This dialog box will appear.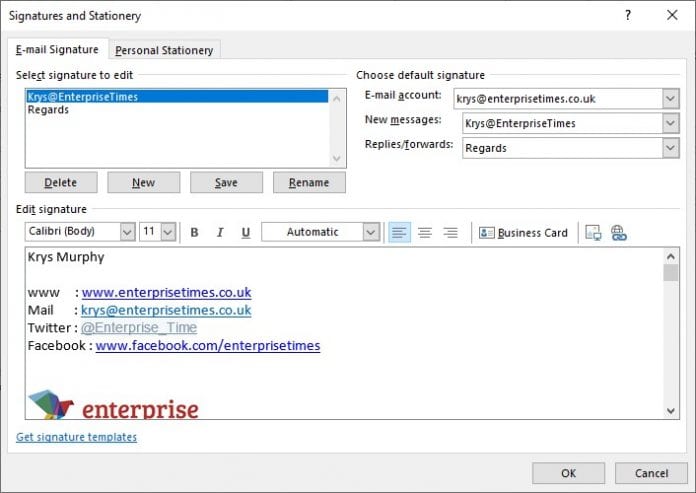 On the right-hand side of this dialog box at the top you will find the default settings for your chosen signature.
E-mail account: select the one you wish to add an automatic signature to. You may have several accounts.
New messages: Select the signature you require for all new e-mail messages from this account.
Replies/forward: Select an appropriate signature for when you reply to a message or forward one to a colleague. This should be short. If you add a full signature with phone details etc for every email this adds to the length and can make browsing through history cumbersome.
Having several signatures could be very useful. A variety of very business-like or friendly, depending on the circumstances of the message.
Once you have set this automation up, send yourself one to see the result before using it in earnest.