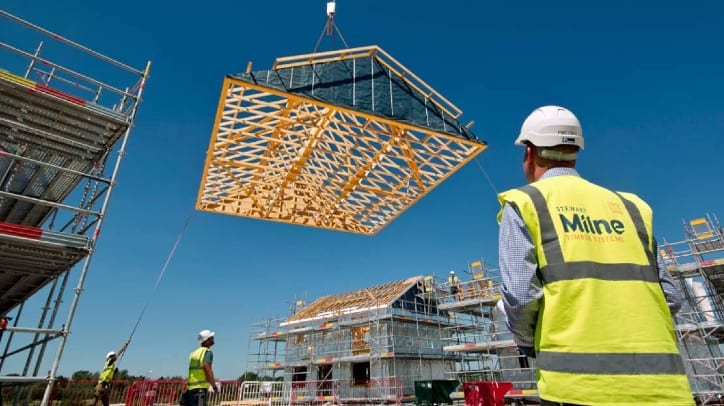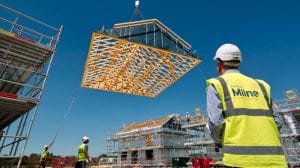 Stewart Milne Timber Systems has selected IFS ERP to replace its legacy Microsoft AX solution. Founded in 1975, Stewart Milne is the leading provider of timber system solutions in the UK. Based in Westhill, Aberdeen, it has eight offices in Scotland and England and provides solutions across the country. It is a booming industry, not just in the UK but abroad as well. In England alone, the government estimated that there is a demand for 345,000 new homes every year. In 2019/20, housing stock only increased by 244,000. To achieve the numbers required the construction industry is turning to modular construction methods increasingly.
Stewart Milne Timber Systems uses these modern building methods across different construction sectors from houses in Saxon Reach, Milton Keynes, student accommodation at the University of Gloucester, and even hotels with the Premier Inn, Oban. Its old ERP relied on paper-based and manual processes across the organisation with different data standards and implemented. Microsoft AX needed replacing and Stewart Milne Timber Systems took advice from several sources to make the important, strategic decision. It selected the recently launched IFS Cloud with IFS professional services implementing the solution.
Criteria
In a review of its operations, the firm decided that it needed a cloud-based solution that would work across multiple locations. It required a single view of the business from a single application. It also wanted the new solution to support a wide set of functionality. This included:
Project management
Manufacturing
Finance
Human capital management (HCM)
Each module should form part of a holistic whole so that HCM and Finance were tightly integrated, for example. After a competitive tender, it selected IFS.
Craig Thornhill, Finance Director at Stewart Milne Timber Systems said: "We chose IFS because of the team's and the product's deep industry expertise and capabilities. IFS Cloud ERP will help us increase efficiency, stay on quality and reduce the lead-time, downtime and processing time associated with the manufacturing and installation of offsite systems. IFS is a central pillar in our digital transformation journey, which will help us work smarter, quicker, and greener."
The project will be carried out by IFS professional services and is due to complete within the next year. The project will see IFS rolled out to 300 employees across three sites: Witney, Aberdeen and Glasgow. The work will include integration to a CAD solution used by Stewart Milne Timber Systems
Enterprise Times: What does this mean
IFS has a long history of working with modular construction companies. It has built specific functionality into its solutions for some time. That expertise will also mean that it can provide an understanding of international requirements in an industry that is growing exponentially. Compliance with building regulations is critical, and quality checks during the entire design and build process are an important part of that.
This is a big win for IFS in an industry that MarketandMarkets estimates will be worth $107.9 billion by 2025. With increasing demand, this may be a conservative estimate.
Alan Laing, Managing Director, IFS UK and Ireland, commented, "We are excited to be partnering with Stewart Milne Timber Systems providing them with our leading industry capabilities. These have been tested and fine-tuned through close customer collaboration with some of the most renowned names in the global construction and manufacturing sectors. With IFS's open architecture, Stewart Milne Timber Systems will be able to expand their footprint to include new automation and robotic technology. We look forward to a long and mutually beneficial partnership."