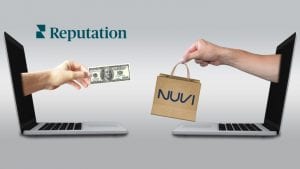 Reputation has announced its first acquisition of 2021, with the reputation experience management company snapping up Nuvi for an undisclosed sum. Nuvi has an all-in-one Social CX platform that helps organisations such as Costco Wholesale, DOMO, and Krispy Kreme listen and analyse social media and the web. It uncovers what customers are saying about the organisation and alerts business leaders of issues and opportunities. Nuvi was recently named the best social media analytics platform by Martech Breakthrough Awards.
It brings a strong complementary solution to the Reputation platform. It seeks to solve a challenge that recent research by Reputation highlighted. While 91% of people believe that companies should innovate by listening to customers, only 32% of marketing and CX professionals have access to the necessary information. Nuvi will bring social listening, analysis, and its data visualisation capabilities to Reputation. Nuvi offers a comprehensive solution that can provide instant alerts, track competitors and monitor existing brands and campaigns for further insights.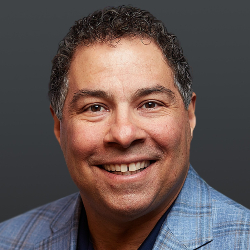 Joe Fuca, CEO, Reputation, commented: "Reputation's acquisition of Nuvi demonstrates our continued commitment to innovation in service of helping companies elevate their customer experience programs by turning feedback into the business insights that fuels progress. The opportunity to capitalize on real-time consumer feedback flooding in from social media is now, and Reputation's RXM platform is the only comprehensive software built for next-generation brands."
Enterprise Time also had the opportunity to ask Fuca some questions about the acquisition.
For the benefit of customers
How quickly will Nuvi technology integrate into Reputation?
Fuca replied: "We are already off and running with the integration as Reputation and Nuvi have many overlapping customers. On Day 1, Nuvi replaced Brandwatch as our Social Listening solution. And within the next 30 days, the two platforms will integrate to share data and power our Reputation Score. Additional roadmap integrations will include areas like reports and insights generated in Reputation Score X, which we know are key tools customers use daily. We plan to update customers as soon as new product or integration features become available."
What will change for current Nuvi customers?
"Nuvi customers will gain access to a complete Experience Management solution, with Reputation's award-winning RXM platform. Users will have a true 360-degree view of Brand, Customer, and Employee sentiment and an expanded set of tools to exceed customer expectations. "
Will it be included as part of the solution or as an add-on?
"Yes, Nuvi will be included as part of the RXM platform for customers currently using our social media products. And, as I mentioned above – it's immediately replacing Brandwatch as our social listening solution."
Nuvi enhances The Reputation Family
Enterprise Times asked Fuca what the integration points include?
"Nuvi was built for exceptional social listening and data analytics, bringing a more targeted, deeper social media management experience to our customers. Along with Nuvi's proprietary AI and natural language processing (NLP) engine."
There are four main areas that the Nuvi solution will integrate with the Reputation platform.
Sophisticated Social Listening –  hyper-targeted brand mentions through complex yet easily controlled keyword rules and filters
Richer Data and Interactions – with an outstanding AI and NLP machine – more data types can be ingested from social posts, enabling highly accurate data insights beyond run-of-the-mill liking, commenting, responding, and retweeting
Deeper data understanding – next-level dashboards, segmentation, reports, and analytics can include emotion analysis, geographic information, and author data, depending on the source.
Competitor Insights – Reputation's Competitive Insights offerings will now be enhanced with Competitor Mentions, Share of Voice on key topics, as well as insights derived from running the Nuvi Social NLP engine on key social and web data points
Nuvi brings a sophisticated natural language analysis engine to Reputation. It is designed to provide relevant insights to enterprise teams. It helps to deliver four key benefits to organisations:
Increase customer growth
Increase brand loyalty
Reduce customer churn
Reduce customer service costs
Michael Mullarkey, Nuvi CEO, commented: "Nuvi has been hyper-focused on enabling our customers to succeed across Social Customer Experience channels. We're incredibly excited to join Reputation and bring our social media expertise to an already robust feedback-to-action platform. Reputation is gaining an experienced team of engineers and leaders who understand how to help businesses drive impactful customer interactions across all social media channels. I can't wait to get this next phase of exceptional work started."
On Nuvi
Nuvi was originally founded in 2012. In 2019, it was acquired by Jump Software Inc in a merger that saw it retain the Nuvi branding. Jump Software was backed by Ten Eight Capital who invested $5.3 million in a Series A round in January 2019. The deal will provide an exit for Ten Eight, and while neither company disclosed the details of the deal, it is likely to provide a return for Ten Eight. The Nuvi team will remain in Lehi, Utah, and serve as its foundational research and development office in Utah. Reputation intends to expand the office there, adding other disciplines, including marketing and customer service.
Nuvi employees will join the Reputation team and serve. The company will continue to expand the Utah office footprint. It will add positions in disciplines such as marketing, customer service, and engineering. Michael Mullarkey, Nuvi CEO, will become Managing Director of Social Products. Fuca noted: "We are thrilled to welcome our new colleagues and count Michael as one of our key senior leaders."
On the roadmap
Fuca replied: "Nuvi will integrate directly into our current social media suite of products, creating a streamlined user experience that gives customers a deeper, more focused understanding of unstructured data. Additional roadmap integrations will include areas like reports, competitive insights and Reputation Score X prescriptive insights, which we know are key functions in our customers' daily use of our platform. This will help us realize our goal of becoming the platform of record for all next-generation companies and consumer experience professionals."
Enterprise Times: What does this mean
Why did Reputation buy Nuvi? One of the reasons may have been the acquisition of Brandwatch by Cision in February for $450 million. This means that the future of using Brandwatch as its own social listening tool was put into doubt. Instead, Fuca has found a natural replacement. Nuvi will slot in and enhance the Reputation platform quickly and easily. That Reputation has retained the key leadership and development team in doing so is very useful.
For Nuvi, this appears an excellent move. It now lies at the heart of a larger organisation with far greater sales and marketing reach, including outside North America. It will also help accelerate their ambitions. Nuvi customers will also benefit from the wider Reputation platform. Importantly for Reputation, this will bring them into new verticals. It will be interesting to see how Fuca leverages this and widens the TAM for the organization. Reputation will hold a webinar on April 15 here to explain how the Nuvi solution can help clients.