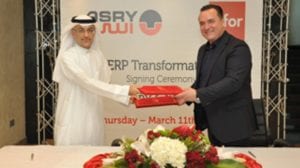 ASRY has continued its drive to modernize its shipbuilding and repair yard company by selecting a new Enterprise Resource Planning application. It has selected and will install Infor CloudSuite Industrial Enterprise. This is the latest in a list of investments that ASRY has made to modernize its facilities. In 2020 it acquired new equipment including water blasting units, welding sets, lathe machines, cherry pickers, forklifts, and LED dock lighting. It also invested in TruQC, a quality control software solution to reduce paperwork across the site.
This latest investment was formalized in a signing ceremony hosted by his Excellency Shaikh Mohammed bin Khalifa AlKhalifa, the Minister of Oil at the National Oil and Gas Authority (NOGA) headquarters. Mazen Matar, the Managing of ASRY and Jeorg Jung, the Executive Vice President for EMEA at Infor signed the document in the presence of people from both organisations.
Modernisations ASRY
This marks the first big step in a journey that was flagged last February when ASRY announced they would be looking to update their ERP solution. ASRY Will install the Infor ERP solution across all departments and will update practices to optimize its operational systems.
Matar commented: "As part of ASRY's modernisation, this project is a digital overhaul of the entire company's processes and procedures. It is the most wide-reaching administrative transformation in the facility's 44-year history, and after an extensive feasibility investigation, we have chosen Infor CloudSuite Industrial Enterprise. ASRY completes over 250 projects per year across four industrial sectors, and once this system is deployed, these operations will be simplified and digitised, bringing agility to the business, and ultimately streamlining our ability to serve customers, maximise ASRY's contribution to the Bahrain's Economic Vision 2030 and boost the region's maritime sector.
"ASRY's use of Amazon Web Services (AWS) for the new ERP also creates further integration with Kingdom's burgeoning ICT sector, which hosts the AWS Middle East Region. We are the latest in a wave of businesses and government entities tapping into the advanced and secure technology infrastructure being developed and expanded throughout Bahrain, and join an elite list of global firms who have also chosen Infor's services."
The aim is to complete the implementation within 11 months. ASRY will deploy the ERP initially across the core functions in the yard. This includes commercial, supply chain, production, finance, and general services. The move to AWS will further simplify its IT architecture. It should deliver the visibility across the business that the leadership requires. ASRY will also deploy HCM and CRM modules from Infor, further enhancing its digital processes.
Enterprise Times: What does this mean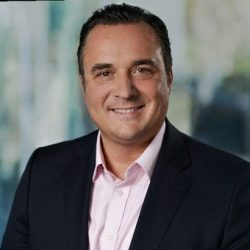 ASRY is the leading maritime repair and fabrication facility in the Arabian Gulf. Founded in 1977 its multi-service yard in Bahrain has completed more than 2500 projects and employs over 3000 people. It repairs a diverse mix of vessels from oil rigs to naval shipping. It has carried out repairs for the US Navy, the Royal Navy, and the Royal Bahrain Naval Force. This is a marquee win for Infor in the region but in a niche market.
Infor Executive Vice President MEA, Jeorg Jung, commented: "Infor helps organisations improve productivity, efficiency, and visibility across their operations, enabling management to make better-informed choices. We're thrilled to be working with ASRY on its digital transformation, and we look forward to helping it achieve its business goals in a dynamic industry."