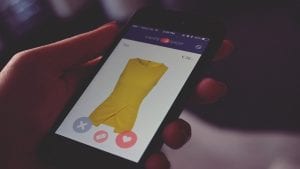 Industry analyst, Statista has suggested by 2021, mobile eCommerce sales are expected to account for 54% of total eCommerce sales. Other analysts companies have also indicated impressive growth rates for mCommerce. As a result, Famous, an mCommerce experience provider has launched its new platform, Famous Pro. The plaform allows brands to create customised, high-end immersive mobile storefronts on Shopify, with little to no technical expertise required. The company says no code is required.
According to retail analysts, mobile eCommerce sales are expected to account for 54% of global eCommerce sales in 2021. Famous provides eCommerce managers, marketing managers and designers at high-growth brands with complete creative control of their mobile storefront experience. This should help brands to take advantage of the steady increase in online shopping. The company says it will also help them stand out from other brands and products in an instant.
The rise of mCommerce
According to Bob Braham, CEO of Famous, "Mobile shopping continues to skyrocket in popularity, especially on Shopify. For any brand to stand out from its competitors, it needs to provide a truly memorable and differentiated experience. However, traditional tools lack the full customisation and advanced video and animation capabilities to bring a brand's site to life."
"Following months of beta testing and onboarding our initial set of customers, we're unveiling a mobile-first, eCommerce-focused solution. The platform allows fast-growing brands to convey their unique stories, sell their products in the best way possible. It will cultivate a deeper connection with customers."
Famous' platform enables brands and merchants to create engaging and fast-loading sites. The company says this will lead to more decreased bounce rates, increased customer loyalty and higher conversion rates.
The Famous Pro platform includes:
Shopify buy button widget. The button embeds Shopify products with a secure checkout into any design, allowing for safe and accelerated shopping experiences.
Mobile-optimized designs, which help users create fast-loading pages that offer consumers an intuitive mobile device shopping experiences.
Native-like animations and full screen video, which enables users to create new ways for consumers to explore their brand. Furthermore, consumers can buy products in an immersive, mobile-first environment.
No code functionalities that include templates and an easy drag-and-drop editor allows for fast build time and creative control. Additionally, page frameworks are 100% customisable. This allows users to tailor the design of their pages to truly fit their brand, products and purchase path.
Matchmaking service, where Famous will pair brands and merchants with a designer. The purpose of the service is to help brands create their pages for optimised engagement and increased conversions.
Research from m-commerce agency JMango360 indicated a 54% increase in Q2 2020 for purchases through independent eCommerce retailers' mobile apps. App downloads increased by 36% from Q1 to Q2 2020. The numbers suggest COVID's impact on mobile shopping extends beyond big brands like Amazon to the broader retail economy.
Hitting the mainstream
Mcommerce is ready to hit into the mainstream thanks to a host of technological advances that are making it easier for users to shop on their phones. This includes rise of 5G which is expected to make an impact.
Social media sites such as Facebook, Instagram, and Pinterest have all introduced "buy buttons." This let shoppers make purchases without having to leave the platform.
"The eCommerce space gets more crowded. Brands will be challenged with making online shops stand out from their competitors," said Mark Salsa, eCommerce Consultant at Branium. "An engaging and well-branded storefront will be critical in building a successful eCommerce business. Famous Pro is a powerful tool that can help Shopify designers and merchants easily amplify their online presence."
Enterprise Times: What this means for business?
Mobile commerce is here to stay. Consumers are increasingly are using their devices to both research and buy and wider array of items online. Social media sites are also making the mCommerce transition easier for their users. As a result, it is a sensible business direction for Famous to launch its new no-code platform. The solution is designed to boosts mobile eCommerce conversion and customer retention with premium-designed storefronts. This should give the company an edge compared to traditional eCommerce platform providers. The only possible fly in the ointment is that the solution is only available on Shopify. Perhaps Famous should explore opening the solution to other commerce platforms to ensure wider success.