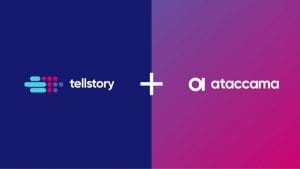 Ataccama has announced the acquisition of Tellstory, a data visualization start-up based in Slovakia. While there is little information about Tellstory, it seems to have been founded out of Instarea, where Martin Zahumensky, now Chief Growth Officer at Ataccama, was once CEO. It further strengthens the links between Ataccama and Slovakia.
Tellstory provides animated visualizations that aim to tell stories about data in an engaging, intuitive, and informed way. The Tellstory platform will become available as a free tier solution alongside the Ataccama ONE Gen2 GA release in March 2021. The solution will be integrated within the Ataccama One platform before the end of the year.
David Lazar, UX Designer of Tellstory, (and since May 20202 Digital Marketing Specialist at Ataccama) commented: "Tellstory solves the problem of dashboards that are highly useful for analysts with specific, complex requirements, but painful for readers who are less skilled at configuring a BI tool, interpreting data, and finding critical bits of information. It visualizes data through data-driven stories, similar to a dynamic infographic. It leverages AI to provide active intelligence and data insights, selecting and highlighting the most interesting facts for the reader and recommending the optimal way to visualize them."
Lazar and the rest of the Tellstory team and leadership seemed to have joined Ataccama in mid-2020 from LinkedIn profiles.
What does Tellstory deliver?
Tellstory will bring several new features to the Ataccama platform, including:
Rich data asset visualization in the Data Catalog module. It allows data stewards to add business context to data to help improve relevancy in insights.
AI-powered, advanced reporting and storytelling capabilities on top of data quality monitoring projects. Users can share and customize data quality reports.
Intelligent analytics on top of the Data Governance suite, providing data stewardship insights.
The ability to create advanced analytical dashboards and stories on top of master data management repositories and create custom reports.
Self-driving, visual data storytelling capabilities to enhance the existing BI & analytical landscape. Visuals include maps, charts, explainers, hero images, computed facts, and data highlights. The widgets are dynamic, animated, and filterable.
An unnamed Ataccama spokesperson commented: "The tool's ability to intelligently select data elements and highlights to present fits perfectly with Ataccama's ambition to provide users with a self-driving experience in data management and governance. Tellstory's vision, aims, technology, and company culture are closely aligned to those of Ataccama, making it a good match for Ataccama at the company and product levels."
Enterprise Times: What does this mean
This was a young start-up with great promise. While in November 2020 it appeared to be independent, it seems that the deal, judging by LinkedIn profiles, was already done. It will bring a new dimension for displaying data to Ataccama.
Two questions arise. How mature is the technology? Has it been proven at scale? In introducing the free tier in March, Ataccama should have time to smooth out any issues highlighted by customers. Tellstory appeared to have no customers yet and was potentially still in stealth mode.