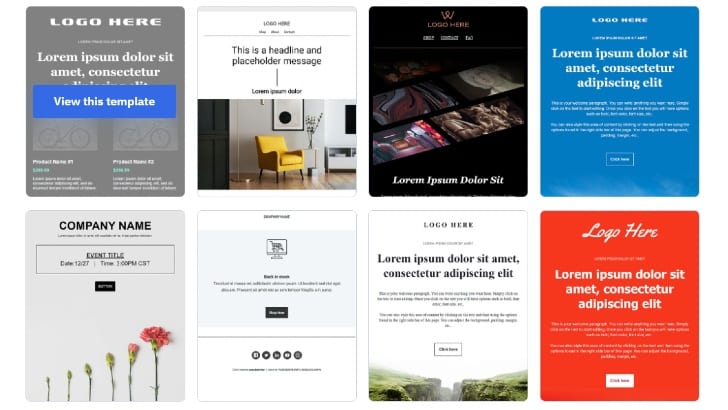 ActiveCampaign has released a further 70 email templates to bring the total number of templates available for clients to more than 125 on its customer experience platform. Each template has been carefully designed using HML and includes images and layout suitable for a wide range of B2B and B2C engagements. The templates also include the codes to draw in data from the Active Campaign platform to enable the easy creation of targetted email campaigns.
Email marketing is still the king of B2B marketing, according to the MarketingInsider group. In a blog, Michael Brenner wrote: "The industry is saturated with marketing clutter, but email still drives the highest ROI out of all B2B marketing strategies. On average, businesses can earn $44 for every dollar spent on email marketing."
Brenner also notes six key factors for email conversion rates; they include:
Segmentation and presentation
Email responsiveness
Subject Line
In delivering 70 additional high-quality templates, ActiveCampaign has addressed the first of these factors. The third is left up to individual marketers to craft their message. The new designs are also responsive.
Templates are not enough
The templates are designed for a mix of use cases including:
deal/offer
cart abandonment
newsletter
events
Furthermore, they will slot into one of more than 500 automation recipes that ActiveCampaign has on its platform. These enable the automation of the complete sales lifecycle for a customer. Templates are usable for any product and any brand within a portfolio. It is possible to switch colours, fonts, and images and update text. The responsive design ensures that every email sent is easily read, no matter what the device used.
According to Brenner, this is vitally important as more than half of all emails are opened on a mobile device. The templates are also simple to use, they slot into the automation recipe and simplify the process while leaving the art of messaging to the individual marketer. This will help increase the effectiveness of the marketing team.
Casey Hill, head of growth at Bonjoro, commented: "As a growing team one of the things we think about is how can we build better processes, and that's really important to us. What's cool is that we've gotten to a point where ActiveCampaign has become a part of our marketing processes, which dramatically increases our marketing efficiency. Our marketing team can just jump in there, change the gears, and go."
Enterprise Times: What does this mean
Sometimes product updates are not just about new functionality. In this case, the new templates lighten the load for sales and marketing teams. They no longer have to source or even create email templates for their marketing campaigns that may or may not be responsive. ActiveCampaign has delivered a wide range of customisable templates that they can pick from and customise that will neatly dovetail into their campaigns.
Jason VandeBoom, founder and CEO of ActiveCampaign commented: "Everything we do, from our product development to the efforts of our support team to introducing new automation recipes comes, from our commitment to helping our customers succeed. These email template enhancements are a perfect example of that drive to make it easier for businesses of all sizes to create amazing customer experiences at scale."
While this may help simplify the work, it will not guarantee the outcomes. What is the next step? One assumes that marketers can filter the choice to find the right template for each situation. At what point does the proliferation stop? At the moment, the choice is down to the individual marketer and their preference. While this is a good thing, can ActiveCampaign offer guidance on which templates generate the most success? Can they take it a bit further with colour or subject line analysis?