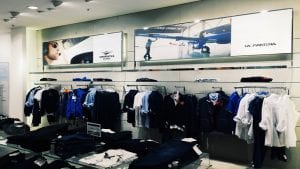 Retail and eCommerce highlights this week include: GetFeedback customers can now connect feedback data with Salesforce data to gather and act on insights that improve online customer experiences and drive business results. VTEX buys Workarea to speed expansion and market in US and Canada. HINGE GLOBAL, an eCommerce agency, has launched an eCommerce software service called HINGE Axis.
SurveyMonkey announces GetFeedback's integration with Salesforce Commerce Cloud
SurveyMonkey has announced the availability of a new integration connecting GetFeedback, SurveyMonkey's multi-channel agile CX platform, with Salesforce Commerce Cloud. GetFeedback is an agile CX solution that companies use to capture feedback across all channels, and analyze it for trends. Companies can then act on it quickly to improve the customer experience. This purpose-built integration with Commerce Cloud deepens the platform's integration with Salesforce solutions. It also strengthens the link between feedback and action for customers of both.
The GetFeedback integration enables customers to identify drivers behind cart abandonment and other behaviours, enrich customer data via post-purchase surveys. Companies can conduct audience research among site visitors, quickly resolve bugs, and create more effective marketing campaigns. By giving a holistic view of the customer, companies can accelerate their ability to learn from and improve the online shopping experience.
This is taking place at a crucial time when online shopping is growing more important than ever. Recent research from SurveyMonkey found that 81% of surveyed CX professionals say that online interactions have become more frequent since the onset of COVID-19. Salesforce's 2020 Holiday Shopping Report also revealed that digital sales powered by Commerce Cloud grew a staggering 76% year-over-year this holiday season. As COVID-19 spurs consumers to shop online, companies must accelerate their digital transformation around e-commerce to remain competitive.
VTEX buys Workarea to speed expansion and market in US and Canada
eCommerce and marketplace platform VTEX has acquired US-based cloud commerce platform provider Workarea. The acquisition strengthens the eCommerce platform's presence in and commitment to the US and Canadian commerce market. The acquisition adds more than $1 billion in GMV and accounts for 20% of the company's total GMV in the US and Canada.
VTEX will leverage Workarea's commerce experience to scale growth. The deal brings VTEX's U.S. headcount to nearly 100 employees. New customers from Workarea include retail merchants like sustainable fashion brand Reformation, and mattress and bedding manufacturer Sleep Number.
As eCommerce growth continues to surge, it is important to equip businesses with an eCommerce platform that meets buyers demands. Existing Workarea customers will have access to VTEX's industry-leading commerce technology and solutions. Workarea brings B2B and content-led commerce features to VTEX's platform.
With the acquisition, Workarea customers will be able to build their own marketplaces without third-party solutions. VTEX's distributed order management system allows Workarea customers to improve omnichannel capabilities that have become instrumental in the past year.
HINGE Axis Software streamlines eCommerce data reporting and operations
HINGE GLOBAL, an eCommerce agency, has launched an eCommerce software service called HINGE Axis. As a SaaS platform, HINGE Axis simplifies and streamlines the management of Amazon and other eCommerce businesses. It consolidates critical functionality in one place, enabling sellers, brands, manufacturers, and distributors to manage all aspects of eCommerce activities. HINGE Axis is the convergence of eCommerce marketing, sales, operations, and reporting in a single intuitive command centre.
The platform was designed to integrate into third-party systems that already exist within sellers' eCommerce ecosystems. Axis can also incorporate third-party data to enrich the insights further. In the initial release, the software will focus on delivering functionality for Amazon. However, over the next few months, the platform will expand to cover other marketplaces and eCommerce sites, such as Walmart.com, Target+, Shopify, eBay, and others.