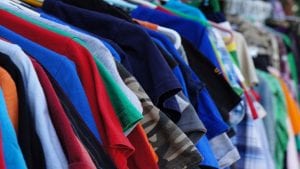 The ability for businesses to pivot during the Covid-19 pandemic has proven to be crucial to the survival of many. Clothes Mentor, one of the US fastest-growing women's resale clothing franchise was experiencing record growth. The company had to close its 130 stores across the country as revenues stopped.
Clothes Mentor undertook a rapid digital transformation and pivoted its business plan. The company relaunched a first-of-its-kind website in record speed in 2020. At Clothesmentor.com, women can shop for 200,000 items of gently worn clothing, shoes and accessories from 82 stores nationwide. There are eight more stores in development and the profit goes back to the local store owner. Customers can now shop local from anywhere in the country.
"When our stores shut down, we had to scramble and launch the online website to keep franchisees profitable. To answer the growing demand for secondhand fashion that exploded during the pandemic. It was do or die," says Chad Olson, COO of Clothes Mentor.
"The new website is a win-win for women looking for high quality, gently worn clothes at a great price. Consumers who want to shop "local" and know their money is going to shop owners whether in Minneapolis or Florida. Resale is here to stay and now it's more accessible than ever with our online site that updates fashion daily."
Online lifeline
Clothes Mentor's eCommerce site has helped franchise owners survive the pandemic while opening up their business to new customers.
"This online site has kept us alive with an entirely new revenue stream. We are selling to customers from all over the country. We are not limited by geography," says Kathy Canada, Clothes Mentor owner in Fishers, Indiana.
"We lost business when we were closed for several months and revenue dipped. However, with the online site, we are making up for the losses and we're able to keep our employees. They play an important role in taking photos of the clothes and uploading them to the site daily."
How The Clothes Mentor website works
People bring in their like-new clothes, shoes and accessories for cash or store credit on the spot. The store owners photograph the item and post it on the website where buyers from around the country can purchase it. The money from items purchased on the Clothes Mentor website goes directly to the local store owner.
Competing second-hand online marketplaces don't have brick-and-mortar stores nationwide where people can shop for or sell their gently worn clothes for credit or immediate cash. When people sell clothes to competitors, they wait for the item to sell to get paid.
On other resale sites, people sell their clothes individually and ship to buyers themselves. Alternatively, they send their clothes to a main site with no personal interaction. The sites send an email listing the item's worth – take it or leave it. If it doesn't sell, people often have to pay to get their clothing back.
With Clothes Mentor, customers get a face-to-face transaction to understand how much their clothes are worth and why. If they don't like the price, or Clothes Mentor doesn't want to buy it, they will donate it to a charity or the customer can take it back home.
Why is Resale So Hot?
New research reveals the US resale fashion market is growing 25 times faster than the overall retail market. The secondhand apparel industry valued at about $28 billion and is expected to reach $64 billion within five years. The same study found 70% of women have shopped or are open to shopping secondhand. In addition, two-thirds of women who never sold their clothes are open to it. The number one reason? Make money!
Sustainability goes from perk to priority
70% of consumers agree addressing climate change is more important than ever
2.5 x more consumers compared plan to shift spending to a sustainable brand
1 in 2 people throw unwanted clothes straight in the trash. A new environmental study in the US revealed 645 million of the 32 billion garments produced each year end up in the landfill.
Enterprise Times: What this means for business?
Sustainability has become a powerful value proposition for increasingly conscious consumers. It shows that individual consumers are aware of the social and environmental issues facing society. Furthermore, they want to alleviate the environmental impact of their spend. As a result, sustainability is an increasingly important issue for business and for retailers in particular.
Retailers have embraced this shift in consumer needs whether that's through recycling or refill initiatives. Changing the way they package products or ensuring sourcing ingredients as sustainably as possible, companies have been proclaiming their credentials. Although Clothes Mentor started in 2006, it's only recently that digital marketplaces for vintage clothes have come into more prominence. Covid-19 has fuelled the secondhand fashion market. Don't be surprised when Clothes Mentor's digital business model is imitated around the globe.