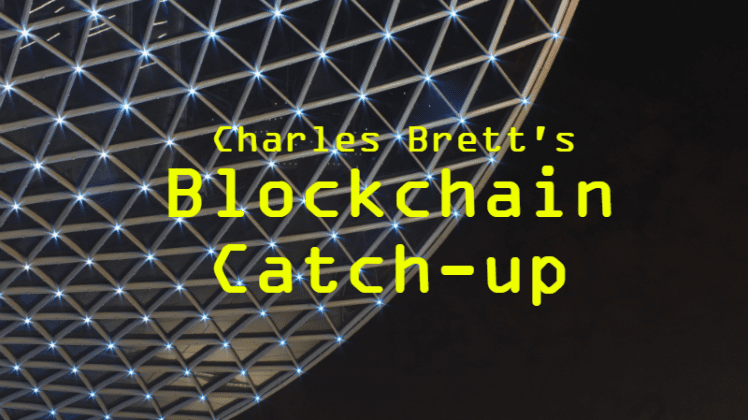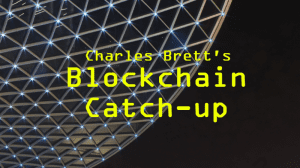 This is a Charles Brett's start-of-the-week Enterprise Times 'blockchain catch-up' Week 5. Necessarily it is idiosyncratic and selective.
It is not intended to be comprehensive but does seek to highlight 'Quick Takes' on specific developments as well interesting pieces to read, a listing of some (not all) announcements/press releases and pointers to upcoming events.
Quick Takes – Charles Brett's Blockchain Catch-up Week 5
Is blockchain disrupting the aviation industry?
This examination of the aviation industry envisions blockchain opening up new opportunities in areas such as maintenance transparency, flight data security, reductions in flight overbookings and general efficiency/accuracy levels. In effect, its argument goes: "blockchain in aviation has the potential to not only secure flight data and payment transactions, but also (to) simplify flight functioning by introducing the additional elements of security, transparency and reliability." It then goes on to examine (in brief) five specifics:
security
baggage tracking
ticket overbooking
document verification
smart contracts.
Quick Take: though the net take is that "blockchain in aviation is the perfect technology that fits the aviation industry really well" the case is not really made. It is too superficial. There is, for example, no consideration of how inter-airline (or inter-airport or inter-air traffic control) integration of different blockchains might work. Nor is there any reflection of the aviation sectors' torrid financial position, even when/if we can escape Covid-19. Nevertheless, it is worth a swift read.
Chainalysis report shows connections between four of 2020's biggest ransomware strains
According to this Chainalysis report "four ransomware strains were quite active last year, attacking prominent companies such as Barnes & Noble, LG, Pemex, and University Hospital New Jersey, amongst others. All four use the RaaS model, meaning that affiliates carry out the ransomware attacks themselves and pay a percentage of each victim payment back to the strain's creators and administrators. All four also use the 'double extortion' strategy of not just withholding victims' data, but also publishing pieces of it online as an extra incentive for victims to pay the ransom."
The report confirms previously informal theories with (what Chainalysis claims) is "undisputable and unforgeable cryptographic proof left behind by Bitcoin transactions that have taken place among some of these groups". For example, Chainalysis said it found evidence to suggest that an affiliate for the now-defunct Maze RaaS was also involved with SunCrypt RaaS. "We see that the Maze affiliate also sent funds — roughly 9.55 Bitcoin worth over $90,000 — via an intermediary wallet to an address labeled 'Suspected SunCryptadmin,' which we've identified as part of a wallet that has consolidated funds related to a few different SunCrypt attacks."
Quick Take: there is a blog (as well as the full report) which summarises the findings. The bad news is the confirmation of the ransomware/blockchain connections. The good news is that businesses like Chainalysis (or Elliptic or Cellebrite) are improving our understanding of how ransomware works and obtains its 'rewards'. Hopefully, this will lead to diminishing returns.
7 pieces to read – Charles Brett's Blockchain Catch-up Week 5
Selected announcements/press releases – Charles Brett's Blockchain Catch-up Week 5
Selected upcoming events