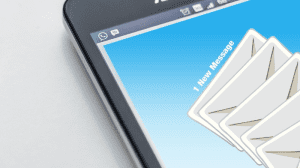 Securechain, a Copenhagen-based fintech products and digital payment solutions startup has launched Finmail Mailbox. Finmail Mailbox integrates both email and a digital currency payment feature. The idea is that people be able to use their (Finmail) mailbox and email address both to send/receive emails and digital currencies (say, Bitcoin or USDT). If it works as described this will provide a recognisable payment system across borders, which in turn may be attractive for remote workers and the underbanked.
"Finmail Mailbox's features and opportunities for integration stands to have an impact on how we approach productivity and collaboration, including global hiring," says Haimin Zhang, founder, Securechain.
"Remote employment has become commonplace during this pandemic. Tools like Finmail Mailbox can help streamline office systems, facilitating hiring, payment and eventually, helping to foster the greater economic recovery. During this time of quarantine, integrated payment tools such as our Finmail Mailbox allow people to focus more on communication, collaboration, and getting results at work. We help businesses keep running so people can concentrate on work from wherever they feel safe and secure."
The need
Post and remittances have a natural connection point. The main difference between them is whether they are transmitting information or value. Initially, people used postal remittances as the main means of remitting value. With the development of the banking industry, remittances gradually turned to the telegraph/telex. Indeed, SWIFT was primarily a telex-based mechanism for years – and SWIFT (using more modern technology) remains widely used for cross-border remittances.
The emergence of digital currencies has made a value network-based 'circulation system' possible. In many ways, digital currency and e-mail share characteristics with the main difference they are transmitting value or information. In one sense, digital currency and e-mail are equivalent to the online version of postal remittances, with the former being completely independent of the latter.
A digital currency promotes exploits a third-party payment system which contains a single channel or a small number of channels to a system that contains a large number of mutually reciprocal remittance channels. The challenge which Finmail Mailbox seeks to address is the marriage of email and digital currencies with the ability for one to transfer the other in a credible and secure way.
Finmail Mailbox
By using Finmail Mailbox, users without bank accounts can access global payment capabilities. In addition, Finmail Mailbox integrates a remote working environment where global users can work on freelance tasks and receive a payment within the same platform. According to Securechain, Finmail is the first web and desktop add-on approved by Microsoft to allow users to send digital assets via email, thereby opening up digital payments to the world at large.
The platform's security derives from the immutability of the underlying blockchain technology. The blockchain also offers a secure record of payments between all parties as identified by their Finmail email address. This may help to streamline bookkeeping/accounting processes.
The implications and potential impact for the gig economy and freelance marketplace — especially in developing regions — could be great. Finmail Mailbox means fast (or faster) payment of (for example) freelancers and remote teams. In parallel, it offers an easy payment function for the underbanked.
How does it work
After registering with the Finmail system, users obtain an email inbox. This comes bundled with the digital currency payment facility. Each email address can send everyday messages as well as digital currency payments. Anyone with a Finmail email address can receive payments quickly and securely, regardless of location and time zone.
In effect, Finmail Mailbox provides a payment platform for anyone without a bank account. It means they can collect payments and store these in a digital wallet. The system has the additional attraction that it cuts out steps from ordinary workplace administration. If true, this should mean greater productivity when participants can avoid workplace distractions (especially those inherent when working from home during a pandemic).
Finmail uses USDT for payments. USDT is stablecoin where its value tracks the US dollar. People on the platform can 'cash out' by transferring the balance to a digital wallet or a cryptocurrency exchange.
Enterprise Times: what does this mean
On the face of it, Finmail Mailbox does not stand out (even if Securechain's ambitions do). Yet, if one digs deeper, Finmail Mailbox is trying to combine two elements which really could go together (email and digital currency). An interesting question that follows is: how might CBDCs be handled?
Securechain has plans for its platform to include a system for posting freelance projects and selecting contractors. If this arrives as envisaged it would extend the Finmail Mailbox reach and utility. Freelancers could collect payments for their work from within a Microsoft work environment – on a schedule that works for them. This would avoid having to wait for a check to be mailed and this to clear the banking system.