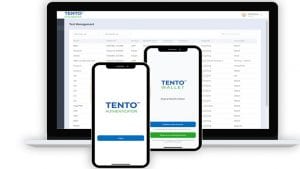 Tento Health has arrived on the Apple and Google app stores with its Tento Wallet and Tento Authenticator apps. Both are listed under the medical record and health categories on the two app stores. During the current pandemic, the two apps allow users to take, store and display any COVID-19 related tests. The apps can also hold records on other tests and inoculations users may have taken.
Adam Palmer, CEO, Tento Health, said: "Digital health technology solutions are becoming increasingly important as the world adjusts to living with COVID-19 and beyond.  It's important that personal data is in the hands of its owner and Tento Health is committed to building solutions that provide this self-sovereign identity. 
"We are one of the few solution providers that has a true digital healthcare platform with apps to support people and businesses through the journey of COVID-19 testing.  We have seen that people want to engage with our apps and do so in the knowledge that Tento Health has gone through all the rigorous validation and regulatory approvals to offer secure technology solutions for COVID-19 and the future of global health and wellness.  To date, we have customers in 16 countries, and we are working with 7 governments."
How do the apps work?
The apps provide a trusted source to record medical data and to display this when asked. The data is encrypted before it is stored in the Tento Wallet. It means only the owner can access the data. When they need to display evidence of a test, they can do so from their device using a QR code. That code can be authenticated from over 2 metres. This means that users can be socially distanced from security teams verifying they are allowed to enter an area.
Users can store test results from multiple healthcare and test providers in the Tento Wallet. This means that it is not limited to just the current test and trace approach. Frequent travellers who require inoculations or vaccines before visiting a country can store certificates in the Tento Wallet.
The Tento Authenticator acts as a secondary check on data stored in the Tento Wallet. It verifies the credentials of the user to prevent any fraudulent use of a digital health certificate. Importantly, the Tento Authenticator uses the International Air Travel Association (IATA) Timatic system. With major airlines looking for solutions to get passengers flying again, this is a key win for Tento.
Enterprise Times: What does this mean?
Tento Health has been working on its apps since the pandemic hit. Its first app was COVI-PASS which has now been superseded by the applications under the Tento Health banner. It has also aligned itself with several WHO-approved COVID-19 test kit providers. This means that the tests taken and recorded have international acceptance.
The Tento Wallet and Tento Authenticator are just two of the products the company has brought to market. Tento Diagnostics has a wider reach and integrates with Laboratory Information Systems (LIS). That means it can easily import data from multiple test facilities, authenticate those results and then store them in the wallet.
In addition to support for the IATA Timatic system, the company has signed deals with several commercial organisations and several national governments. They are using its technology to get staff back to work. It has also developed an API that allows the Tento app suite to be integrated into other vendors solutions. That means an organisation could use it with any building control and entry system.
This latest news of availability from both Google and Apple app stores is a significant boost for the company. It also allows it to compete in the fast-growing healthcare app space.